One of its kinds, Sabakuch Symphony is India's first online music reality show, in which aspirants including singers, musicians and bands can participate and express music in 14 different languages
newznew (Chandigarh) : When it comes to talent, India has no dearth of it. And, when it comes to music, India has no dearth of passion for this particular art. Music resides in every street, village, big and small city of our country. Hence, for the musicophiles, Sabkuch Music, which is an online platform, brings an online music competition named Music Symphony 2017.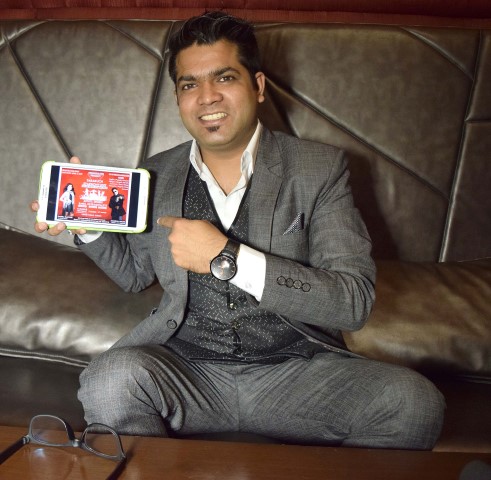 The online show will be India's first and its own kind reality show, in which aspirants including singers, musicians and bands are welcomes for the participation. A venture by Sabkuch.com, the completion kicked off on February 17 and 250 participants have already registered for the participation. To encourage the participants from Punjab, Sagar Pratap Singh, the head of Sabkuch.com was in Chandigarh on Monday. He said that till now music competitions have been limited to television only and so is the talent. Whereas, with Music Symphony he invites people to showcase their talent on the internet. The competition has two rounds; the first round started on February 17 is on till April 3 in which winners will be judged according to the views, likes and comments on their respective performances. Meanwhile, the second round will begin on April 12 and will last till the end of May. Afterwards, the four shortlisted singers, musicians and bands will perform live at Connaught Place, New Delhi and the winners will be judged by music sensations Kanika Kapoor and Raj Anand Raj.
After registering on Sabkuch Music, the participants will be able to have their own channel on this web portal. Here, the participants can upload tracks (music & songs ) on their Sabkuch music channel. 3 different winners will be chosen from two different categories – 1st category (Artists & Singers) & 2nd category  (Bands & Instrumentalists), first winner will get Rs 2.51 lakh & Video release from a leading record lable, 2nd winner will get Rs 1 lack 1 thousand each, 3rd & other runner up get lots of gift hampers from Sabkuch Music.
Sabkuch.com is an online web portal, which offers you the facility of all social sites at one place. From chatting to professional sites, everything is offered at this one-stop web portal and the feature is not available at any other internet platform. The website was launched in 2015 by Bollywood actress Richa Chadha.