The all new Long Wheel Base (LWB) Right Hand Drive E-Class which is 'Made in India, for India'is the first India specific productfrom Mercedes-Benz
The E-Class sedanis India's highest selling luxury executive sedan | It comprises about 34% of the total Mercedes-Benz cars sold in India till date
The long wheelbase version of the new E-Class will beMade in India, for India, the first new generation car to be locally produced since market launch
Mercedes-Benz's first India specific car: India is the only country to launch the RHD version of the 'longwheelbase' new E-Class | It took 48 monthsfor the development of the new E-Class
AstoundingPerformance: The E 350 d features a 2987cc V6 diesel enginethat churns out 190 kW (258hp) and 620 Nm of torque available at as low as 1600 rpm, 0 -100 km/h in 6.6 secs
First time in the E-Class: Air Body Control | Chauffeur Package | 37 degree recliner rear seats | 9G-TRONIC transmission | Burmester® surround sound system |Parking Pilot, a wide high-resolution and bright display with a next-generation 12.3-inch screen as standard | 64 colour ambient lighting
Intelligent service packages:Unsurpassable Cost of Ownership starting at Rs. 64,700 for 2 years | 45 service packages | Unlimited mileage, first in the luxury car industry
"My Mercedes My Service" program offer customers lower cost of ownership and lower maintenance cost. It also offers hassle free Online Service appointment booking for the New E-Class
The Mercedes-Benz E 200is priced at INR 57.05 lakhsand the E 350 d is priced at INR 70.59lakhs (ex-showroom, Chandigarh)
newznew (Chandigarh) :India's largest luxury car manufacturer Mercedes-Benz today, redefined the luxury executive sedan segment with the launch of the first ever right hand drive(RHD) long wheelbase(LWB) version of the new E-Class luxury business sedan. From its launch, this intelligent business sedan will be 'Made in India, for India'. With over 13 million units sold globally, the E-Class sedan and Estate are the best-selling vehicles for Mercedes-Benz.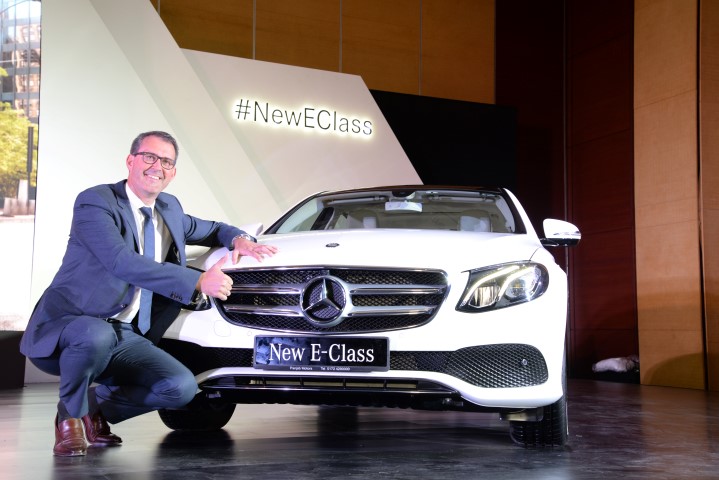 The new E-Class with its high quality appointments is an illustration of excellent craftsmanship and reflects modern luxury synonymous with Mercedes-Benz. The new E-Class sedanin its 10th generation, is a comprehensive luxury business sedan that intelligently blends driving performance with unmatched luxury and comfort, boasting of the 'most spacious' rear cabin in the segment.The new LWB E-Class was launched by Michael Jopp, VP Sales and Marketing, Mercedes-Benz India.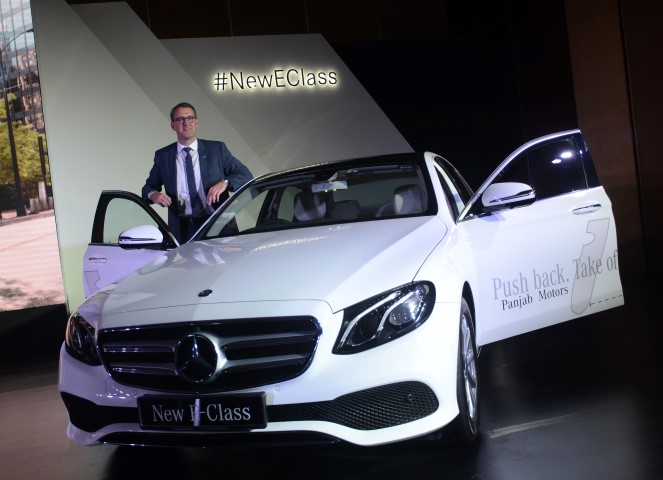 Michael Jopp, VP Sales and Marketing, Mercedes-Benz India commented, "The new E-Class withits rich history spanning over 2 decades with around 34,000units on Indian roads, remains a very important product in our portfolio, playing a vital role in the product strategy of Mercedes-Benz India. Majority of our E-Class customers in India are chauffeur driven, and hence it was a natural decision for us to introduce the long wheelbase new E-Class in India and create a new benchmark in the luxury executive segment. Chandigarh and Punjab remain a key market owing to more than 1,000 E-Class' on the roads here, making it the most popular business luxury sedan in the region.With a right hand drive long wheelbase version of the new E-Class, we are confident that this car will be significant for Punjab market as one out of every two Mercedes-Benz cars sold is a sedan in the region. This spectacular sedan was developed in a span of 48 months, clearly representing the concept of Made in India, for India."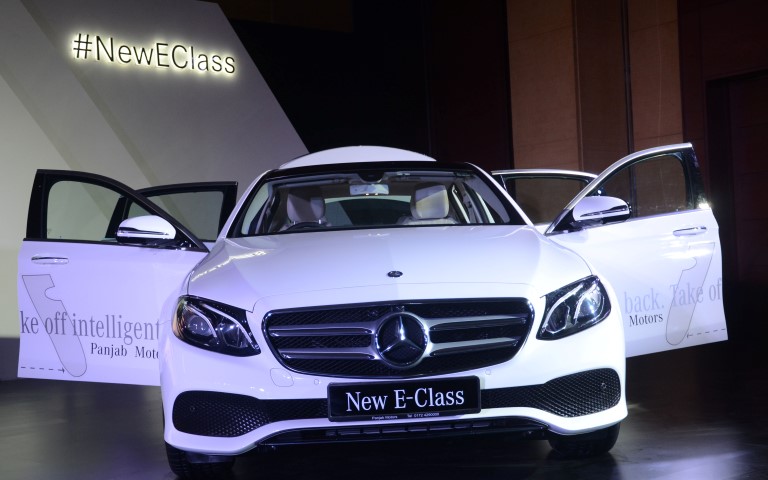 Markus Schaefer, Member of the Divisional Board Mercedes-Benz Cars, Production and Supply Chain Management elaborated, "With the start of production of the new long-wheelbase E-Class, we are continuously expanding our portfolio of 'Made in India' products, offering our Indian customers numerous technical innovations of the most intelligent executive sedan. Building nine different model derivatives for local demand in top quality, Pune has become one of our most flexible plants and an absolutely integral part in the global and efficient production network of Mercedes-Benz Cars. This is a great success story made possible by the hard work and dedication of both the management and the workforce in Pune.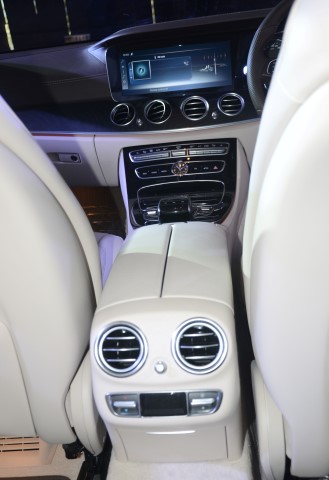 Jopp further added,"The new long wheelbase E-Class is truly a 'Masterpiece of Intelligence' with its various path breaking innovations. The new E-Class is delightful to drive and fulfillsthe desire forindividuals seeking driving performance, while ensuring it presents the most luxurious rear cabinexperience,comprising unparalleled luxury appointments, for those preferring to be chauffeur driven.What makes the new E-Class an even more intriguing value proposition for the customer, is the highly competitiveservice packages that start at just INR 64,700 and sets an industry benchmark for lowest cost of ownership in the segment. We are very confident that the new long wheelbase E-Class willcontinue the success story of the business sedan in India."
Long wheelbase:
The long-wheelbase version of the new E-Class sedanbuilt in India, for India, introduces numerous technical innovations of the most intelligent luxury executive sedan, and also offers an even more spacious rear compartment with a first-class character. It exceeds the E-Class sedansold in the world where both the wheelbase (3079 millimetres) and the length (5063 millimetres) are increased by 140 millimetres. The rear compartment of the luxury sedan offers an extra 134 millimetres of legroom for the occupants.
Sublime exterior and design elements: 
LED headlamps and tail lamps | Panoramic Sunroof | 17" Light Alloy Wheels
Rear design highlights: Chrome trim | Rear bumper inserts black diffuser-look finish | Full LED tail lights | Two fixed tailpipe trim elements integrated into bumper | Illumination Specific to E-Class | Single-piece design | Crystal look during illumination
Emotive interior highlights:
Ambient lighting: 64colours and five dimming levels for the desired lighting mood
World first:Touch-sensitive touch controls on the steering wheel
Electric sunblind for rear windows| First: 37 degree recliner rear seats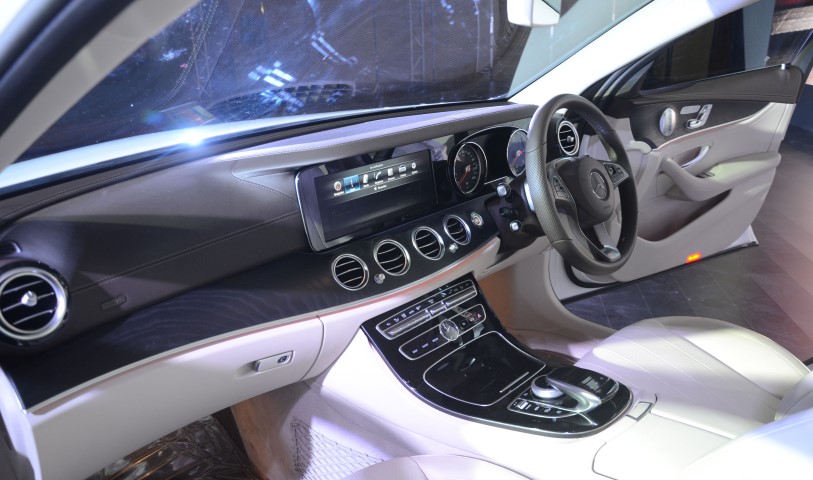 Unmatched driving dynamics:
Air Body Control – First time for the E-Class in India (E 350 d)
9-G TRONIC: 9-Speed Automatic Transmission
DYNAMIC SELECT Drive (E, C, S, S+, I) – influences the response of the engine, the ESP® and shift characteristics of transmission
o  Suspension (C, S, S+) with Air body control
o  Steering (C, S, S+) – In "S" and "S+" a more direct steering ratio noticeably increases the vehicle's agility
Cutting edge infotainment system:
Burmester®surround sound system with 13 high-performance speakers (E 350 d)
COMAND online as standard
Touchpad: Intuitive operation by finger gesture
World first:Touch-sensitive touch controls on the steering wheel
Firsttime in the E-Class– A high-resolution and bright display with a next-generation 12.3-inch screen
Smartphone Integration Packagecompatible with Apple CarPlay™ and Android Aut
Unparalleled comfort &convenience:
Panoramic sliding sunroof
THERMOTRONIC automatic climate control
Memory package – Front & rear seats (E 350 d)
First time in E-Class: Memory rear seats with comfort headrest
Benchmarking safety and assistance systems
ESP®
LED High Performance Headlamps
PRE-SAFE®
First Time: Parking Pilot with Active Parking Assist PARKTRONIC and visual aids (360° camera for E 350 d)
Adaptive brake lights
Dual front airbags, Front side airbags, Curtain airbags, knee bag for driver (7 overall)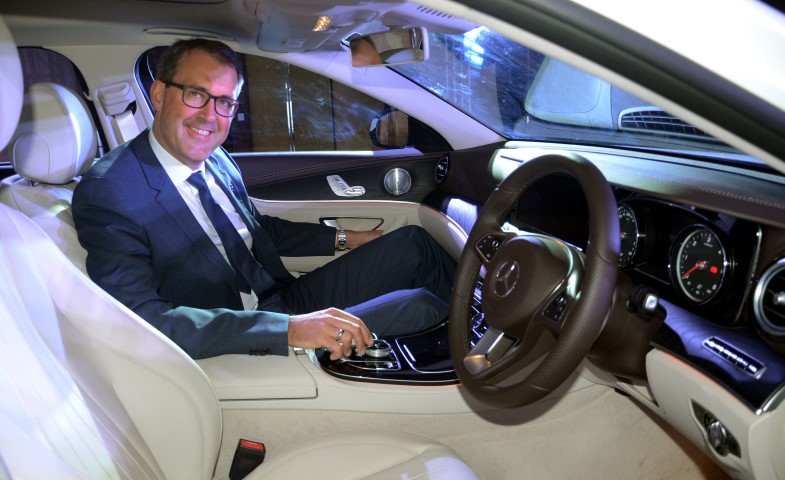 Technical specifications:
| | | |
| --- | --- | --- |
| New E-Class specs | E 350 d | E 200 |
| Arrangement/no. of cylinders | V6 | In-line/4 |
| Number of valves per cylinder | 4 | 4 |
| Total displacement (cc) | 2987 | 1991 |
| Power kW(hp) @ rpm | 190 (258) @ 3400 | 135 (184) @ 5500 |
| Torque (Nm @ rpm) | 620 @ 1600-2400 | 300 @ 1200-4000 |
| Acceleration (km/h) (s) | 6.6 | 8.5 |
| Top speed (Km/h) | 250 | 240 |
Lowest Cost of ownership in the luxury car segment:
According to the Indian Blue Book's Residual Value Analysisof Luxury Car Segment Report 2016, Mercedes-Benz has the lowest average maintenance cost amongst its peers. The new long wheelbase E-Class comes with affordable and convenient service packages that drives tremendous valueproposition for the customers.Based on the consumers' needs and preferences, service packages of various age & mileages have been introduced for the new long wheelbase E-Class. The standard packages start at Rs.64,700 for the petrol variant and Rs. 94,400 for the diesel variant for two years. These new standard packages are offered with unlimited mileage (a first in the luxury car segment) covering maintenance related jobs. These customer focused packages offering various options and flexibility, can last up to 10 years from the date of sale, for a hassle free ownership experience. The low maintenance costs of the new long wheelbase E-class significantly reduces the total cost of ownership and sets a new benchmark in the luxury car segment in India.
Local production of the new long wheelbase E-Class:
Each stage of production of the new long wheelbase E-Class at Mercedes-Benz India's world-class manufacturing facility in Pune reflects the stringent quality standards of Mercedes-Benz, as applicable to the entire value chain. A contributory factor to this is the ongoing transfer of knowledge between the competence centre for luxury-class cars in Sindelfingen, Germany, and the colleagues in Mercedes-Benz India. During the initial phase, the start of production is being assisted by members of staff from Sindelfingen. The increasing trend towards customised vehicle manufacturing is demonstrated in the assembly of the new long wheelbase E-Class. Numerous equipment variants as well as safety and assistance systems mean that every vehicle running off the production line in India, is unique.