SAIF Zone in association with Assocham showcases opportunities for Indian companies to expand globally through UAE: The signing of the Comprehensive Economic Cooperation Agreement (CEPA) between India and the UAE marks a significant milestone in trade relations between the two countries.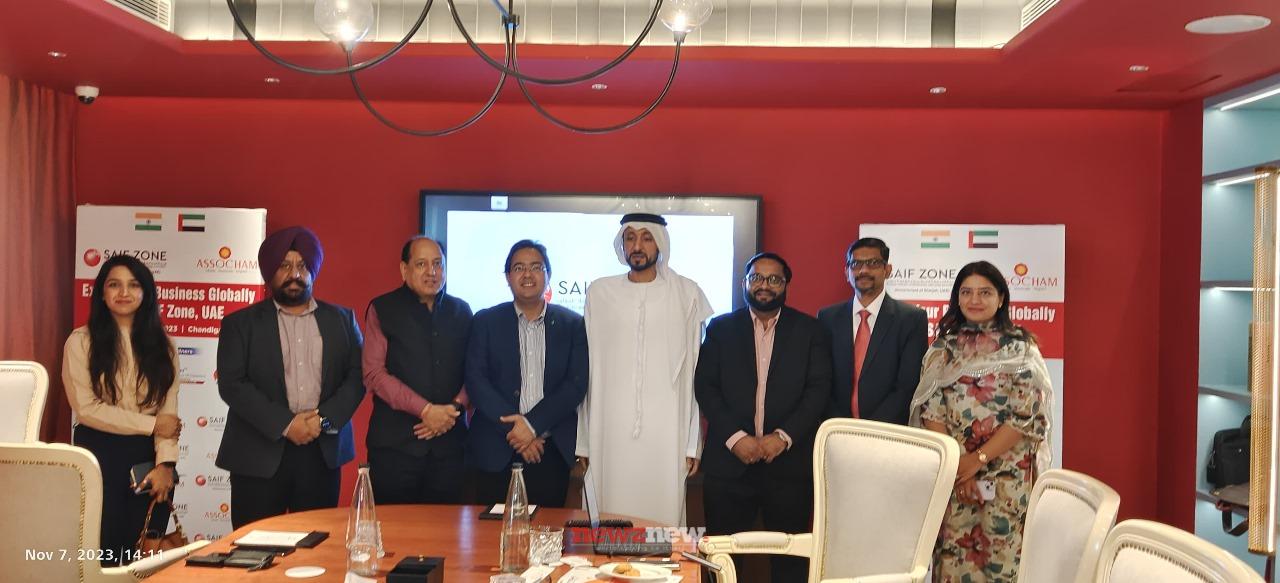 With the duty waivers and enhanced market access provided under the CEPA, businesses in India and the UAE have already begun capitalizing on these advantages, resulting in a boost in bilateral trade and two-way investment flows.
To align with this positive development, ASSOCHAM conducted a series of one to one meetings on November 7th and 8th in Chandigarh. The meetings brought together delegates from Sharjah Airport International Free Zone (SAIF Zone), the Government of Sharjah, UAE, and ASSOCHAM members from Chandigarh.
Certified Management Accountant (CMA)   Rakesh Bhalla, Chairman of ASSOCHAM Chandigarh UT Council & CFO of SML ISUZU Limited, highlighted, "For Indian businesses exploring markets in the Middle East, North Africa, and Central Asia, Sharjah Airport International Free Zone (SAIF Zone) could prove to be a powerful catalyst for their marketing efforts.
There exist significant synergies between industries based in Chandigarh and the UAE. The decision to organize these meetings in Chandigarh stems from our desire to increase awareness among industrialists and extend comprehensive support to establish their businesses on a global scale."
Ali Al Mutawa, Deputy Director – Sales, SAIF Zone, Government of Sharjah, UAE, expressed, "The demand for Indian products in the UAE and other Gulf Cooperation Council (GCC) markets is substantial, and Indian exporters must seize this opportunity. Following the CEPA, the UAE is poised to emerge as a major re-export center. SAIF Zone offers numerous promising opportunities and incentives for Indian companies, providing an attractive environment for investors."
With the valuable support of Chandigarh Management Association, Rifah Chamber of Commerce and Industry, and World Sikh Chamber of Commerce and Industry, these meetings aimed to assist Chandigarh industries in comprehending the benefits of the India-UAE CEPA and how Indian companies can expand their operations globally by establishing branches and subsidiaries in the UAE and utilizing it as a base for entering and exporting to other Gulf countries, Africa, Europe, and beyond. The meetings garnered participation from over 70 companies.