Saint-Gobain inaugurates three World Class facilities : Saint-Gobain, today, inaugurated three world class facilities to meet the growing demand of the glass markets – both domestic and international.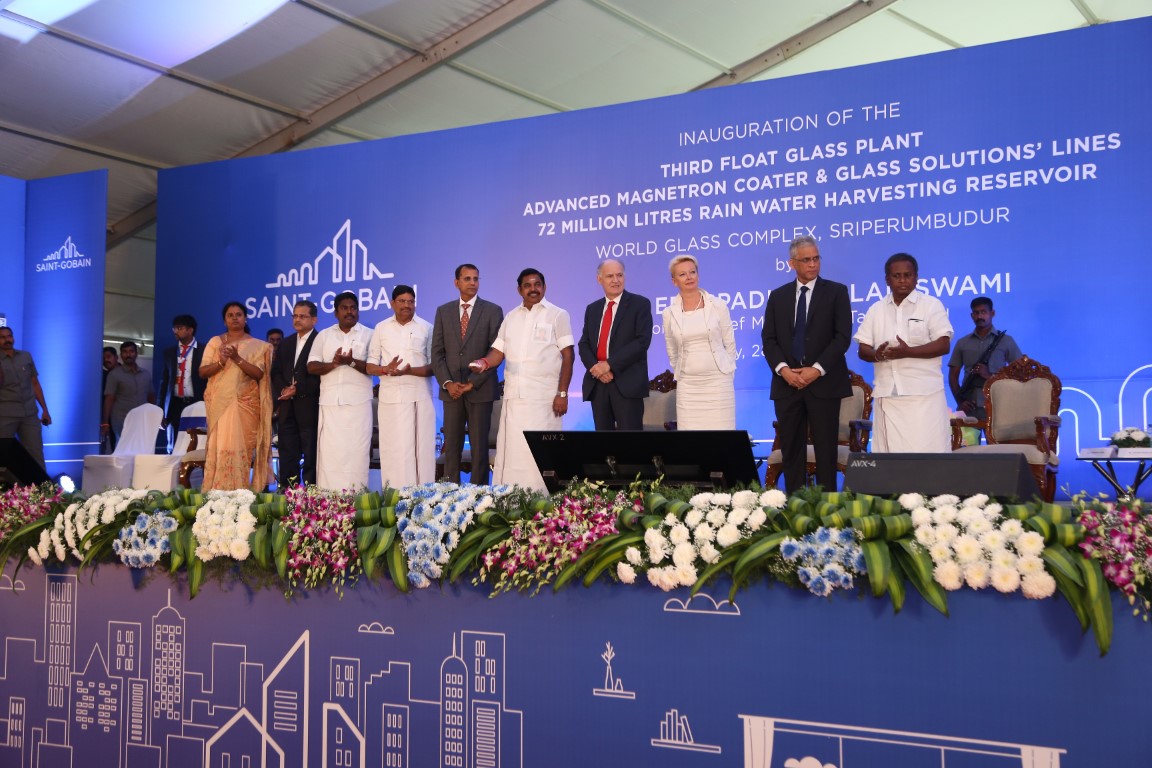 Each of these facilities was dedicated to the nation by the Hon'ble Chief Minister of Tamil Nadu, Thiru Edappadi K. Palaniswami. Set up with an investment of over INR 1200 Crs, this takes the cumulative investment in the World Glass Complex, Sriperumbudur to more than INR 3000 Crs.
"As one of the fastest growing economies in the world, India is an important market and investment destination for Saint-Gobain. As a global leader in the construction industry we see immense opportunities in India to utilize our expertise in sustainable building solutions to enhance human habitats and promote well-being in living spaces. Over the past two decades we have consistently invested in developing new markets, in building new world-class manufacturing facilities, in technology and in human capital. We are an innovation driven company and our investment in Saint-Gobain Research India, our world-class Research Centre in Chennai, is aimed at developing innovative solutions not only for markets such as India, but also for the world. And India has consistently encouraged and supported us – our products are well accepted; our businesses have leadership positions; the Brand recall of Saint-Gobain in India is as good as that in France. Indeed, we are as much an Indian Company as we are French." said Mr Pierre-André de CHALENDAR, Chairman and Chief Executive Officer, Compagnie de Saint-Gobain, France.
A third float glass manufacturing plant
An advanced magnetron coater and glass solutions line
A 72Mn capacity Rainwater harvesting reservoir
"India is amongst the best performing regions for Saint-Gobain and it has been our constant endeavor to develop the markets in India by bringing the best technologies and building world-class manufacturing facilities, in line with the Government's 'Make in India" mission. Over the years, we have made significant investments across all our businesses – Glass for buildings and for automotive, Gypsum Plasterboard and Plasters, Abrasives, Ceramic Materials, Performance Plastics and so on. Since our entry into India in 1996, we have invested about Rs.7500 crores. Today, we have built a pan-India manufacturing presence and have developed strong market positions in all our businesses.  About 95 % of our local sales are of products manufactured at our plants in India." said Mr. Anand Y Mahajan, Chairman, Saint-Gobain India Private Limited.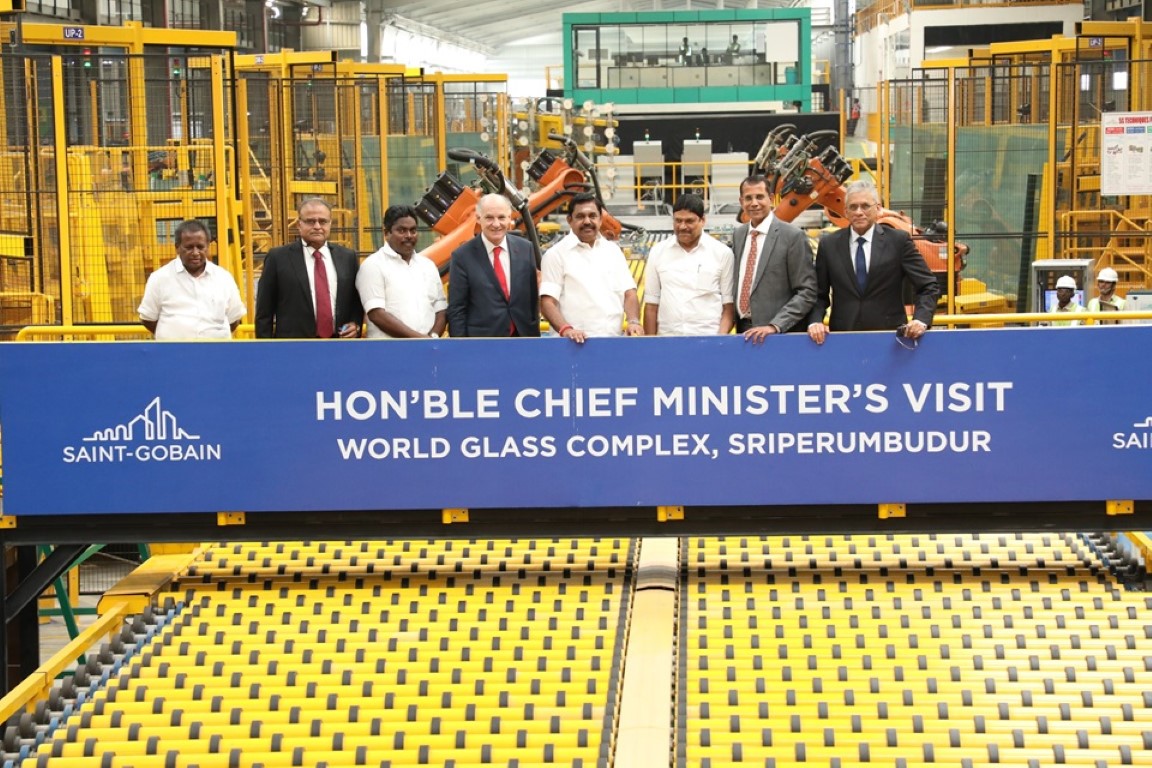 "We strongly believe in India's future and have consistently invested ahead of time in Capacity, Capability, Technology and Innovation. The World Glass Complex at Sriperumbudur, Saint-Gobain's largest investment in a single location worldwide is set to welcome the largest and most advanced glass manufacturing plant in India along with advanced magnetron coater and glass solutions line.
This new expansion will accelerate Saint-Gobain's momentum in realizing the Vision of being the Clear Choice for Glass Solutions in India and the adjoining region." said Mr. B Santhanam, Managing Director, Saint-Gobain India Private Limited.
The third float glass plant:
The third float glass plant will be the largest in India and the Region, and is equipped to manufacture a wide range of complex products that cater to the needs of sustainable habitats and affordable luxury. It is an automated, energy efficient, scalable and flexible, state-of-the-art integrated glass facility.
The plant features several innovative processes that are being deployed for the first time in India and the Region – a modern plant with advanced robotic technology, 3.5 MW roof top solar power generation facility as well as 1.2 MW electrical power generation from the waste heat of the furnace meeting almost 100% of its electrical energy needs.
In line with Saint-Gobain's commitment to sustainable development, the facility will incorporate several innovations contributing to sustainability. The energy efficiency measures on the float-line make it one of the most efficient furnaces of Saint-Gobain and will be a benchmark for glass manufacturing facilities worldwide.
Advanced Magnetron Coater and Glass Solutions Line:
Keeping in mind the global trends, Saint-Gobain invested in a second magnetron coater facility. With this, the World Glass Complex will have the capacity to manufacture 140 million sq ft of High-Performance, High-Selective, Energy-Efficient Glass catering to entire Africa, Middle-East, ASEAN, Oceania region. It will accelerate Saint-Gobain's vision to develop the World Glass Complex at Sriperumbudur as a regional hub for catering to the needs of international clients.
The Glass Solutions line that got inaugurated, manufactures advanced insulated and laminated glass. The line is equipped with the state of art cutting & grinding facilities, tempering furnaces, screen printing, lamination and insulated glass unit production lines – with capability of handling Jumbo glass sizes as well.
The solutions facility will serve as a one stop source for servicing the requirements of mega and super-mega projects in India and around the world.
The Second Rainwater Harvesting Reservoir:
A second rain water harvesting reservoir with a capacity of over 72 Mn liters was also inaugurated by the Hon'ble Chief Minister. With this capacity addition, the World Glass Complex will have an overall capacity of 130 Mn liters and would meet a significant part of the water requirements.