(Kulbir Singh Kalsi) :  
The exhibition is titled 
'SALAM INDIA' group art exhibition, curated by Erum Khan and will be held on 

26th Aug

 till 

28th Aug,2017

 at Artizen Art Gallery, New Delhi 
 and will display a variety of Paintings, Digital Media, Installation, Photography and Sculptures, Ceramics and more.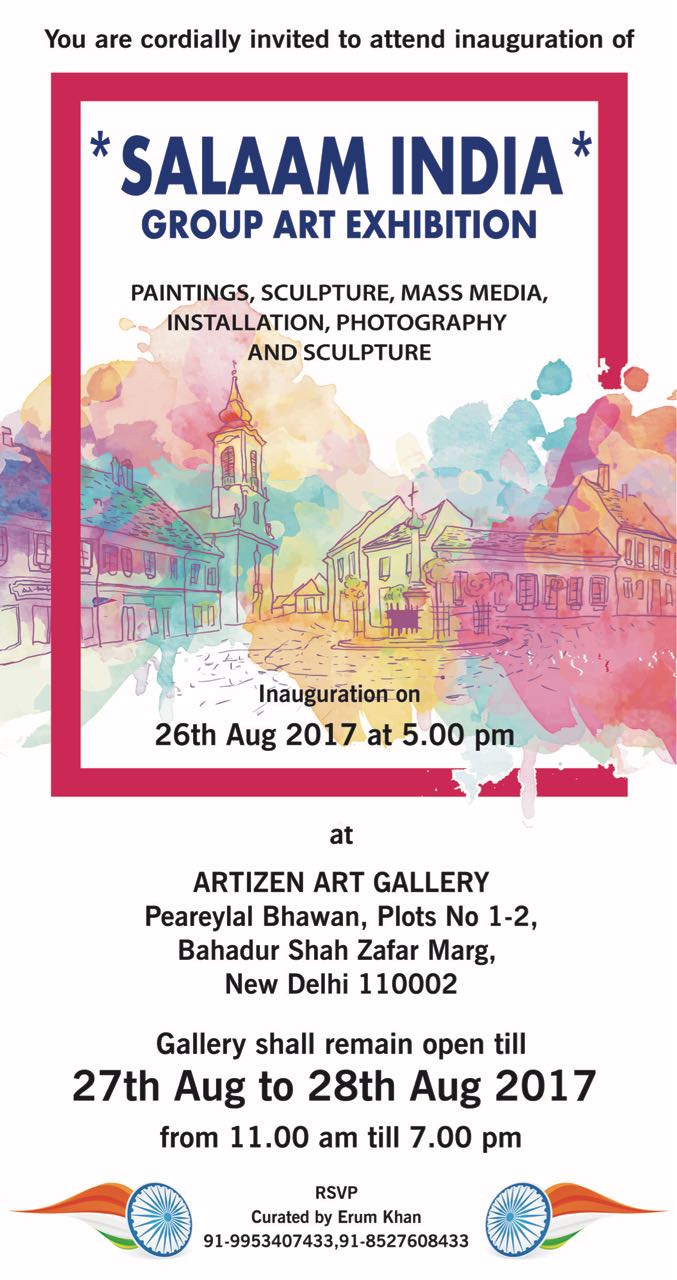 The rich culture and heritage of our motherland India needs no introduction. Words are not adequate to describe the exquisite ethnicity of Indians who live by the axiom of unity in diversity. India can rightfully claim to be the cradle of civilization and the birthplace as well as a welcoming home to varied faiths, religions, creeds and cultures across the world. On the occasion of our 70th year of independence, "Salaam India" exhibition celebrates selected our diverse culture such as
• Yoga and Spirituality,
• Classical Dance,
• Magnificent Sculpture and Architecture,
• Our sacred and luminous Festivals and Traditions,
• Breathtaking Landscapes and Wild Life,
• The valor of our Kings, Freedom fighters and Defense Forces,
• The delectable cuisines and brilliant textiles
and so on across Kashmir to Kanyakumari and Gujarat to Arunachal Pradesh. 
Ms Erum Khan, curator, following up on the success of her acclaimed exhibitions such as Khushrang, Kabir and Sarhadein brings you her new group art exhibition "Salaam India" which showcases the paintings, sculpture, photography and crafts from our talented and renowned artists and craftsmen across the length and breadth of our proud nation. 
With the blessings of our honored guests including eminent dignitaries from top corporations, government services, political leaders, administrators, foreign diplomats and senior artists who will grace the occasion, we invite artists to participate and showcase their work in this grand celebration. 
In keeping with the precedent set by previous exhibitions, this exhibition too aims at bringing visibility & credibility to the works of deserving talented artists who have largely been overlooked within the mainstream discourse as well as an opportunity to sell paintings, network with senior and contemporary artists and commission work to create new paintings based on different corporate requirements and themes. 
It is curator Erum Khan's tireless endeavor to provide a platform to the works of upcoming artists aspiring to be new masters in times to come, bringing rewards, recognition and promotion for their path breaking among general public at large & art lovers at attractive prices.