'Samvidhi 5.0–The Legal Conclave' at DPS-40 on Aug 25: To promote the spirit of collaborative learning and healthy competition, Delhi Public School (DPS-40), Sector 40, Chandigarh will be holding 'Samvidhi 5.0 – The Legal Conclave' on Aug 25-26 in the school premises.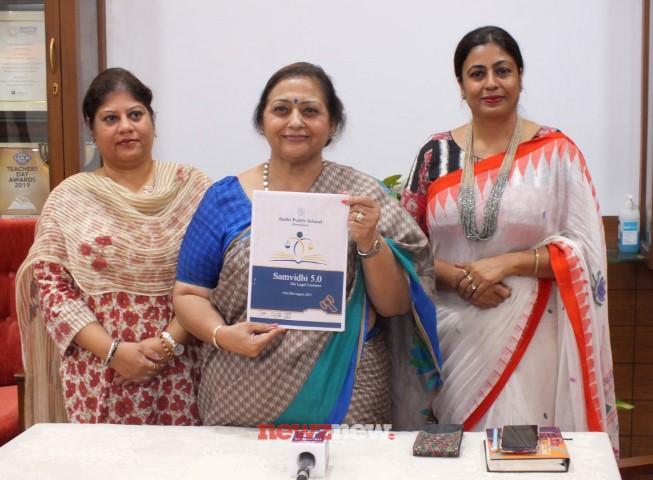 A curtain raiser press conference was held at the school by Ms. Reema Dewan, Principal of DPS-40, the school's Headmistress Ms. Sapna Nagpal, and Ms. Preeti Sharma, Event In-Charge, to share details of the upcoming event.
It is noteworthy that under 'Samvidhi – The Legal Conclave' not just a Moot Court will be held but a myriad of activities that help in giving a platform to students to show their talent and hone their skills shall also be organised.
Ms. Reema Dewan said, "We sowed the seed of the Legal Conclave in 2019 and the seed blossomed and came into fruition. As a result, four editions of 'Samvidhi' have already been held and this year we will be organizing the 5th edition.
Our pursuit of legal literacy always was and is a synthesis of human values and ethics. The conclave shall play an important role in creating  awareness among participating students about 'legal issues' while giving them a chance to showcase their inherent talent in debating and a host of other activities."
It was further emphasiszed, "Every edition included activities like Hasya Vyangya, AdMad, a Legal Debate and even 'The Newsroom'. In keeping with the promise to synergize the invigorating event this year, team DPS is bringing a moot court, a legal entrepreneurship session, a G20 summit simulation, a quiz, and more activities aimed at testing and challenging the intellectual prowess of participating students."
For judgment and appraisal, the event shall witness a galaxy of experts. There will be a presence of dignitaries for the opening ceremony and prize distribution.Event In-Charge said, "Preliminary rounds will be conducted on Day 1, followed by more competitive rounds of the finalists on Day 2.
The finish shall culminate with a musical rendezvous. The event is expected to garner the fervent support of nearly 300 participants from schools of  tricity as well as pan India. The event is open to students from class IX to XII. The registrations are being accepted from registered school teams as well as individual participation."
Ms. Reema Dewan, summed up, "The energetic confluence of The Legal Conclave once more promises to provide a fertile field for networking, exchange of ideas, and awareness. The conclave upholds the promise to deliver once more constructive discourse through multiple learning opportunities and reinforce its commitment to fostering the leaders of the future."