Satsang is Not a Ritual says Satguru Mata Sudiksha Ji  :  Satsang is not a ritual. Such Samagams are a unique get-together of learned and experienced saints. When they speak from their own experience of spirituality, each and every word spoken by them acts as an inspiration and guidance to us all. Let us, therefore, listen to them with full attention.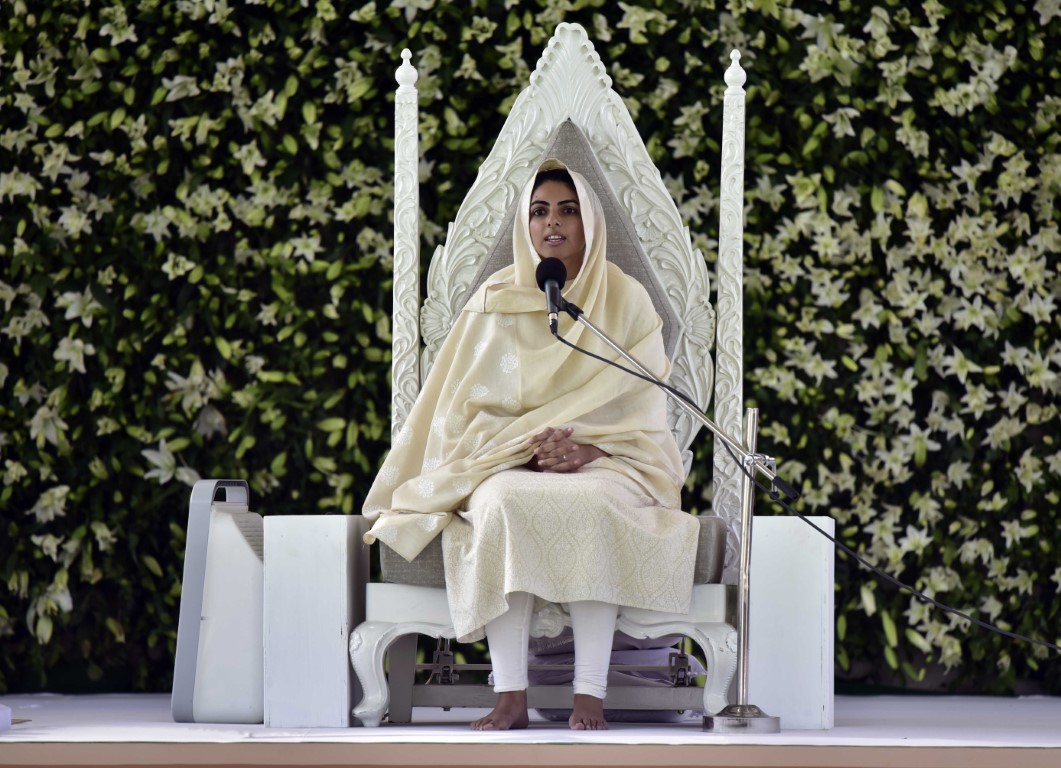 This was stated by Nirankari Satguru Mata Sudiksha Ji Maharaj while addressing the first open session of the 3-day 71st Annual Nirankari Sant Samagam at the Sant Nirankari Spiritual Complex, G.T. Road between Gannur and Samalkha, late last evening.  Her Holiness said that whenever we participate in a congregation, we should follow complete discipline and decorum and avoid even the use of mobiles for recording or preparing videos because this deviates our attention from what is being said.  Let us listen to the saints and adopt their words in day-to-day life.
Her Holiness said that when you see Nirankar dwelling in every saint, if you touch the holy feet of the saint sitting by your side, all that you wish will be granted to you. Similarly, if someone has gone astray from Satsang, you can inspire him by your own devotion, dedication and faith. Even an unlit lamp can be lighted by the lamp which is already lighted, Satguru Mata Ji said.
Her Holiness advised every devotee to devote more and more time towards Satsang, Sumiran and Sewa. Among these three means of devotion, Sewa should however, remain the top priority.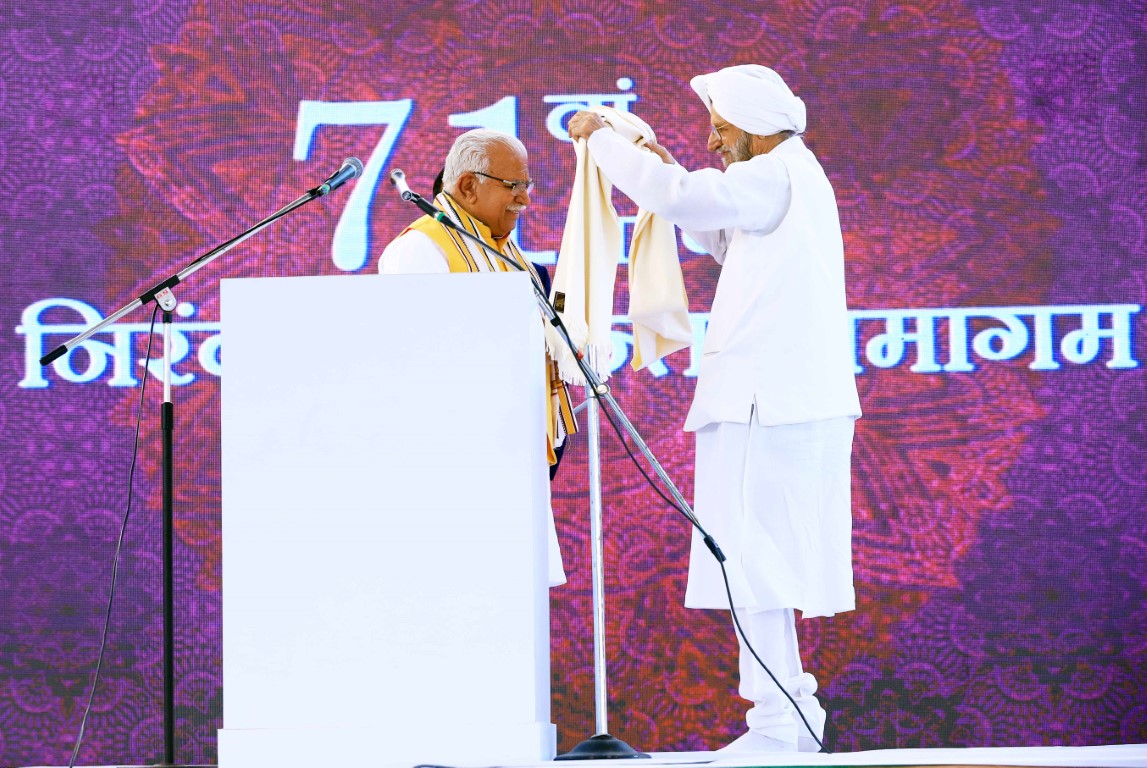 The opening session of the Samagam was graced by the Haryana Chief Minister, Shri Manohar Lal Ji along with the Transport Minister, Shri Krishan Lal Panwar Ji and several other local dignitaries.  Shri Manohar Lal Ji was welcomed with a shawl by the President of the Sant Nirankari Mandal, Shri Gobind Singh Ji.
Speaking on the occasion, the Hon'ble Chief Minister thanked Satguru Mata Ji for giving this privilege to Haryana to host this International Samagam of the Mission for the first time on its sacred land.  He said that the devotees coming from India and more than 70 other countries of the world is the biggest Sant Samagam being held in the state.   The message of the Mission is needed the most today.
Appreciating the ideology of the Mission, Shri Manohar Lal Ji said that today when every person is striving for his own selfish motives and is prepared to use any legal or illegal means, the Sant Nirankari Mission led by Satguru Mata Sudiksha Ji today is rendering a great service to humanity by preaching the message of peaceful co-existence with the spirit of humanity. As a matter of fact, only saints have been showing us the path of righteousness and inspiring every human being towards a clean society based on human values.
The Hon'ble Chief Miinister said that his government have already extended every co-operation to the organizers of the Samagam. If there are suggestions to improve further, they will be glad to follow the same also.
Sewa Dal Rally
Today's highlight was the Sewa Dal Rally before the main Satsang Programme.  Thousands of Sewa Dal men and women in uniform from across the country participated. A unit from abroad came in their own Sewa Dal uniform. After some PT exercises, they presented some physical formations and skits conveying the message of the Mission and a few games showcasing sewa as a means to express one's devotion to God and faith in Satguru.
Blessing the Sewa Dal Rally, Satguru Mata Sudiksha Ji said that Sewa Dal is the 'Aan, Ban and Shaan' i.e. pride of the Mission.  The Sewa Dal uniform has been worn by Nirankari Rajmata Ji, Baba Hardev Singh Ji and thousands of devotees to serve the humanity.    The devotee wearing Sewa Dal uniform must upkeep the decorum of the Sewa Dal uniform.   Her Holiness applauded the physical items presented at the Sewa Dal Rally and wished that the message be translated in our daily life.
Earlier, Shri V D Nagpal General Secretary of the Sant Nirankari Mission and Member Incharge, Nirankari Sewa Dal said that Sewa Dal has always been able to perform their duties only with the blessings of Satguru.   They are however likely to make mistakes for which he prayed to Satguru Mata Sudiksha Ji to pardon them and bless them a better sense of discipline, dedication and co-operation.