SBI Chairman inaugurated new Administrative Office building at Mohali & e-lobby at PGIMER Chandigarh: Shri Rajnish Kumar, Chairman, State Bank of India today inaugurated e-lobby at PGIMER Chandigarh at its newly constructed Nehru Hospital Extension Block.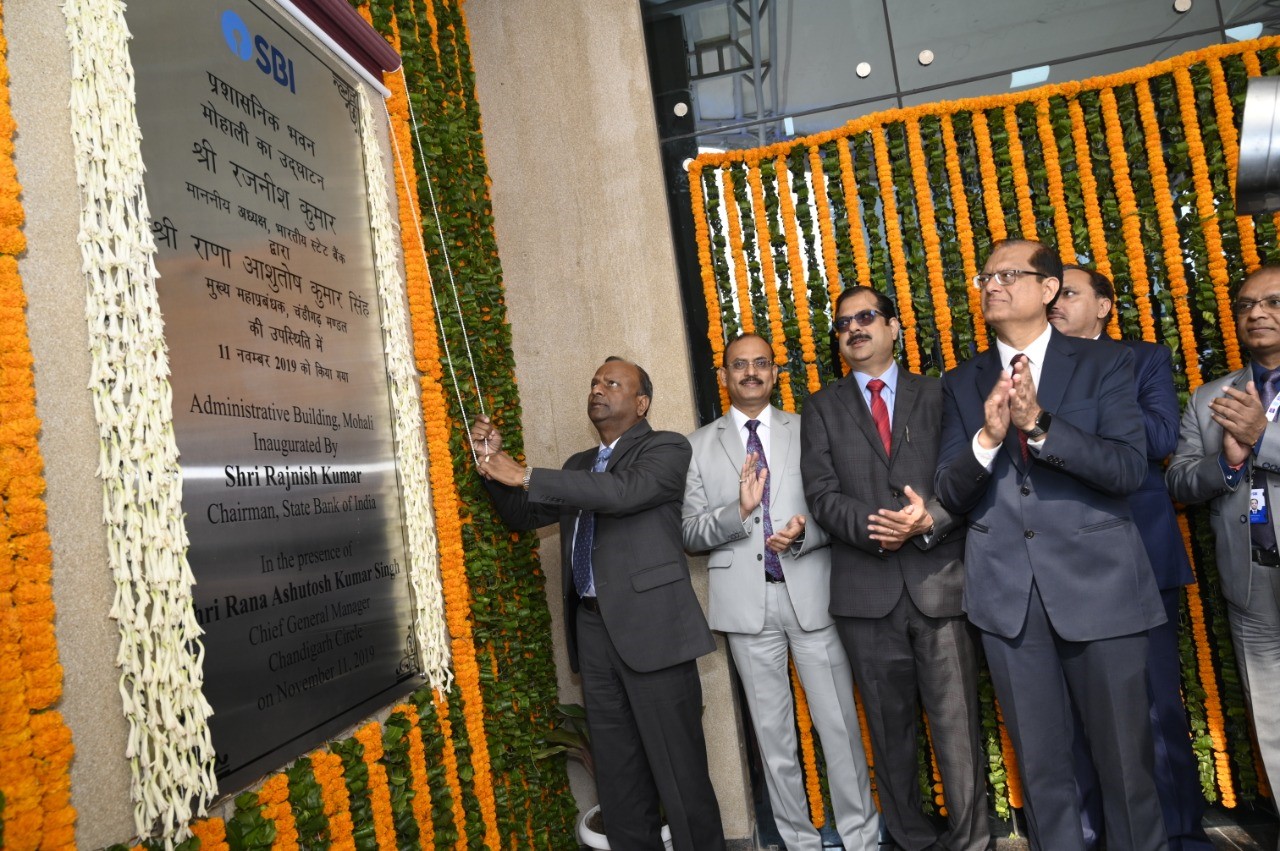 This e-Lobby at PGI's Extension Block will help cater to financial needs for patients and their attendants such as easy fund transfer, cash withdrawal & deposit and so on.
As part of Bank's CSR initiatives, Shri Rajnish Kumar also donated an ambulance to PGIMER Chandigarh for their Extension Block of Nehru Hospital in the presence of Shri Rana Ashutosh Kumar Singh, CGM Chandigarh Circle, SBI and Prof. Jagat Ram, Director PGIMER Chandigarh.
Sh. Rajnish Kumar, Chairman, SBI said, "We at SBI keep customers in the centre in everything we do and always endeavour to provide access to customers with better and convenient banking and financial services at every place, be in the proximity of their residence, place of work, study, cantonments and even in hospitals. The new e-Lobby at Nehru Hospital Extension Block is a testament to this commitment. With the new e-Lobby, we believe patients and their families get hassle-free access to all their financial needs and requirements at the hospital itself without the worry of finding banks and ATMs outdoor. This is also a step closer to our commitment towards Hon'ble PM's vision of a digital and green India".
He further added, "The bank is committed to well-being of the society in every possible way. I think PGIMER deserves a special mention for providing advanced and best medical practices to its patients coming from various parts of the country. The Ambulance is a small contribution from SBI for PGIMER patients' safety and wellbeing". 
While thanking SBI for this donation, Prof. Jagat Ram said, "This ambulance will be of great help for the patients who are required to move from the Extension Block to Old Nehru Hospital for emergency & ICU services, radio diagnostics and other tests on a regular basis".  Prof. Jagat Ram also appreciated the excellent and personalized customer service being extended by the State Bank of India and its staff members.
During his visit to Chandigarh, Shri Kumar also inaugurated Bank's new premises of Administrative Office in Sector-68, Mohali which covers 13 districts of Punjab through 6 RBOs located at Mohali, Hoshiarpur, Patiala and Bhatinda.  The rest of Punjab is covered by Bank's Administrative Office in Ludhiana.  Shri Kumar also inaugurated a Heritage gallery at its Local Head Office wherein the over 200 years journey of the Bank from inception to date is depicted by means of photographs and a few antiques collected from various old branches of the Bank situated in the Circle.