Tough Competition of Kabaddi Friendly Match: Today sports and fitness is important in our life. Its a tough competition of kabaddi with India Team and Afghanistan team participated a friendly match.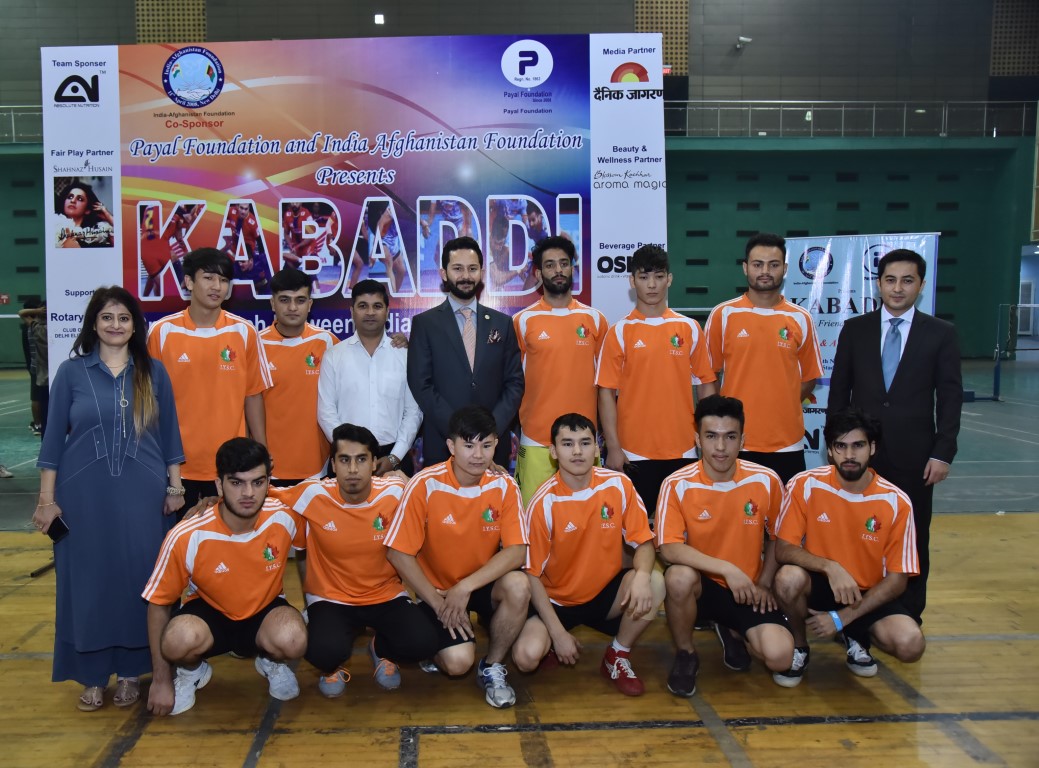 India is a land of diversity and that can be seen in sports too. India is home to many indigenous sports, such as polo, kabaddi, kho-kho, hockey, chess and many more. Till date, India has hosted numerous national and international sports events. 
Our Hon'ble Prime Minister Shri Narendra Modi Ji has inititiated Fit India Campaign on National Sports Day.
Objective of Fit India Movement by Hon'ble Prime Minister Shri Narendra Modi Ji. To encourage people to start/increase physical activity and sports in their everyday lives so as to avoid the diseases which is possible through activities like Sports. 

Payal foundation in association with India Afghanistan foundation celebrated KABADDI SPORTS friendly match in order to promote fit India campaign by Honorable prime minister Shri Narendra Modi Ji. 
Mr Tahir Qadiry charged Affaires Islamic republic of Afghanistan and co chairperson India Afghanistan foundation gave his welcome address. Shri kirti azad former Member of Lok Sabha and cricketer was chief guest.

Payal swami founder of  payal foundation and Mr Abdullahq Azad press secretary to the embassy of the Islamic republic of Afghanistan in India and Ex-official Secretary to IAF Delhi chapter conducted the Event as Organiser and co- sponsor 

Other dignitaries present were Mr Amarendra Khatua ex foreign Secretary director general ICCR, , Mr Anuurag arora global head and senior vice president VFS global services pvt ltd. Mr Rajkumar sacheti executive director of boxing federation of India. 
Madam IRA Singhal IAS she is brand ambassador for department of disability ministry of social justice and empowerment govt of India and ministry of women and child development and Niti Ayog. Madam Ilma Afroz IPS  71 RR batch Himachal Pradesh cadre  educated at st Stephens College Delhi and Oxford university, Mr. Rahul Devraj Dawar managing director Aboulute Nutrition. Founder Varija Design Studio Social Entrepreneur. 
The  partners and supporters were  Absolute Nutrition as team Sponsor, Shahnaz Herbals as Fair Play Partner, OSHEE as beverage partner ,Bosco unhcr as supporter, Blossom kochhar group of companies as beauty and wellness partner, Red bull as energy partner and Kairali Ayurveda as Ayurveda partner.
The friendly match played between India and Afghanistan was to encourage sportsmanship and promoting sports between two nations. The participation team were provided with certificates medal and Momentos to all players.