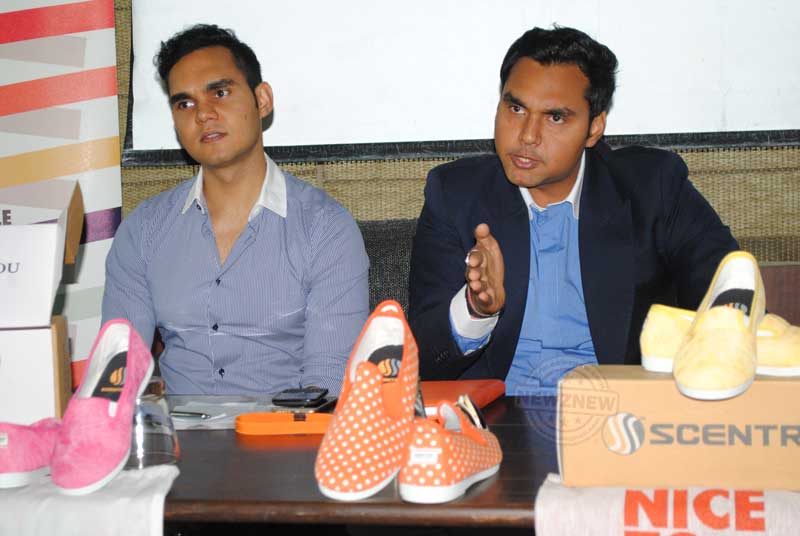 NewZNew (Chandigarh) : Scentra, India's first scented shoe brand, unveiled its new Spring/Summer'15 collection which promises a cheerful and casual style, flawlessly combined with comfort.
Celebrate the arrival of the long-awaited sunny days with floral prints in flirty colours blended beautifully with versatile and solid colours. The Spring/Summer 2015 collection re-elaborates some of the high end designs, injected with fun to refresh your wardrobe.
This season animal prints and subtle multi coloured flowers are going to make their debut on women's canvas shoes. While the collection for men will go old school with camouflage fabrics. The outsoles get a facelift and have become thicker giving the men's collection a robust and better look. In addition, Scentra is introducing two tone prints where it will have a luxurious blend of embroidery and bold colours.
On the launch of the collection, Mr. Karan Vij, Founder & Managing Director, Scentra, commented, "This spring summer we see a vibrant diverse mix of prints and colors. From the fun floral and animal prints, bright textures to eclectic embroidery, Scentra has the key looks covered this season. We are also extremely proud to introduce Scentra plus which is a reengineered outsole for the Indian market which makes the shoe bolder and brings a different look for the collection. Though, we haven't changed our original principal of foldable shoes as Scentra plus will be foldable and will still smell great like our previous collection. With the launch of the Scentra SS 15 collection we aim to liberate consumers to make quicker easier decisions with respect to matching footwear. Scentra is a one stop solution as a replacement for casuals / semi formals while providing ease to wear or carry, comfort and a feel good fragrance to go with."
In addition to SS 15, Scentra also has another collection to offer, Scentra originals. This collection is further divided into various sub collections – Madrid, London, Tokyo, Amsterdam and Miami. Most of these shoes draw inspiration from the flags of the following countries or some signature styles of the particular place. The collection is available in six perky colors. Scentra also has a dedicated line for kids called Orlando.