newznew (Chandigarh) : The Kitchen Makers, Chandigarh and JB Glass, Delhi have collaborated to bring new Designer Glass Modular Kitchens to the tricity. These trend setting & state-of-the-art modular kitchens were unveiled at a press conference convened at The Kitchen Makers corporate office cum display outlet in Sec 35. The senior officials of both the companies also announced a business tie up which will help tricity customers to buy unique designer glass modular kitchens. A modular Kitchen has got this name as it consists of several modules or units.  The kitchen includes Kitchen cabinets, Kitchen Appliances, cooking range, Kitchen chimneys, Kitchen Countertops, slab work etc.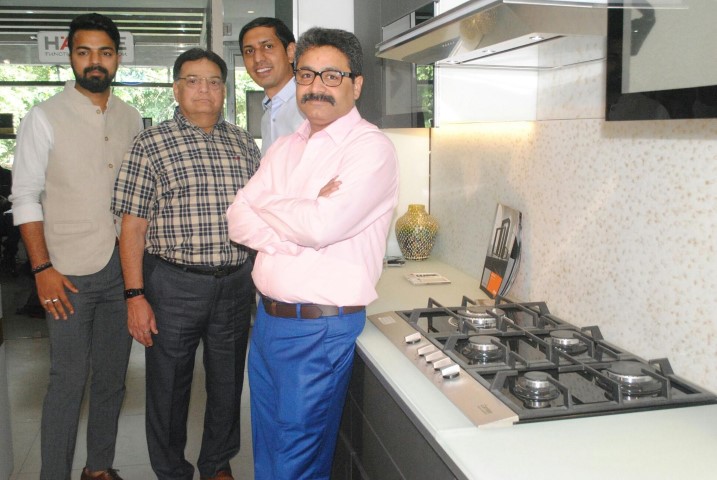 Rupak Setia, MD, The Kitchen Makers said, "We have our own designing & manufacturing facility in Chandigarh and will be providing customised designs, colours and sizes. The idea is to translate a designer's or an architect's vision into built form by providing customized solutions. The collaboration with JB Glass will be very useful as Designer Glass Modular Kitchens will be developed under this."
"Now a customer will be able to add spice to his or her kitchen. We have brought endless possibilities to style your kitchen with the latest range of designer glass. These modular kitchens will stand out.  The USP of the glass used to develop these modular kitchens is that it's made on concept of 3 S's – strength, stain free & scratch free. We plan to service not just tricity but also areas of Punjab, Haryana & Himachal through this tie up with The Kitchen Makers." Said Mr. Gaurav Singhal, MD, JB Glass.
A demonstration of the scratch-less & breakage resistant quality of the Glass used to make the Modular Kitchens was also held at the Press Meet. Ms. Bandna Singh, A Leading Architect of the Region too participated in the press meet. Mr. Anubhav Suri Territory Manager, Hafle India Pvt. Ltd was also present. "Kitchen cabinets of modular kitchens are durable. With the designer glass modular kitchens a new phase in interior décor particularly of kitchens will start. The product unveiled today is certainly very aesthetic & will give a royal feel to one's kitchen space." Said Ms Bandna Singh.
"Modular kitchens have revolutionized interior decor of the house. The kitchen is not only stylish but makes cooking easy also. Modular designs of kitchen add to the beauty and functionality of one's home." Added Anubhav Suri.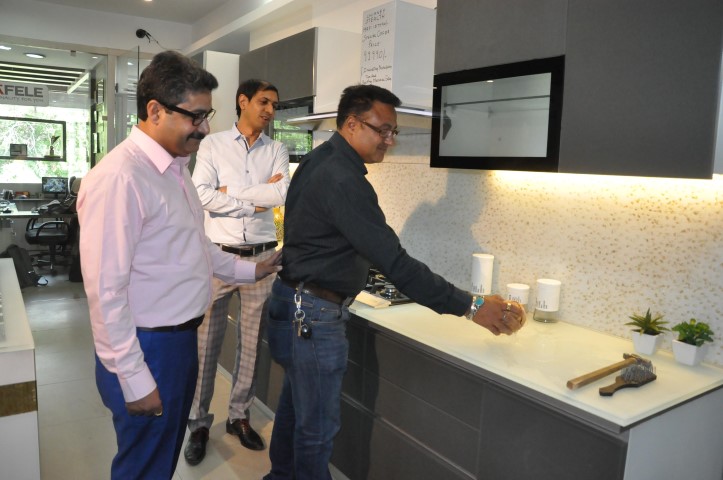 It is noteworthy that The Kitchen Maker, which has been operating & serving the Northern Region for more than 15 years is an authorized distributor for appliances from brands like Kaff and other kitchen fittings by Hafele Kitchens and also imported products. It specializes not just in modular kitchens but also in providing wardrobes, kitchen accessories, hardware fittings and sliding fittings etc. JB Glass on the other hand offers solutions in architectural glass, lacquered glass, decorative glass, decorative 3D glass tiles and mirrors.
The pricing of the designer Glass Modular Kitchens depends on the kind of size & customization done. But in general these will start at Rs. 50,000.