newznew (Patiala) : Confederation of Indian Industry (CII) organised Innovative Farmers' Meet at Silver Oak Farms, Patiala today, as part of a campaign to promote modern farming practices. Sessions on Sustainable Agriculture through Organic Farming & Innovations to Enhance Farm Productivity & Sustenance' were organised and a meet-cum-exhibition of farm products was also held on the occasion. Over 1,000 farmers visited the Innovative farmers meet on Monday.
The campaign is being organised by CII, in association with the Ministry of Agriculture & Farmers Welfare, Government of India, & Mehram Publications from 4 May to 16 June 2017 in Punjab, Haryana, Uttar Pradesh, Uttarakhand and Himachal Pradesh.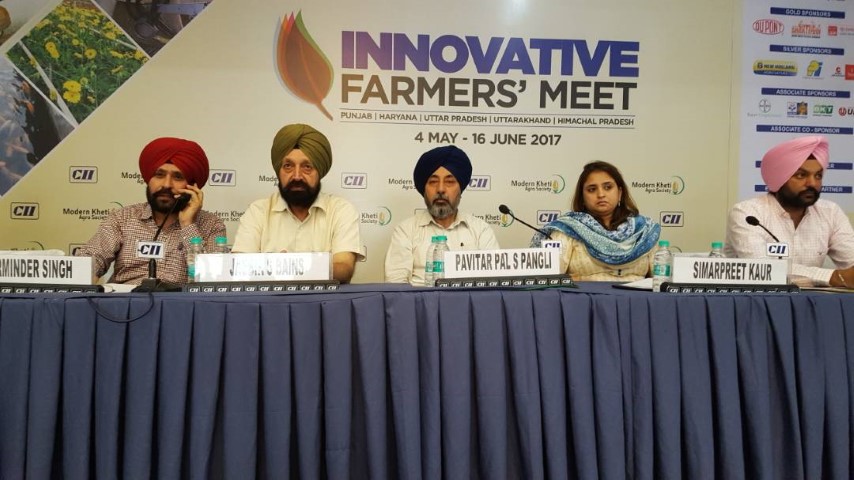 Jasbir Singh Bains, Director Agriculture, Government of Punjab, said, "The Government of Punjab is trying to introduce assured MSP for crops like corn etc to encourage farmers to go for diversification. Farmers must be aware of their responsibility towards saving the future of the state by arresting the depleting underground water table. Out of the 146 blocks in the state, 105 block are witnessing extremely low water table. Farmers can help improve the situation by saving water through drip or sprinkler irrigation."
"CII's effort to introduce such a big platform for progressive farmers is a laudable step. With rising cost of production, farmers must start devoting area for crops under diversification. They must also go for value addition to their crops through packaging and direct marketing of good agri-products," he added.
"We are responsible for the pollution, which has led to the depleting ozone layer. Modern farming means to be responsible towards the environment so as to save our future generations. CII must organise more such events," said SDM Patiala, Ms Simarpreet Kaur.
"It is an excellent initiative by CII and Mehram Group of Publications for providing a platform for farmers to get first hand latest technology for maximising their profits, minimising the cost of production, with the best available resources," said HS Bains from United Phosphorous Limited.
Speaking on 'Horticulture – Challenges & Opportunities', Mr K V S Sidhu, Managing Director, Patiala Horticulture Pvt Ltd, said, "We must turn agriculture into a profitable business by bridging the divide between farmers and end consumers."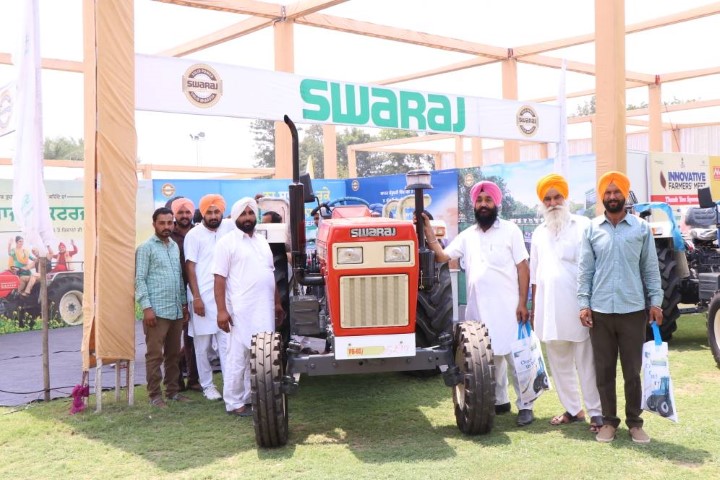 Dr C S Aulakh, Senior Agronomist, Punjab Agricultural University, Ludhiana, said, "The Innovative Farmers Meet organised by CII is a commendable effort to bring all stakeholders in agriculture on one platform. Special focus on organic farming can help farmers a long way. For lack of a developed market for organic produce, farmers can start by organically producing organic crops to fulfill their needs at home at least. Market needs to be developed to sell organic produce. To promote organic farming, Certification from government or other agency is a must to convince people to buy it.
Sukhpal Singh Bhullar, a progressive farmer, said, "Innovative farmers' meet is an excellent opportunity for progressive farmers to come on one platform and share their experiences. Going by prevailing agricultural scenario, scientific farming is a must. Farmers need to get soil and water health tested before sowing and adopt water conserving irrigation methods."
Mr Puneet Thind, Director, Vegetable Growers Association of India, said, "Farmers with small land holdings should come together for collective cultivation of land. Collectively they can also market their produce directly and also value-add by agri-related products such as pickles, etc."
"We have adopted collective farming and opened stores in various cities like Zirakpur, Ambala, Patiala, Sirhind, Muktsar, Ludhiana, from where farmers can directly sell their produce. Together we form Farmer Produce Organisations (FPOs) and get registered as a company to earn more profit," he said.