Chandigarh witnesses a first-hand experience of Rajkumar Rao's success story
Seagram's100 Pipers Music CDs successfully concluded an enchanting evening with Bollywood actor Rajkumar Rao. Celebrating 12 Years of maturity, the guests witnessed a first-hand experience of his 12 year journey from anonymity to stardom. This first of its kind initiative, was a celebrating event held at The Lalit, Chandigarh on February 24, 2018.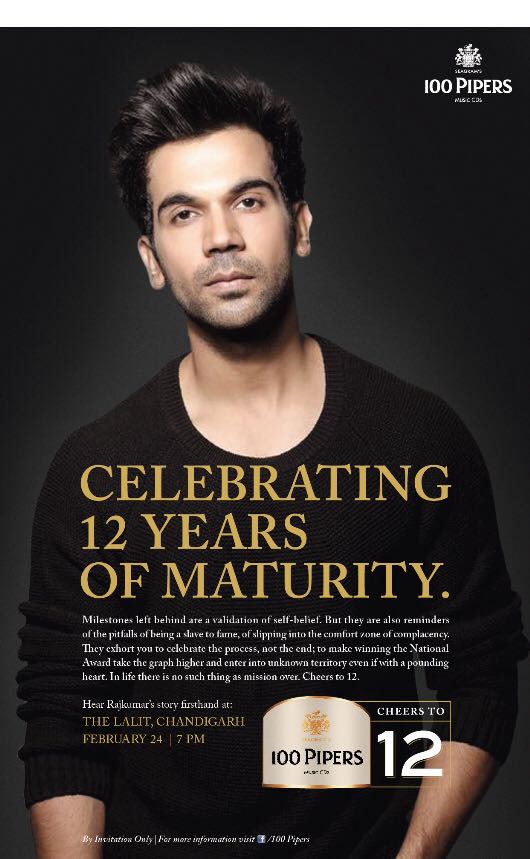 Aptly titled, '100 Pipers Music CDs 'Cheers to 12', is an extravaganza which brings together artists from across India to engage with the guests emphasising on their hardships and struggles during their journey. Seagram's 100 Pipers Music CDs has always been dedicated towards spreading the message of celebrating success. The brand's unique iconography and heritage reflects the essence of a "True Legend".
Seagram's 100 Pipers Music CDs 'Cheers to 12'is a conscious effort to rejoice 12 years of maturity with various artists sharing their success stories.  It provides the artists with a platform to inspire the people by sharing their stories of the long distance race to glory. The heart-touching stories demonstrate the constant fight between self-belief and self-doubt proving that destiny is certainly not defined by geography.
After a huge response in several cities in the last 5 months and the onset of its maiden venture in Chandigarh, Cheers to 12 will inspire further in other cities.