newznew (Chandigarh) : Second Edition of Annual 4.5G & 5G Innovation Summit, an international Conference cum exhibition concludes on a highly successful note. The summit was organized by Nexgen Conferences, one of India's leading conferences & B2B event organizers.
The overriding theme of the Summit was to promote thought provoking keynote sessions, panel discussions and workshops, wherein key telecom industry professionals, stakeholders, thought leaders, analysts and users would be able to effectively participate and address the future of next wireless upgrade beyond LTE or 4G.It successfully served as a knowledge-exchange platform where both the attendees and speakers felt equally empowered in terms of gaining more impactful insights into the exciting world of ICT innovations and developments.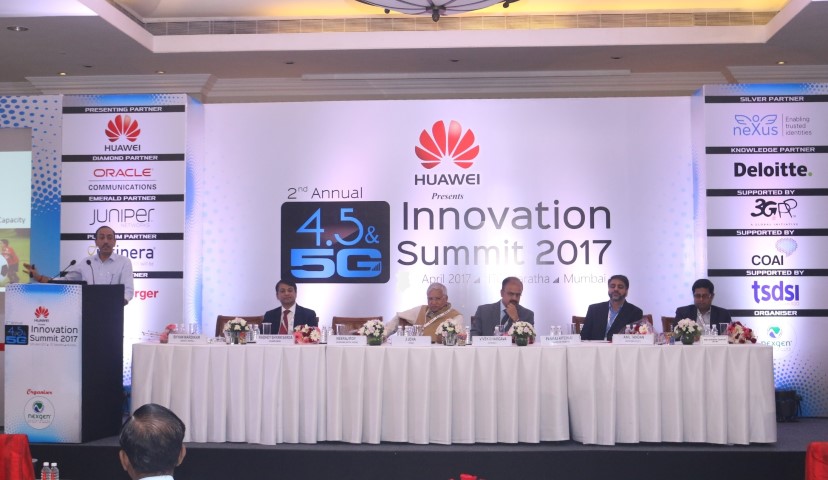 Addressing the audience,Mr. Radhey Shyam Sarda, Director – Wireless, Huawei Telecom, said,"In order to best meet the rising demands of Indian consumers for high-speed data transmission, we are leveraging key technologies such as massive MIMO,massive carrier aggregation, and advanced level of modulation.Apart from that, fiber penetration to the towers is one of the areas that we are paying attention to and that is the way forward when we are having the evolution of 4G to 5G."
Addressing key concerns of Indian telecom industry, Mr. Vivek Bhargava, Director – Product Marketing, Oracle said, "5G roadmap in India is dealing with a number of challenges including financial stress, high debt burden, inadequate investments in building and modernizing infrastructure, so and so forth. Launching advanced LTE network for Indian consumers would require considerable amount of time, capital investments and combined efforts from the entire telecom ecosystem."
Gartner estimates 20.8 billion internet enabled devices by 2020 – up from just 6.4 billion in 2016. In order to match patch with the rest of the world in the adoption of 2G, 3G and 4G technologies, the Indian government wants the country to be an early adopter of 5G, which is expected to be commercially rolled out by 2020.
Mr. Pankaj Kitchlu, Systems Engineering Leader – Telecom, Juniper Networks said, "Being a fastest-ever growing market for smartphones and high-speed data throughput, India is driving opportunities to increase network capacity and improve the user experience. While 'simplifying the infrastructure for network operators' has become necessary in order to reduce operating costs for providers, leveraging highly reliable emerging network technologies and intelligent network architecture is the need of the hour."
Mr. Jacques Lebosse, Engineer Director, Metro Solutions APAC, Infinera said, "In order to support  cloud radio access networks (C-RANs), massive bandwidth with low latency, and high-capacity active mobile fronthaul services, we have expanded our Mobile Fronthaul and Mobile Backhaul Solutions as networks evolve to become 5G-ready.  It's the right time to focus more on innovation and developing future ready network elements- suitable to handle high-traffic density for LTE as well as advanced LTE environments- that are programmable using SDN controllers and flexible."
Mr. Denish NG, Director, Marketing & Infrastructure Solutions, Rosenberger said, "At Rosenberger, we are expanding our entire portfolio of cutting edge active and passive wireless telecommunications solutions for leading telecom operators and hold a strong footprint as successful manufacturers of base station antennas in India. We are driving innovation in designing robust telecom network with the most advanced high-frequency and fiber optic technologies."
Mr. Tejas Lagad, Director – Asia, Nexus Group said, "This summit has created a great platform for entire Indian telecom industry to discuss key challenges such as spectrum scarcity, deploying and protecting the LTE infrastructure, and developing scalable security solutions, among others while sharing their expertise towards road map of 4.5G & 5G in India. It has become crucial to adapt to future possibilities with the Internet of Things (IoT) and 5G in order to provide seamless experience to end-users."
The day-long summit provided a highly interactive platform for over 30 CXO level speakers and various niche exhibitors from well-known organizations of the telecom industry to embrace the supporting network technologies such as MIMO, Digital Signal Processing, Cognitive Radio, and latest innovations. The exhibition area further allowed attendees to benefit from latest products and services offered by industry experts while exploring great business networking opportunities.
Anjani Kumar Singh, CEO, Nexgen Conferences said, "We are feeling delighted to successfully create a platform intended to bring together the entire Indian telecom industry to best address the target for 5G commercial network availability by 2020.We are committed to empower participants to interact with leading operators, decision makers, and industry professionals, establish relationships and learn more about pre-5G initiatives necessary to test, trial, and commercialize service-oriented 4.5G and 5G technologies in a cost efficient manner."