High Tech transplant procedure for Hair loss
Cause of Baldness has become clearer in the past few years
Punjab's Sikh  facing traction alopecia
Dr Dhingra specializes in restoring such hair lines by "harvesting,"
Donor wound less than 1 mm / heals in a week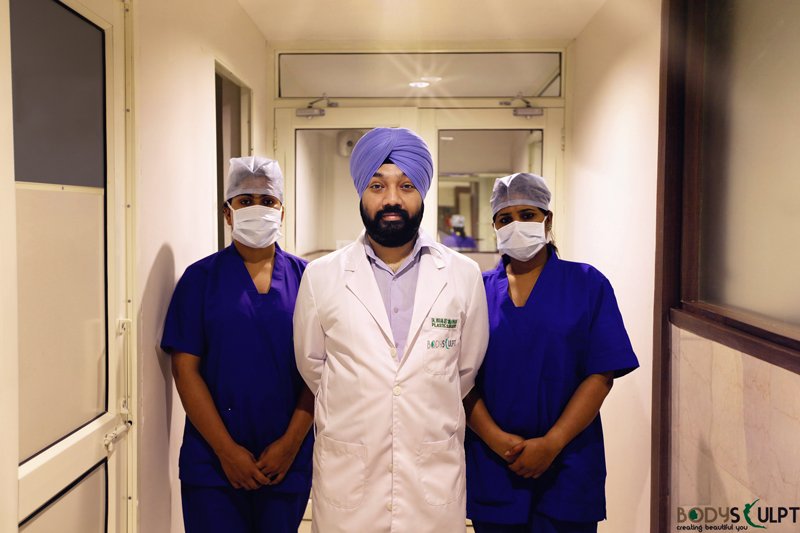 NewZNew (Chandigarh) : All of us  loses hair. It is normal to lose about 50-100 hairs daily. If you see bald patches or lots of thinning, you may be experiencing hair loss.
There are many causes of hair loss. Women may notice hair loss after giving birth. People under a lot of mental stress can see noticeable hair loss. Some diseases and medical treatments can also cause hair loss.
The most common cause of hair loss is called hereditary hair loss.
Hair loss is a worrisome problem which is on the increase these day s. more commonly observed in men it's causes have become clearer in the past few years.  Each hair is genetically programmed in the womb to go through the phases of anagen-(growing phase), catagen –(Transitional phase) and telogen –(resting or shedding phase). Baldness genes make certain hair follicles sensitive to testosterone and hence at youth follicular activity starts to reduce. Through the course of time, the follicular activity stops completely and baldness becomes a permanent  state. The type of baldness has many names, including androgenetic alopecia, male-type hair loss, male-pattern baldness etc.
There are countless other reasons for hair loss excessive stress, connective tissue disorders, use  of certain medications and supplements, chronic diseases, malnutrition and problems related to the hormones could trigger hair loss . Hair loss is also seen in areas which have been subject to physical trauma. Hair fall can be reduced at certain stages, and even be reverted back. However if permanent damage to hair roots has occurred, options for surgical hair restoration needs to be looked into.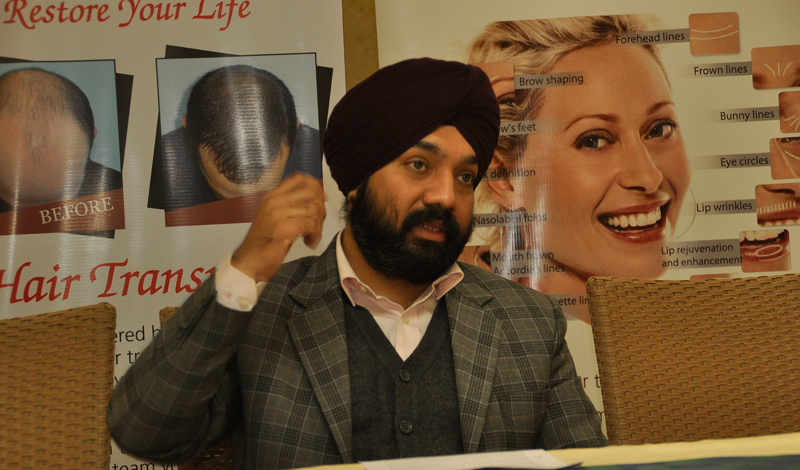 Dr Dhingra said that a common problem seen in Punjab is Sikh traction alopecia that occurs in Sikhs making the hairline look very awkward, especially after they trim their hair. Traction alopecia is a form of  alopecia which is the result of physical damage to the hair shaft which is caused by hair styles that tightly pull the hair such as ponytails, or other forms of habitual stress on the scalp.
Dr Dhingra said ,We specialize in restoring such hair lines. The latest technique we use is follicular Unit Extraction (FUE) is a method of  "harvesting," donor hair. The donor wounds, less than 1mm in size, completely heal over the course of seven to ten days. This method of removing follicular units one-by-one directly from the scalp, is what differentiates the FUE procedure from a traditional Follicular Unit Transplant (FIT), where the donor hair is removed from the scalp in one thin, long strip and then subsequently dissected into individual follicular units using a stereomicroscope.
The follicular units are then placed into the recipient sites where they will grow into healthy hair-producing follicles. The technique also works wonders in female hair loss. There are certain other factors that need to be taken into consideration before going in for a procedure like hair density, scalp elasticity, hair loss type, hair colour, curly or straight. Whether you are a candidate for medical or surgical management of hair loss and which technique suits you best can be decided over a consultation.
[blockquote author="Dr Dhingra further said," pull="pullright"]"We treat NRI,s , Pollywood stars and all others as our special guests and feel them at home while patients undergo daylong procedure of FUE , post transplant care which is vital is very well documented and briefed but patients may call us at any hour for any doubts thereafter."[/blockquote]

Dr Dhingra commented Chandigarh with world class facilities of hair Transplant and other Cosmetic procedures is fast becoming choice of Non resident Indians . Which in turn boosts economy too in terms of Medical tourism .
About Dr Dhingra::
Dr Vikram Jeet Singh Dhingra, MBBS, MS (Gen. Surgery), MCh (Plastic Surgery), is one of the most sought after Cosmetic Surgeons in the country. He has had experience of operating upon celebrities including singers, politicians, actors on small and big screen, and calendar models. Member of privileged associations like AMASI (Association of Minimal Access Surgeons of India) and APSI (Association of Plastic Surgeons of India), Dr Vikram Dhingra is currently associated with Cosmo Hospital and Max Hospital, Mohali, besides providing cosmetic services under his brand, Bodysculpt. Taking an insight into his academic achievements, he was awarded with Medals in his MBBS & MCh and was bestowed with an award for best outgoing student in MS (GENERAL SURGERY). He has had the chance to train from the stalwarts in cosmetic surgery after completing his formal education.