Now Plan your wedding with More than one thousand Vendors
NewZNew (New Delhi) : Shaadi-e-Khas, one of the leading e-commerce portal for planning a perfect wedding, has announced the listing of more than one thousand wedding vendors PAN India on its portal.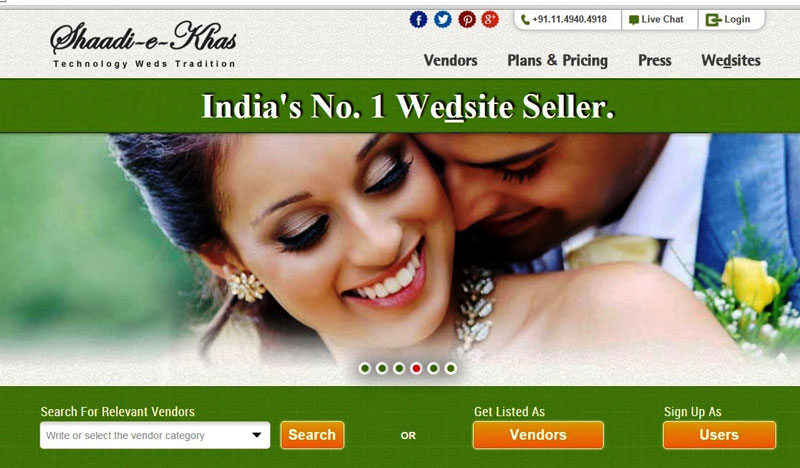 Launched in 2011 by Bharat Kanodia, a hardcore finance guy has launched the portal which provides a step-by-step guide to plan and manage weddings. The site features trending and stylish wedding websites, e-invites/evites and information for venues, honeymoon planning and more, to help out brides/bridegrooms-to-be and their families.
The portal has listed more than 15 categories of verified vendor services such as Caters, Decorators, DJ, Dress Designers, Florist, Invitation Card, Jewellers, Make Up artist, Travel & Honeymoon,and more. Users can search for vendors either by category or location (you will find a convenient drop down list of cities for this purpose). According to the company, Shaadi-e-Khas focuses on bridging up the gap between users and services.
Mr. Bharat Kanodia Comment- With the ongoing trend of Technology we seek to increase total count of verified Wedding Vendors to 5000 in next six months. Our plan for first year to next 3 years is to improve the overall user experience by connecting the genuine Vendor services to the user at the best price & convenience and expanding total Vendor base to more than 20,000.
About Shaadi-e-Khas-Shaadi-e-Khas offers registered per-scanned vendors and event planners who have provided with their details on the online portal and can be contacted by the customers as they wish.The wedding portal provides with a online wedding management software which helps the customer to track the progress made either by his event  planner or by the customer himself.Another impressive feature of this wedding management portal is the WEDSITES or the wedding websites which the portal provides with the package chosen by the customer. Wedsites provide the invitees with when & where and the follow-ups of  all the events with reminders at regular intervals chosen by the customer , cutting the hassle and cost of card printing and distributing, escorting the guest to the venue  and many such things.
In era of global connectivity and well wishers from all over the globe Wedsite also fulfills the need  of an online media sharing platform as it allows the user to upload videos, photographs and audio notes and helps them in making the entire experience a memorable one for everybody no matter how far they are.
Shaadi-e-Khas gives special attention to the fact that the customer does not exceed his budget from the day he's engaged to the one he comes back from honeymoon and has special arrangements for the same including affordable budget ranging from free to 3100 INR, budget tracking systems and more . The portal also provides the wedding site free for the first six months and thereafter for  minimal maintenance charges.