NewZNew (Chandigarh) : Ivy Hospital, Mohali has today announced to launch the tricity 1st state-of-art 'Dedicated Infectious Diseases Unit'. The unit will offer treatment of infectious life in dengue, malaria, typhoid, swine flu, hepatitis, UTI, acute gastroenteritis like diarrhea, dysentery & cholera, tropical fever, pneumonia, sinusitis, meningitis, tuberculosis, bone infections & diabetic foot, fungal infections and HIV medicine.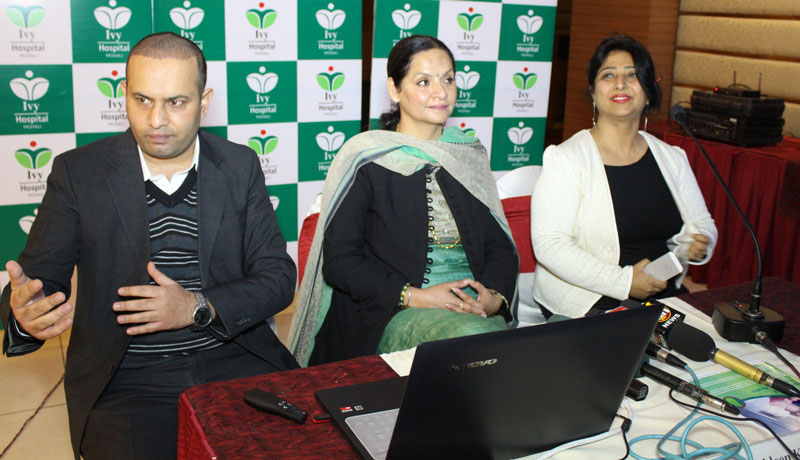 Talking to media person during a press conference to announce the launch of unit at a hotel in Sector 43, Chandigarh today, Dr. Sachin Verma, Sr. Consultant, Dept. of Internal Medicine, Ivy Hospital said that infections are one of the leading cause of mortality and morbidity in India and around the world. The unit is a high end center, where all kinds of infections are treated under one roof with latest technologies and APP based treatment protocols. This department will provide treatment of all kinds of complicated infections. It will deal with immunization advice to international travelers and launches various Infection control, Immunization and Antimicrobial stewardship policies. It will be instrumental in developing and implementing Infection Control Strategies in the region also, pointed out Dr. Verma .
The unit will be headed by Dr. Verma along with Dr. Neerja Kakkar Gupta, the Sr. Microbiologist.
Ironically, almost all specialties including Oncology, Nephrology, Gastroenterology and Neurosurgery face complicated infections in their practices. Thus they need expert advice in management of these infections. The hospital acquires infections is another area of concern, where deadly bugs complicate minor and major surgeries and leads to mortality. Therefore prevention and treatment of these infections is challenging.
Dr. Verma informed that antibiotics are now still regarded as miracle drugs. However the increasing prevalence of antimicrobial resistant pathogens in health care facilities is due to misuse of antibiotics and poor compliance with recommended infection control practices. According to an estimate more than 50% prescription of antibiotics can be wrong antibiotic, wrong dose or wrong duration. This leads to antibiotic resistance and growth of deadly bugs which are difficult to treat and causes increased mortality."
Dr Kanwaldeep Kaur, Medical Director, Ivy Hospital, Mohali said that we at Ivy, are starting this infectious disease unit to prevent and control of spread of such deadly pathogens to reduce overuse and abuse of antibiotics besides to implement new multidisciplinary programme to ensure the highest standard of quality care in infectious medicine. To run these programme, Ivy has come up with a super-speciality infection disease department which is first of its kind in region."