Shoolini University reaches out for global standards in research: Himachal Pradesh-based Shoolini University, which has been ranked among the top 15 per cent of about 900 universities by National Institutional Ranking Framework (NIRF) for the last three consecutive years, is now making its presence felt at the world stage.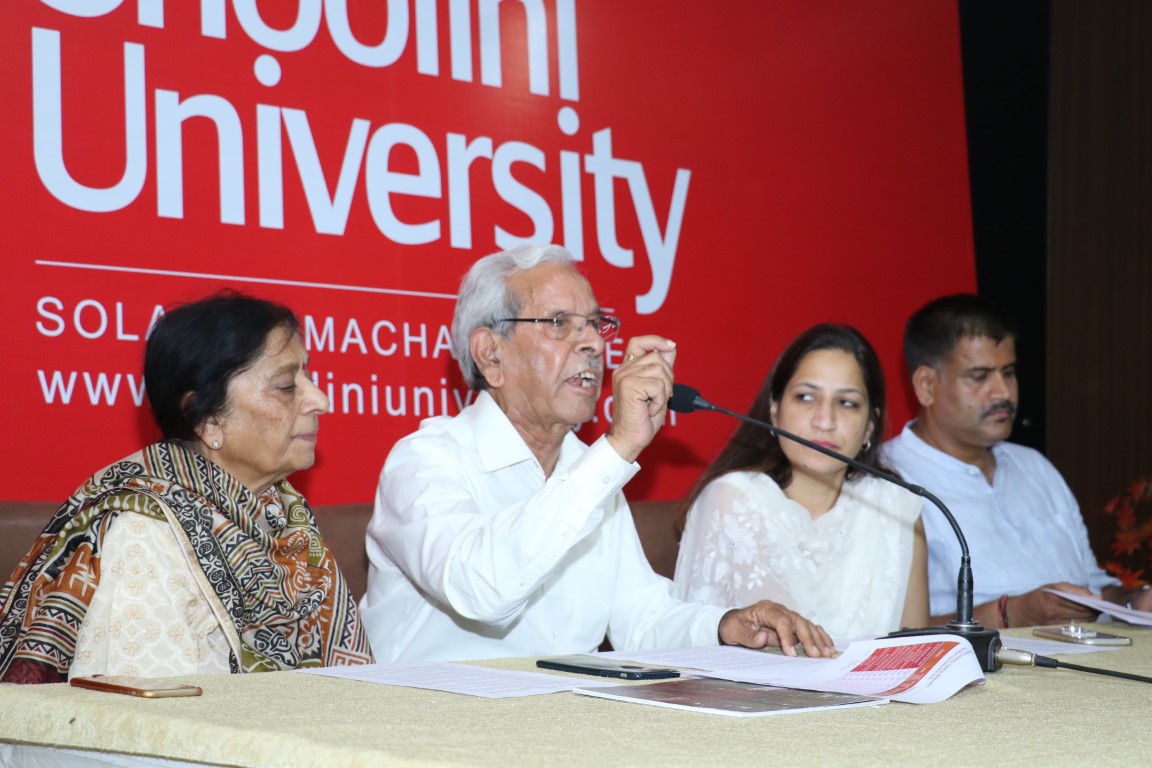 As per independent and authentic international data released by Scopus through SciVal, which analysis over 40,000 journals, Shoolini University has performed better than the global average in at least three parameters. 
These pertain to international collaborations, papers published in top one per cent of most cited publications worldwide and those published in the top 10 per cent of most cited publications. The 10-year-old University has already topped the country in these three parameters.
Addressing a press conference here today, Shoolini University Vice Chancellor Prof P K Khosla said that NIRF Indian rankings give merely 30 per cent marks to research while in 2015-16 it had earmarked 40 per cent.  The global standards as in the Times Higher Education (THE) allocates 60 per cent marks to research undertaken by educational institutions.
The Vice Chancellor said that the University is already among the top five patent filers in the country and is ahead of many renowned universities in annual filing of patents of about 100 patents. He pointed out that institutions established during the last 10 years were in fact performing better in research output than the established institutions.
Talking about the huge strides made by the University in the field of research, Prof Khosla said "we are among the top six institutions in the sphere of citational research along with IIT Ropar, IIT Indore, JSS Pune, ISSER, Pune and ISSER Hyderabad as these institutions meet the criteria for field weighted citation index which carries 30 per cent marks in the Times Higher Education for global rankings.
Prof Khosla also said that the University has achieved commendable placements this year for students from various departments.
The strenuous efforts by the University have led to almost 100 per cent placements in several disciplines even as top Indian and Multi-National Companies (MNCs) are sending their teams to pick up talent.
Prof Khosla said the average packages offered range from Rs 5 lakh to Rs 6 lakh per annum. The highest package of Rs 15 lakh CTC has been bagged by our student Aashish Saini from the MNC Hilti.
He announced that the University's Faculty of Engineering and Technology has been ranked among top 30 private engineering institutes of India by ELETS Rankings 2019.
The Vice Chancellor said that the University's focus is on achieving 100 per cent placements for the eligible students and not exceptionally high packages for a few.
Prof Khosla said that the University's Management programme, which has been ranked 65th in the country as per NIRF rankings done by Union Human Resources Ministry, has already recorded 100 per cent placements. Pharmacy, ranked at 39th, has already achieved placements for 92 per cent of final year students.
Break up of placements for some other programmes is M.Sc (Chemistry) 100 per cent, CSE 100 per cent, Bio Engineering 85 per cent, B. Tech (Mech) 88 per cent, B. Tech (Electrical and Electronics) 75 per cent and B. Tech (Civil) 90 per cent, Prof Khosla said 20 more companies were sending their representatives this month.
He said the University makes special effort to develop soft skills of students through programmes like SPRINT and trains them to face interviews and participate in group discussions. Placements and progress in research parameters determine careers of students and the University was focused on these vital aspects, the Vice Chancellor said.
Pointing out that the University has signed MoUs with about 250 universities worldwide, the Vice Chancellor said that over 50 students are currently studying in universities abroad as part of the student exchange programme. Similarly, he added, a substantial number of foreign students are now studying in Shoolini University. Many students studying abroad are able to bag fully funded post doctorate scholarships for further studies abroad.
Asked to comment on new facilities in the campus, Prof Khosla said a campus radio and television studio has been set up under the Journalism and Mass Communication department which runs a Bachelor's course and a post graduate diploma course in journalism.