Shoppers are winning big during the ongoing Grofers Grand Orange Bag Days: Grocery shoppers are up for a treat as Grofers, India's biggest online grocery store, is giving 100% guaranteed inaam on every purchase during its Grand Orange Bag Days (GOBD) sale.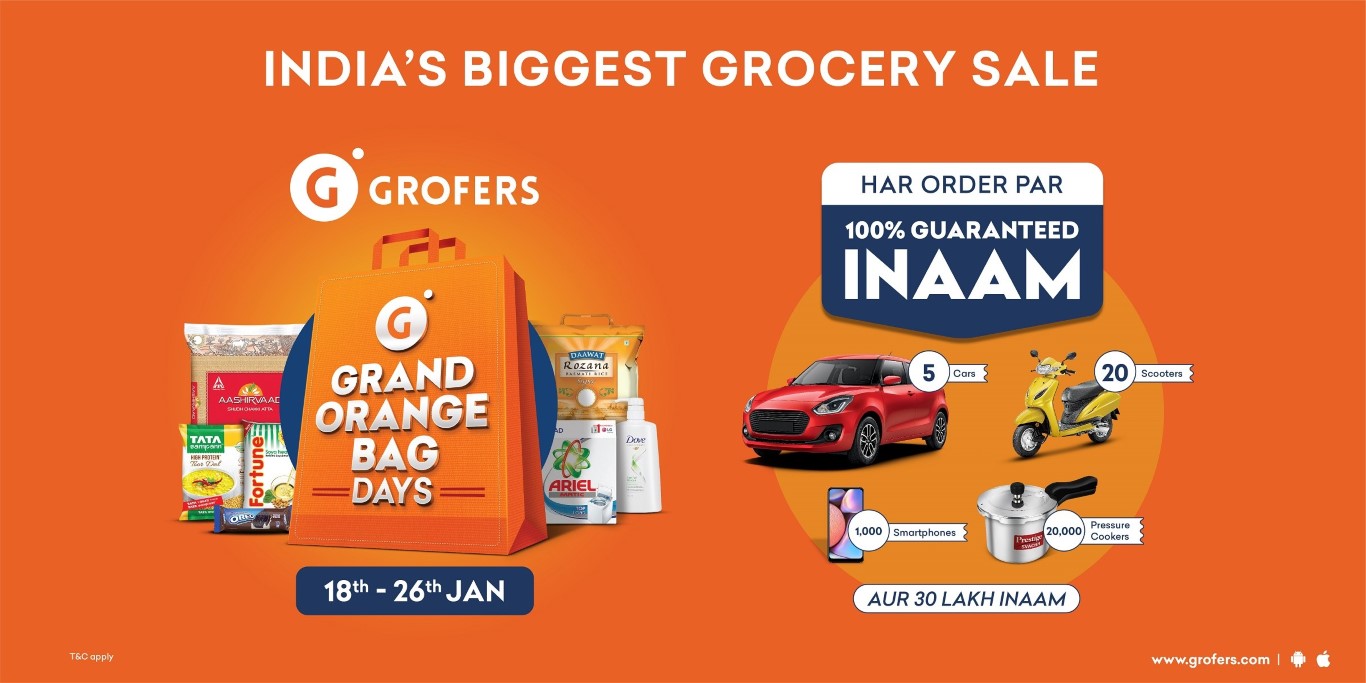 The sale is promising over 30 lakh guaranteed inaams, in addition to lowest prices on over 5000 products.
Celebrating the winners, the company organized a meet and greet session this weekend in the presence of founders Albinder Dhindsa and Saurabh Kumar, who not only engaged with the customers but also handed them their inaams.
Speaking on the occasion, Saurabh Kumar, Founder, Grofers said, "At Grofers, we keep the best interest of our customers in every decision we make. During GOBD 3, we brought a unique win-win proposition for our customers that not only enabled them with the best discounts but also delighted them with a 100% guaranteed inaam."
Apart from the lowest prices, customers can also avail various blockbuster deals such as flat 50% off, buy 1 get 1 and other bumper offers on a range of products during the sale. Lakhs of customers have already won a guaranteed inaam which include kitchen essentials, mobile phones, two-wheelers, washing machines and cars among others.
Excited about winning a car, Mr. Vinod Goyal said, "I have been a loyal Grofers customer from last 4 years. I love shopping from Grofers as it always gives me a great experience along with the lowest prices on all products. Today, I am delighted to receive a car. The company is indeed true to its word and I will surely encourage my friends and family to shop for groceries during the GOBD sale".
Mr. Dr. Manish Sharma, winner of the scooter, added, "I could have never imagined that grocery shopping would make me win a two-wheeler. This is exciting. Love to be a Grofers customer."
Additionally, Dr Nikhil Sharan from Bangalore, Mayank Mathur from Bhiwadi, Lal Chand Agarwal from Jaipur and Ekta Agarwal from Lucknow won pressure cooker, while Harsha Mutneja from Kolkata and AR Khan from Lucknow won mobile phone on their grocery shopping on Grofers.
To win the guaranteed inaam, new users are required to shop for a minimum of ₹1,000 while existing users would need to make a minimum purchase of ₹1,500. Grofers GOBD Sale began on 18th January and will be live till 26th January across 27 cities including Delhi, Gurgaon, Noida, Jaipur, Kanpur, Lucknow, Ahmedabad, Mumbai, Pune, Hyderabad, Bengaluru, Chennai, Kolkata, Meerut, Rohtak and Bhiwadi among others.