Škoda Auto India introduces innovative anytime warranty package: ŠKODA AUTO India opens 2023 with its first introduction of an all-new, revolutionary, customer initiative aimed at enhancing ownership experience and customer satisfaction.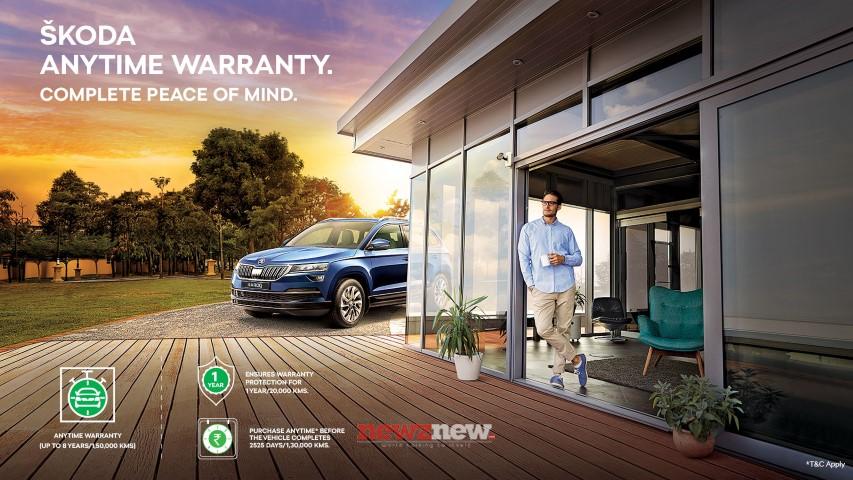 Called Anytime Warranty, it is a 1-year/20,000 km warranty package that can be used to enhance any existing standard or extended warranties.
Petr Šolc, Brand Director, ŠKODA AUTO India, said, "We began 2023 by telling you the way forward for ŠKODA AUTO India is not going to be just about newer cars, but several innovations that provide an unparalleled ownership and maintenance experience for our customers.
Anytime Warranty is one such offering, that delivers on our promise of customer satisfaction and hassle-free ownership experience, in our path towards Accelerating Growth."
ŠKODA AUTO India already leads the Indian automotive market with a 4-year/100,000 km standard warranty when the industry standard is about 3-years/75,000kms. In addition, ŠKODA offered an option to extend the 4-year standard warranty to the 5th and 6th year/150,000 km under its Peace of Mind programme.
The all-new Anytime Warranty is in addition to the existing standard and extended warranties and allows customers to have an additional warranty coverage of up to 8 years/150,000 km (whichever earlier).
The Anytime Warranty is designed especially for the older generations of the KODIAQ (TDI), SUPERB, OCTAVIA, YETI and the RAPID for a 1-year/20,000 km period. Any ŠKODA within 7 years of age and/or mileage less than 130,000 km is eligible for the Anytime Warranty post inspection and certification.
And all of these warranties – be it the standard, extended or the Anytime Warranty – are transferrable to the next owner. Customers who have had their existing warranty expire can also purchase the Anytime Warranty subject to the car meeting inspection standards.