Awareness Programme on Millets "Aahar Kranti" organized at Government College of Education, Sector 20, Chandigarh: Government College of Education, Sector 20D, Chandigarh celebrated the International year of Millets 2023 through an Awareness Programme on millets "Aahar Kranti" in collaboration with MGNCRE & Nivedita Foundation propagating the use of millets on 7th February, 2023.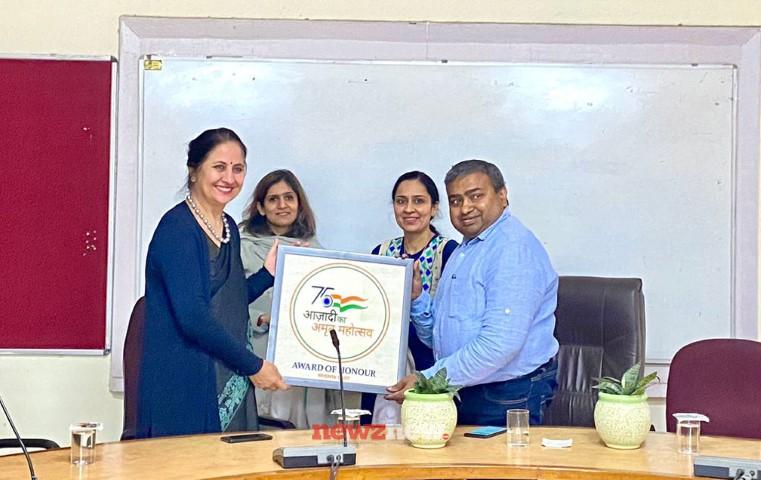 Dr. Sapna Nanda, (Patron of the event) Principal of the college welcomed the Chief Guest Dr. Virender Garg, OSD to Union Health Minister, Government of India and special guests Ms. Shyampriyaa from Lokayurveda Foundation, Dr. Lipika Guliani, Assistant Professor, UIHTM, PU, Chandigarh and Ms. Kalyani, member of NIVEDITA Foundation.
Dr. Virender Garg in his address talked about the importance of a healthy diet and suitable lifestyle. He further reflected upon the severity of prevailing diseases such as diabetes and cancer.
The programme proceeded with the presentation given by Dr. Lipika Guliani, a core team member of the Aahar Kranti team which focused upon the daily dietary habits. The various kinds of millets that can be incorporated in the diet were introduced like Sorghum Millet (Jowar), Proso Millet (Chena / Barri), Pearl Millet (Bajra), Foxtail Millet (Kakum / Kangni), Finger Millet (Ragi), Browntop Millet (Korle), Barnyard Millet (Sanwa) & Little Millet (Moraiyo).
The consequences of consuming junk food were also discussed such as hormonal changes in males and females leading to early miscarriages in females, diabetes, cancer and early menstruation in girls. Some recipes related to millets were also introduced.
The idea behind the awareness session was to make every individual an Ahar Kranti in oneself so that a healthy and conscious society can be developed to nourish our bodies.
A formal vote of thanks was extended by Dr. Ravneet Chawla, Associate Professor and Nodal Officer MGNCRE body of the college to all present. She also extended gratitude to Mr. Samarth Sharma, Consultant, MGNCRE, Government of India for leading the drive and other program of thrust desirable by the Government of India.