Smile Dental Clinic completed 20 years of Services: To celebrate the success of 20 years of THE PERFECT SMILE DENTAL CLINIC, today Dr. Sarabjeet Singh, its owner addressed a Press Conference in the premises of his clinic for sharing his experiences with Journalist Community.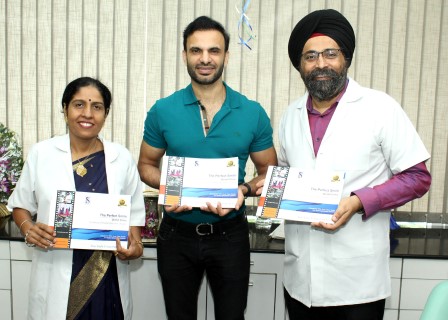 He disclosed that he had examined the students of local BLIND INSTITUTE without any charges in 30th August towards his theory to serve those members of society, who are not in a position to see this WONDERFUL WORLD.
The students were counseled in a brief talk and were presented gifts and a Kit containing paste, brush and Mouth Wash to enable the students to keep their teeth healthy.  The thoughtfulness of Dr. Sarabjeet Singh & its team members was appreciated by the Chairman, Institute of blind, Maj.Gen Rajinder Nath ( Retired ) 
Dr. Sarabjeet also informed the invited Journalists that on this auspicious occasion, a booklet titling "HOW TO KEEP YOUR TEETH HEALTHY" written by him for the guidance of all category of the communities, which had been unveiled  by national award winner Manmord Sidhu,who is an Indo-Canadian film Producer, Director, Distributor, who is primarily known for his work in Punjabi films. 
During the Press Conference when Dr. Sarabjeet Singh was asked by one of the Journalist that what are the specialties of THE PERFECT SMILE CLINIC, Dr. Sarabjeet Singh said " Apart from his own and his wife's qualifications & experience, we have a full team of senior specialists like Endodontist, Periodontist, Implantologist and Oral surgeons who are always available in our clinic. THE PERFECT SMILE DENTAL CLINIC is locationally situated in heart of Chandigarh in Sector-35 C, Chandigarh.   
"We are blessed to get patients from across the globe and we make it a point that we deliver good, economical and fast dental treatment at our clinic. Dr. Sarabjeet Singh expressed that he had traveled and lectured in most of the parts of the world and is an authority on 'Speedo Orthodontics'.  People from all walks of life and all age groups are coming to us for Orthodontic treatment from India and abroad," 
 Medical tourism is getting more popular in India and we are one of the biggest centre for dental tourism…But the key is to provide the highest quality of treatment and at reasonable rates. "We have been treating patients from across the world. We have patients coming in from Europe, Australia, New Zealand, USA and Canada" Dr. Sarabjeet proudly spoke. 
Dr.Sarabjeet claimed that apart from the latest machines and software we also work with lasers for painless and bloodless procedures," our clinic's high standard of hygiene, including an ISO 9001:2008 certification and a team of experts has made it a popular choice among international patients.
PROFILES OF DR.SARABJEET SINGH & MRS Dr.NAVREET SANDHU  
Dr Sarabjeet Singh concluded with thanks to all journalists, who spared their valuable time in attending this ceremonial day.
20 YEARS LONG JOURNEY WITH FULL OF EXPERIENCES IN THE FIELD OF DENTISTRY
Dr.Sarabjeet Singh founder/ owner of "THE PERFECT SMILE DENTAL CLINIC" functioning  in  SCO 85 in Sector 35 C Chandigarh is  highly qualified in the field of Dentistry, where his clients love to be treated by him, because while examining his patients, Dr.Sarabjeet takes no time to observe the root cause of patient's dental problems and diagnose their ailments in minimum sittings, so this  effective and impressive treatment always provided by Dr.Sarabjeet Singh had multiplied his clients.
Here it is important to tell that Dr.Sarabjeet Singh is a Gold Medalist with his BDS degree from KGMC, Lucknow and MDS Medallist from PGI Chandigarh. He has been an esteemed academician of international fame and has served as Dean and Professor and HOD in various Dental colleges of the region.
Due to his knowledge and experience, Dr. Sarabjeet Singh had been tipped as Authorized Dentist & Orthodontist of so many institutions. No doubt his abilities and values had inspired him to establish THE PERFECT SMILE DENTAL CLINIC in the year 1999, so in this month of August, his clinic had completed 20 years in the service to the society.
Here it will be appropriate to disclose that Dr. Sarabjeet was very lucky to have a wife like Dr. Navreet Sandhu, who had rendered supportive qualified hand as an Implantologist and Prosthodontist to manage the clinic in a very efficient manner. So the in the last 20 years, Dr. Navreet Sandhu too have very appreciable contribution towards the professional success of the clinic. Both of them have won the National Excellence Award for Best Dentist of North India for the last four years.
ABOUT MANMORD SIDHU, 
MANMORD SIDHU is an Indo-Canadian Film Producer, Director, and Distributor, who is primarily known for his work in Punjabi films. Manmord Sidhu owns Production and Distribution companies named "White Hill Production India". Sh. Sidhu had won National Award for the Best Film (Punjab 1984) PTC Awards for best film Jatt & Juliet, Jatt & Juliet 2, Sardaarji and Punjab 1984.