newznew (Chandigarh) : Sant Nirankari Charitable Foundation (SNCF) carried out a country-wide cleanliness and tree plantation drive on occasion of 63rd Birth Anniversary of Baba Hardev Singh Ji. This was briefed by Sh Sohan Singh Banga ji- Mukhi, Sector 15 area while addressing a mammoth gathering of devotees here at Sant Nirankari Satsang Bhawan, Sector-30. With the blessings of Satguru Mata Savinder Hardev ji Maharaj, 263 railway stations were also covered in this drive. These stations were identified in consultation with railway ministry. Satguru Mata ji inaugurated the drive with tree plantation at Ground Number-8, Burari Road, Delhi.
During the campaign, Her Holiness blessed hundreds of SNCF volunteers, Sewadal Members, Devotees of the Mission and residents of four villages of Haryana – Panchi Gujran, Mandora in Sonipat district and Patti Kalyana, Bhodwal Mazri in Panipat district. Her Holiness also planted tree saplings at all the four villages during her visit. Her Holiness was accompanied by Holy Sister Bindiya Chhabra Ji, Executive President, SNCF along with other dignitaries.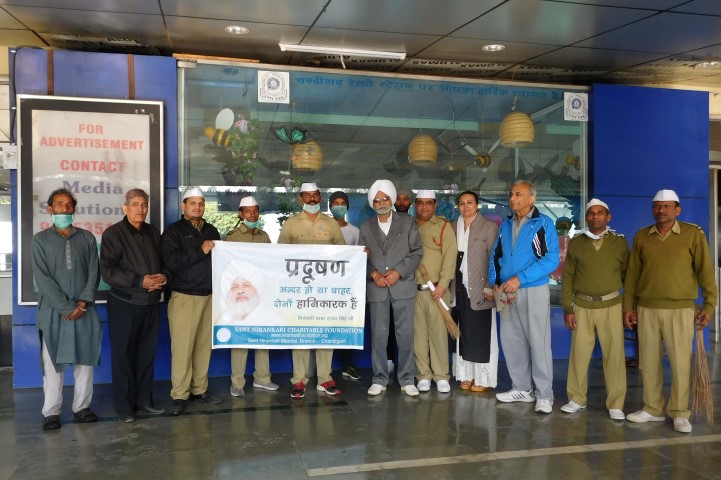 It is notable that these villages were adopted for overall development by SNCF on January 12, 2017, the 60th Birthday of Satguru Mata Savinder Hardev Ji Maharaj.
Besides, all the branches of the Sant Nirankari Mission across India cleaned hundreds of public parks and planted thousands of saplings. During the campaign, lakhs of devotees of the Mission including SNCF volunteers and Sewa Dal members participated from 8.00 a.m. to 12.00 noon at their respective places.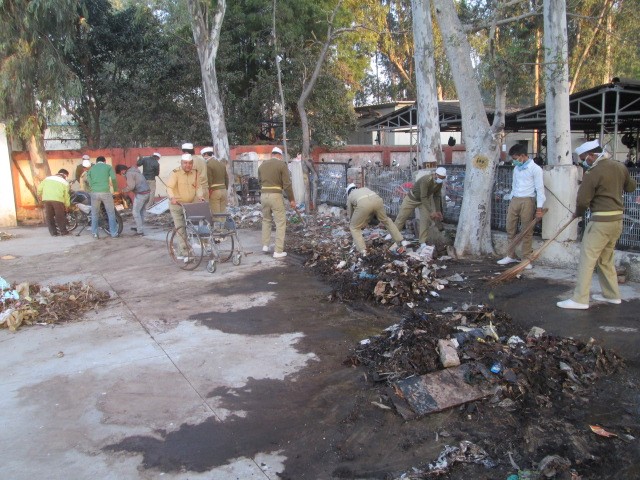 In this campaign, PGI-main hospital of Chandigarh, Railway Station and many other areas were cleaned which include Parks of Dhanas, Sector-25 Crematorium, Government schools at sector 20,30,22,26,32,45,46 and Satsang Bhawan in Sector-30, 15, 45, Ram Darbar, Colony Number-4 and Mani Majra were also places cleaned. The campaign was conducted under the guidance of Sanyojak Chandigarh zone Shri Mohinder Singh Ji. He said that the Nirankari devotees are contributing to serving the humanity, after having attained God-knowledge from the Satguru.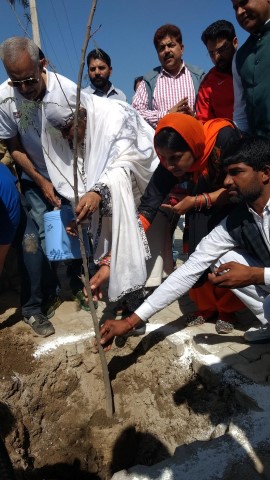 In Delhi, the mainly the drive was carried out at three Railway Stations – Delhi Main, New Delhi and Hazrat Nizamuddin, besides various public parks and Satsang Bhawans. These stations were selected by SNCF in consultation with the Railway Ministry. The volunteers washed and wiped not only platforms, stairs, corridors, sign-boards and other signage but also restrooms and waiting rooms as well. The cleanliness drive at Delhi was also carried out at TB Hospital, Mehrauli, where thousands of devotees of the Mission, volunteers of SNCF and Sewa Dal members participated. They cleaned not only the wards, clinics, laboratories inside but common areas in the vicinity as well.
In Sant Nirankari Mission, devotees have always expressed their devotion to God by loving His creation – the human beings. Therefore, they always come forward with great enthusiasm to serve humanity. Guided by this spirit, the Sant Nirankari Charitable Foundation has been making an outstanding contribution towards social welfare through blood donation, tree plantation and cleanliness drives etc., not only in India but abroad also for the past several years.
The Foundation is contributing significantly towards the 'Swachh Bharat Abhiyan' also. In 2015, the Hon'ble Railway Minister Shri Suresh Prabhu wrote to Baba Hardev Singh Ji Maharaj, requesting for the participation of the Mission's volunteers in the 'Swacch Rail – Swachh Bharat Abhiyan.' Baba Ji acceded to the request gladly and with his benign blessings, from October 2, 2015, the Foundation carried out a special cleanliness drive at 46 main Railway Stations across the country for one year. The Government of India has declared Sant Nirankari Mission as a Brand Ambassador of the 'Swachh Bharat Abhiyan' since 2015.