Over the years, Impresario has pioneered a slew of generation defining ventures; case in point – the game changing Social. An all-day café and bar with 19 outlets in 5 cities, Social has taken Chandigarh by storm and continues to be wildly popular there, and it's now swung open the doors of its first ever brewery in the City B(rew)tiful's favourite neighbourhood cafe, Sector 7 Social. Yes, you read that right –  Social's making its initial foray into brewing craft beers right here at their Chandigarh outpost! So *hop* to it – Sector 7 Social will be filling up your pitchers every day with some fresh, full-bodied goodness that's bursting with flavours galore!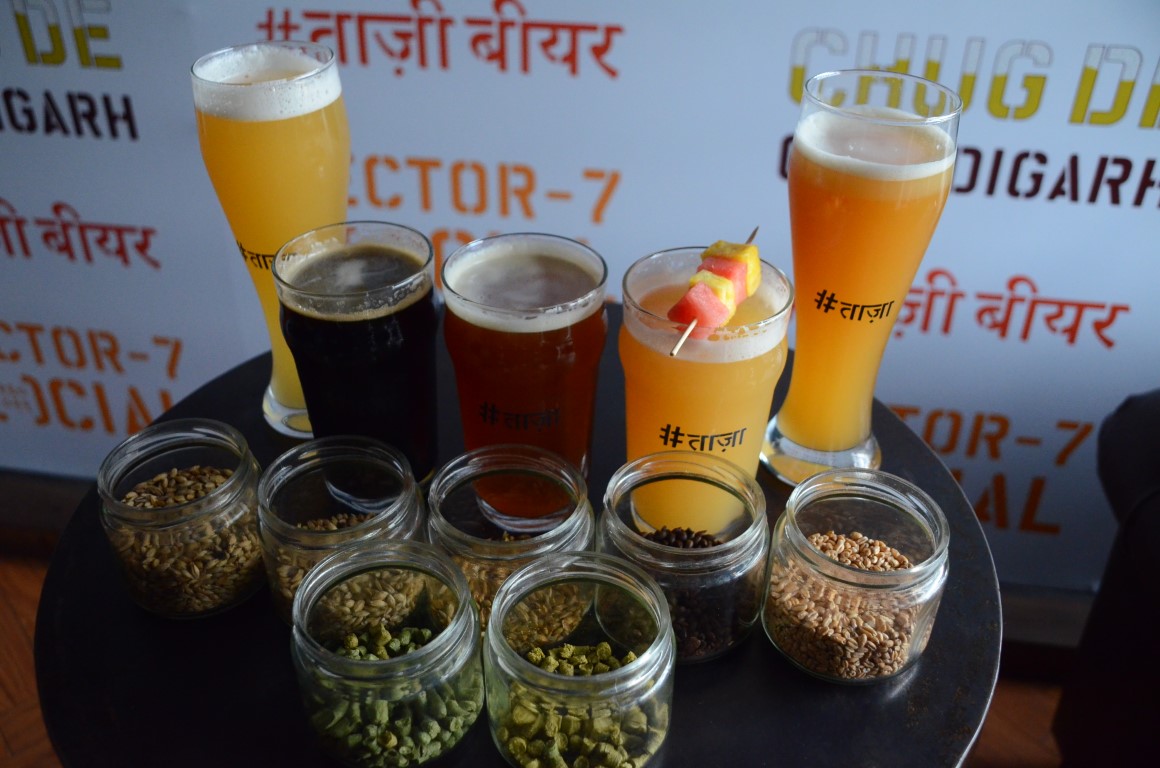 Set on the first floor of the sprawling 10,000 sq ft outlet, Sector 7 Social's brewery is sure to satisfy every beer lover in the city. Master Brewer Amit Mishra strives to be faithful to the taste of the beers, emphasizing on the fact that no one would ever find a beer here that he wouldn't drink himself. To that end, recognizing the importance of water in beer's composition, the profile of each beer is carefully crafted through water chemistry. The yeast, meanwhile, is specially sourced from the US, and is the root of that delicious final result.
These bold brews come in a range of styles to cater to all palates, so every hophead can have their favourite! THE HEFNER, one of the most popular styles in the country, is out to redefine BMW (Bavarian Malt Wheat, silly!), while the FRUIT ALE, with its pineapple and watermelon aromas, will convert even the most reluctant drinker into a beer aficionado. Malt junkies, the WEE HEAVY SCOTCH ALE is the strong, hearty brew of your dreams, while the STOUT will play havoc with your taste buds – with its subtle hints of chocolate and barley, which gives this mixture its distinctive dark color. The NEIPA, a summery brew bursting with the tang of raw mango and litchi, is currently trending worldwide and has finally made its way to Chandigarh!
Speaking about the launch, Riyaaz Amlani, C.E.O. & MD, Impresario Handmade Restaurants (parent company of Social) said, "This brewery promises to offer nothing but the most delicious, freshly brewed beers to our customers. Our clear vision is to make true-to-style craft beers and introduce international styles every other month. We have received nothing but love from Chandigarh and it's been an amazing ride here for Social so far. We hope that the brewery is as sensational as the city itself!"
With this latest introduction, Social is aiming to break the monotony of the everyday after-work beer. Think exceptional brewing skills, authentic ingredients, and an array of aromas – and it seems like they're all set for a BREW-tiful explosion, the likes of which Chandigarh has never seen before!
So ditch them bottles, grab your mugs, and beat the heat with these craft beers, cause Sector 7 Social's brewery is #NowPouring!
HOURS: 9:00 am to 1:00 am
Facebook: /SocialOffline | Instagram: @SocialOffline | Twitter: @SocialOffline
Website: www.socialoffline.in
Address: SCO 37, Sector 7, Madhya Marg, Chandigarh – 160019
Number: 9341118093/ 9341118094