Owner of the team is city industrialist Amanpreet Singh Sodhi who was present at the team's launch.
Ludhiana, February 22 (NewZNew). The city of Ludhiana finally gets its team for the upcoming north region's biggest sports entertainment show and Punjab's first ever unisex celebrity cricket show Box Cricket League-Punjab. On Monday, the team Ludhianvi Tigers was launched in the presence of team owner Amanpreet Singh Sodhi and the face of the team actor Sonu Sood. Owner of the league Sumit Dutt was also present on this occasion. The show is brought to you by Leostride Entertainment & Xamm Telemedia Works, in association with Balaji Telefilms and Marinating Films.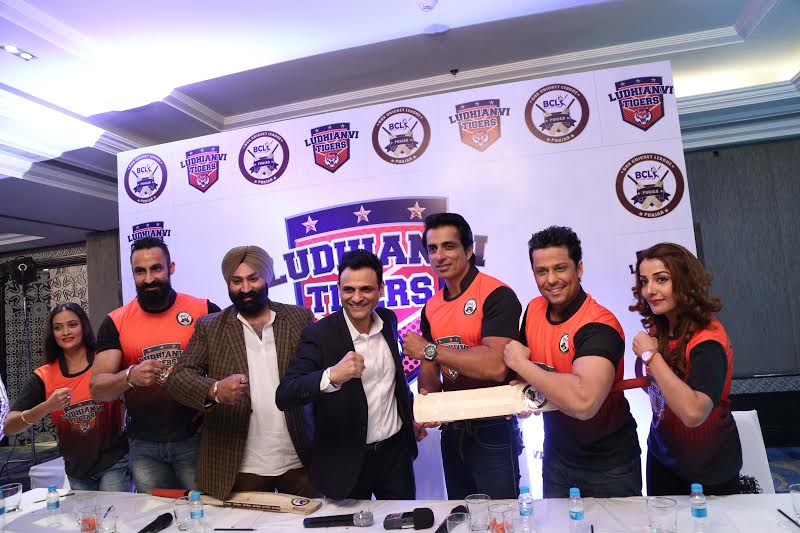 Sonu Sood is himself a Punjabi so he related to BCL-Punjab in a different way. He said, "I think somewhere back of my mind I was waiting for such kind of entertainment from my side. I just love my job and I think this league will give me that creative satisfaction which I always hanker for. Plus the idea of propagating gender equality is awesome. I respect women and expect every man to respect them in the same way."
Team owner Amanpreet Sodhi said, "We are preparing hard for the game and the whole team is under practice now. We are all proud to be the part of BCL-Punjab and we wish to lift the trophy up with our hard work and dedication." Also with support of Sanjeev Dhanda, well known face of Ludhiana, Ex-Journal Satluj Club Ludhiana.
Owner of the league, Sumit Dutt elaborates, "The presence of international Punjabi celebrities in the league is going to make it much more entertaining. Audience can expect a good amount of humor and thrill on the pitch. Our aim is to bring together big names of the industry which will be an absolute treat for the Punjabi viewers."
The other two teams Chandigarhiye Yankies and Royal Patialvi are yet to be launched.