Dr Mukesh Batra, Padma Shri recipient and Founder & Chairman Emeritus, Dr Batra'sTM, is showcasing a special edition of Magic Moments, his annual charity photo exhibition. Organized under the aegis of Dr Batra's™ Foundation, the exhibition will be held at Government Museum and Art Gallery, Jan Marg, Sector 10 C, Near Matka Chowk, Chandigarh, 160011 –  from 20th -22nd March 2018 and will showcase the mesmerizing & enchanting landscapes of Bhutan.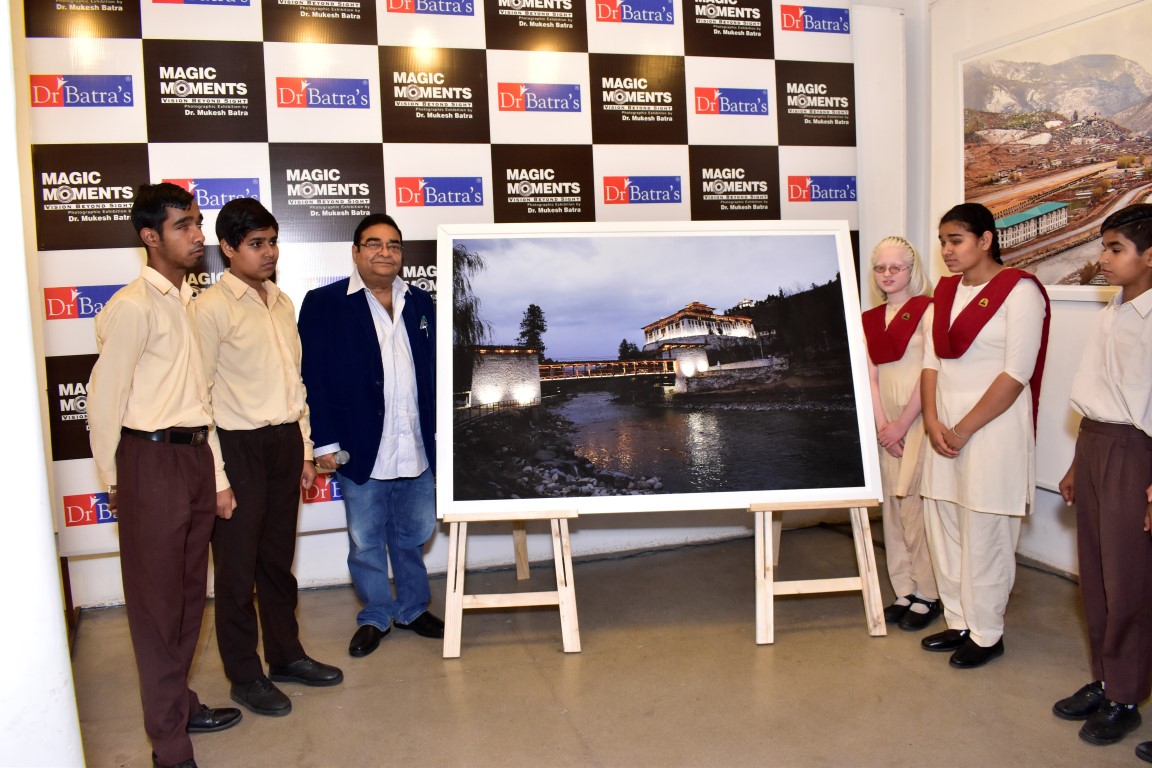 Over the last thirteen years, 50 such exhibitions have been held across the country by Dr Batra. Every year the proceeds of the exhibitions are donated to charities such as, Little Sisters of the Poor, Happy Home & School for the Blind, People for Animals, Mercy Home, and Anurag Services. This year, the proceedings went to the Victoria Memorial School for the Blind.
An illustrious homeopath, entrepreneur, author, singer and an accomplished photographer – Dr Mukesh Batra dons many hats. Dr Batra's interest in photography was first sparked by his travels around the world. He was encouraged to wield the lens by family and friends. What he lacked in technique, he made up with his sheer enthusiasm and drive.
His early efforts were spotted by the then editor of Afternoon Despatch & Courier, Farzana Contractor, who featured them in the paper. This was just the impetus he needed. Turning to the best in the business, he soon sought expert advice from Atul Kasbekar on advanced camera use and techniques. Before long, he was ready to go 'public' with his first exhibition. Hosted by Citibank, it celebrated the Himalayas.
Dr Batra later held exhibitions in Mumbai, Delhi, Bengaluru, Ahmedabad, Hyderabad, Chennai, Pune and Dubai showcasing the natural beauty of various picturesque locations like — Switzerland, Italy, Maldives, Hawaii, France, Canada, Greece, Nepal and Udaipur to name a few.
Celebrities like Gulshan Grover, Tusshar Kapoor, Amrita Rao, Atul Kasbekar, Zyed Khan, Vivek Oberoi, late actress Sridevi, Pritish Nandy, Shaina NC, Rajiv Bajaj, Raell Padamsee, Sussanne Khan, Dia Mirza and Madhoo have inaugurated Dr Batra's photo exhibitions and shared his passion for the lens and photography.
The exhibition is now an annual fixture on Mumbai's art calendar and is well attended by the crème de la crème, art connoisseurs and the media fraternity.
Dr Batra's pictures adorn the walls of Raj Bhavan, Mumbai, the Citigold Lounges at the Citibank Offices in Mumbai and New Delhi and the corporate office of Bajaj in Pune, as well as other prestigious offices, including several homes.