Special talk by Samaira Sandhu held at Punjab University : University Institute of Fashion Technology and Vocational Development (UIFT & VD), Panjab University, Chandigarh hosted a special session with actor Samaira Sandhu for its students.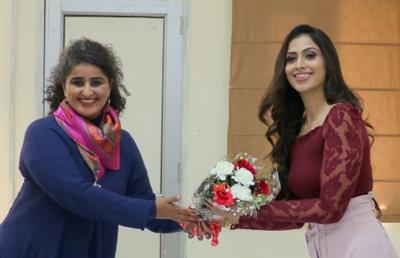 During the candid interaction, Samaira shared her experiences of working in Bollywood
with the students and talked about the challenges of the profession. The actor mentioned that her long journey in Bollywood had borne fruit when she acted in Tollywood films.
This (working in Telegu industry) gave me an opportunity to be signed for a Hindi movie, which is still untitled, she added. Samaira congratulated students from the Fashion Technology Department for choosing the right profession since the job of an actor thoroughly depend on the right fashion designer who makes them look presentable before camera. Samaira also talked about her book "Heaven In A Hell" which is focused on the issue of de-addiction.
She concluded her talk by saying, Today is a very lucky day since she addressed young fashion technology students who are slated to become tomorrow dress designers and join
allied fields. She responded to queries of some inquisitive students regarding her work. Dr. Prabhdip Brar, Chairperson, UIFT, Panjab University felicitated her and thanked Samaira for an authentic experience sharing session with the students