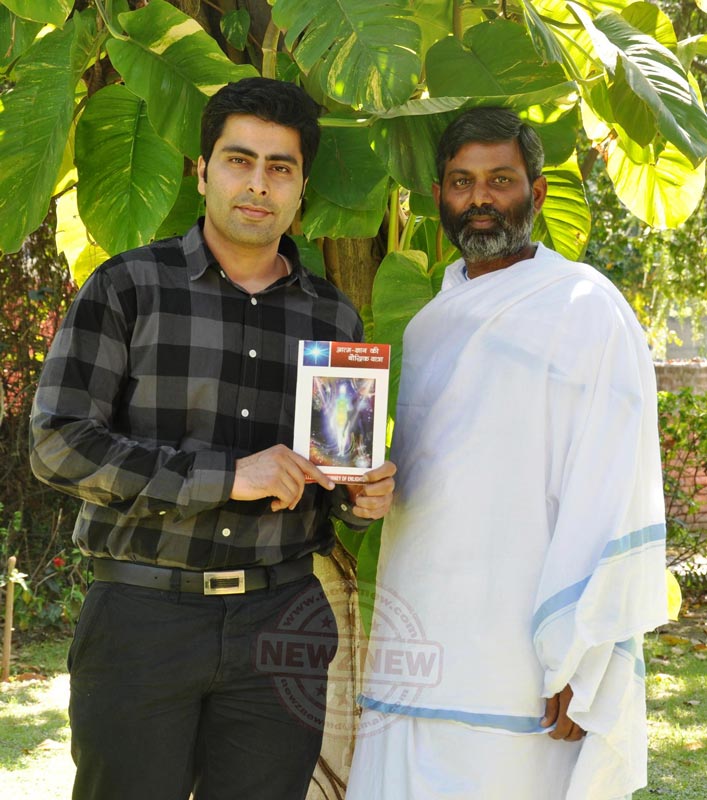 NewZNew (Chandigarh) : A ceremony was organized to release a booklet – 'Aatm Gyan Ki Baudhik Yatra' Or 'Intellectual Journey of Enlightenment', written by Sh Sanjay Ji who has a Masters in Economics. The booklet is a simple guide for all, as it explains how enlightenment can be achieved in a 'synopsis form' & makes one's spiritual journey successful. Sh. Sanjay brings Practical Ideas of Enlightenment of the Human Mind in the short book. This guide in the form of a booklet is a generalized overview of Shri Sanjay's ideas and teachings.
Even as a child Sh Sanjay had always asked questions like What is the purpose of my life? Where do we go after death etc? He went on a pilgrimage to Badrinath where he met a saint who showed him the path to self-realization. Shri Sanjay followed in the Saint's footsteps and succeeded in attaining this goal. He has given up luxuries of life & now travels to meet people about his thoughts & ideas. His discourses are always centered on deep questions about God, Trust & Self realization by Self Enlightenment. These are the points which the booklet discusses in detail.
The main theme of the booklet is that there are two levels at which a human's life journey can be completed. One is the level of Mind or 'Mann' in which we live on basis of information we get from outside And the other of Intellect ('Buddhi')  & Knowledge wherein we gain knowledge of self through Self Experience('Aatm Anubhav'), Seeing oneself by going inside('Aatm Darshan') and Understanding of Self through using Intellect('Aatm Bodh'). Once one makes it a habit of using Intellect to understand, also called 'Bodh', the knowledge one gets is called Self Enlightenment or 'Aatm Prakash'.
Says Sh Sanjay Ji, "Our knowledge is a source of trust; with growing knowledge the trust increases manifolds. Real knowledge and trust leads to self-realization.The crux of the booklet is that only an Enlightened Intellect can control the mind 'Mann' & gradually a journey based on intellect & understanding of oneself, leads one to God Realization."  The booklet also clearly enunciates that the happiness one gets at the level of mind is very temporary & only connected with pleasures of the body. The path of using intellect to gain knowledge about self is much more stable and has continuity.
Sh Sanjay has also created a website — www.intellectualjourneyofenlightenment.org, and through the medium of this, he aims to guide individuals to reach a level of experience where one can attain self realization, in a simple way. He can also be reached at [email protected]