IMPORTANT MEETING REGARDING BAIKSHAI MELA CELEBRATIONS HELD
NewZNew (Bathinda) : An important meeting regarding arrangements of the Baisakhi mela was held today under the chairmanship of Deputy Commissioner Bathinda Dr Basant Garg today.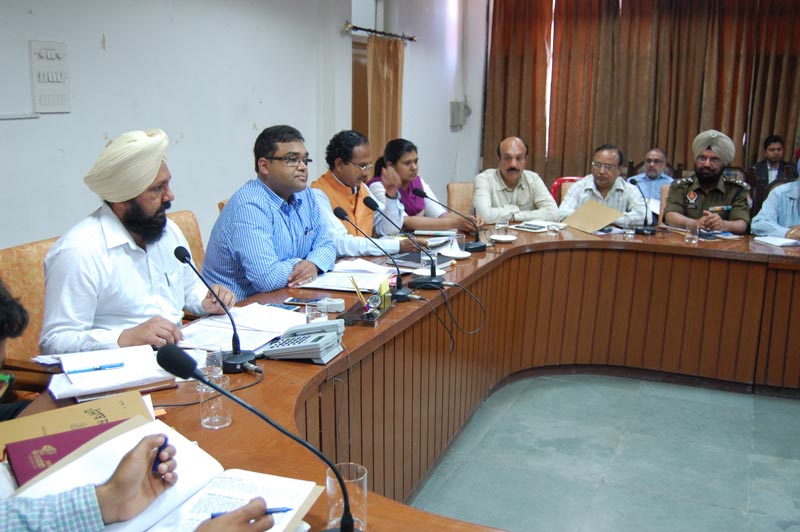 The meeting regarding mela, to be held from April 12 to April 15, was held at DC Hall where the officers and other employees were designated duties regarding the mela arrangements. Additional Deputy Commissioner (development) Mr Varinder Kumar Sharma, SDM Talwandi Sabo Mr Vinay Kumar, SDM Maur Mr Paramdeep Singh, SDM Rampura Mr Narinder Singh Dhaliwal, assistant commissioner (general) Mr Sakattar Singh Bal, assistant commissioner (grievances) Madam Charumita, DDPO Mr Rajinder Batra and others were present at the meeting.
During the meeting, the Deputy Commissioner Dr Garg said that ADC (general) Mr Sumeet Jarangal would be overall mela officer, while SDM Talwandi Sabo Mr Vinay Kumar would be mela officer and DDPO Mr Rajinder Batra would be assistant mela officer.
Dr Garg stated that a large number of devotees would reach the mela and hence proper arrangements should be made. He directed that sector-wise map of the mela site should be prepared, along with traffic, parking and security markings. He directed that special emphasis should be laid on ensuring cleanliness, drinking water, first aid, control room, rescue camp, toilets, temporary bus stand, inns, bus services, uninterrupted power supply, patrolling vans and other arrangements. Different departments were also directed to decorate the round-abouts of Bathinda city and Talwandi Sabo assigned to them.
He added that the jawans of NDRF would be ready to help pilgrims in times of distress. He appealed the people to not take any Prasad or other eatable from an unknown person and save themselves from untoward incident.
The Deputy Commissioner directed that ambulances, fire brigade, recovery vans, proper barricading arrangements and others should be in place.