Sri Chaitanya Creates History Again!: The much-awaited result of the Joint Entrance Examination (JEE) Advanced 2020 reaped sweet fruits for Chandigarh boys, Dhvanit Beniwal who secured All India Rank-10 (AIR-10), with a score of 321 out of 396, Gurpreet Singh Wadhwa who secured All India Rank- 23 (AIR-23), with a score of 310 out of 396 and Hemank Bajaj who secured All India Rank-71(AIR-71), with a score of 288 out of 396 .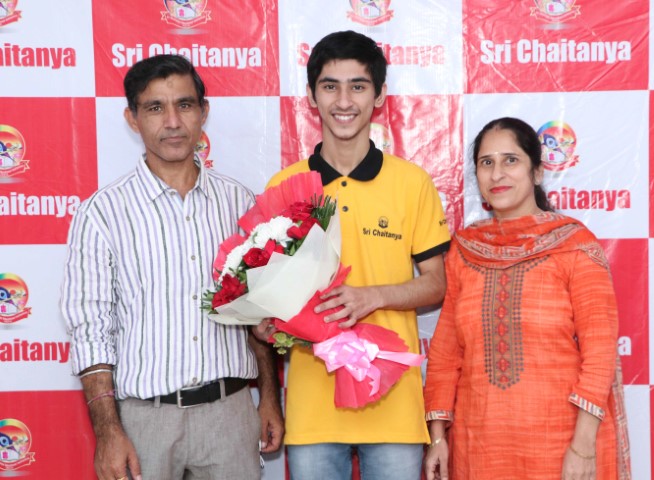 Both the students are regular classroom students of Sri Chaitanya Institute. Sri Chaitanya Team has given AIR 1 in JEE advanced 2017 & 2018. This year again, Sri Chaitanya has proved once again by giving top ranks from Tricity.
While sharing his success mantra, Dhvanit said, "Practice, Continuous guidance from teachers, support from parents, is the thing most required to crack any examination and that is what makes you lucky on the day of the exam" Also Read: Ishan Gupta, Gautam Kaushal are tricity toppers in NEET 2019; Bag AIR-93
Alumnus of Bhavan Vidyalaya, Panchkula, Dhvanit and Gurpreet scored 97.6% and 97.8% respectively in CBSE Board Examination.
Gurpreet, when asked about his success mantra gave three points he believes in the most, "Discipline in life is important and complete faith on teachers and mentors, smart work should be done with hard work".
When asked, Hemank Bajaj about his performance, he said, "If you focus well, your study hours don't matter. So just stay focus, maintain balance and be calm. I always had faith in my teachers and their guidance, and I feel that was my key to success. I used to study and play table tennis with my friends at Sri Chaitanya maintaining a balance so that my stress should not hurt my result. Now my goal is IIT Delhi and I am working hard for it. "
Rejoicing over Dhvanit's success, his father, Dharampal Singh Beniwal, a civil Engineer retired as chief engineer from public health engineering department, Haryana said, "My son has made me proud again. His hardwork has finally paid and we are very happy now. " Dhvanit's Brother had also been the student of Sri Chaitanya and is now the alumunus of IIT Roorkee.
Gurpreet's father, who owns a garment export house always supported his son in studies said, "As parents we are feeling elated and proud of our son who has fulfilled our dreams by giving his best with blessings of his grandparents and teachers. We are extremely thankful to Sri Chaitanya teachers who continued their hard work during pandemic". "I was sure that my son's hard work would make him succeed one day. May God fulfill all his desires," added his mother, a chemistry teacher. Also Read: Punjab allows opening of higher education institutes
On how pandemic had impacted him, Gurpreet said he first thought that this pandemic will end soon. He said, "But when it stretched for so long, I did my preparation slow and steady but consistently. Discipline and guidance by my mentors was a very important factor in my preparation."
Hemank's father always wanted him to go for Engineering and with this motivation in mind, he started providing him with all the resources he needed going beyond his limits. With this new achievement, he made a pathway towards his dream college- IIT Delhi.
Dhvanit feels that consistency is the key to his success. He said, "I gave weekly tests regularly of Sri Chaitanya on regular basis during lockdown, which helped me to do self-analysis and improve my performance"
Dhvanit is a Kishore Vaigyanika Protsahan Yojana (KVPY) scholar, National Talent Search Examination (NTSE) scholar. He was also qualified for Indian National Mathematical Olympiad, Indian National Chemistry Olympiad, Indian National Physics Olympiad, and Indian National Astronomy Olympiad.
Gurpreet is NTSE and KVPY scholar. He was also qualified for Indian National Physics Olympiad and Indian National Chemistry Olympiad. He was the only child to clear RMO in class 10 from Ludhiana in 2018 and this boosted his confidence in mathematics. He got 126 rank in JEE mains with 100 percentile in Mathematics. He was one of the two children selected from Punjab for DHRUV TARA Award from Vice president M. Venkaiah Naidu and HRD minister Ramesh Pokhriyal Nishank. Dhruv Award took him to ISRO and about 15 days in IIT.
Hemank Bajaj has qualified Indian National Mathematics Olympiad and National Standard Examination in Chemistry (NSEC 2019).
Students of Sri Chaitanya Institute, Chandigarh brought laurels by securing Top ranks AIR-10, AIR-23, AIR-71, AIR-148, AIR-238, AIR-248, AIR-257, AIR-268.
Mrinal Singh, Centre Director of Sri Chaitanya Chandigarh lauded the students for their excellent performance. He said, "Even in this critical situation of pandemic, our students of Sri Chaitanya have shown that no goal is hard to achieve if you work with sheer determination.  I would like to congratulate all the students who have qualified JEE Advanced. The credit of the students' success goes majorly to their hard work, their parents and our faculty at Sri Chaitanya who have put in efforts even during COVID 19".