Is is being reported that Bollywood actress Sridevi had died from accidental drowning in the bathtub. An image released by the Dubai Police shows the forensic report of Sridevi that was handed over to her family & the Indian Consulate representative.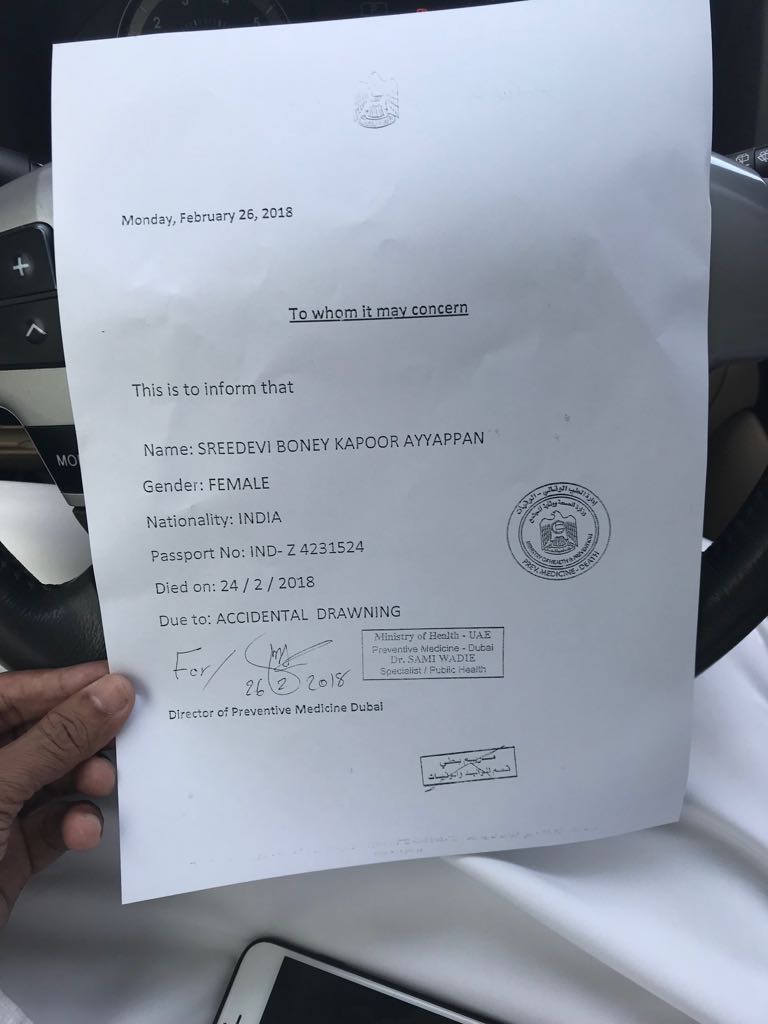 The legendary actress died on Saturday night after a suspected cardiac arrest. She was 54. However, the police has ruled out any criminal activity.
Veteran actor Sridevi died of "accidental drowning", the postmortem conducted in Dubai said today, reported Gulf news. The autopsy report has been handed over to the family. The funeral of the 54-year-old is expected to be held in Mumbai within a few hours, after her body is flown back from Dubai, where she died on the weekend. Since this morning, film stars, celebrities and fans have been seen at the home of Anil Kapoor, Sridevi's brother-in-law and former co-star.
#FLASH Forensic report says, #Sridevi died from accidental drowning (Source: UAE's Gulf News) pic.twitter.com/eWXdw1p1ZL

— ANI (@ANI) February 26, 2018
Sridevi, 54, died suddenly on Saturday night of a cardiac arrest, leaving Bollywood in deep shock and millions of fans heartbroken. She collapsed in her hotel room in Dubai, where she had gone with husband Boney Kapoor and daughter Khushi for a family wedding. News agency ANI reported that the police had handed over the forensic report to her family and the Indian consulate.