CII Yi organises Entrepreneurship and Innovation Summit
Confederation of Indian Industry's Young Indians (Yi) Himachal Chapter organised Entrepreneurship and Innovation Summit with the theme 'Cultivate the Cult' at GGDSD College.

Mr Vivek Atray, IAS Retd., Author & Motivational Speaker shared his valuable insights with the budding entrepreneurs. "Students need to learn from people who have already trodden the path of entrepreneurship and find inspiration from them. While carving a niche in the world of business and entrepreneurship, students must focus on the 3 I's viz. Inspiration, Innovation and Integrity. The simple truth is that every monumental endeavour can only be achieved in increments. In business, perseverance means leaning forward, walking one foot after the other into the chill entrepreneurial wind until you've reached your milestones and eventually achieved your goal," he said.
"Institutions need to focus on including 'Innovation' as a subject in the curriculum. Entrepreneurship should be given more emphasis and needs to be in the system. Entrepreneurship and Innovation has emerged as the mantra for addressing job creation and economic revival in the country," he added.
Speaking at the occasion, Mr DNV Kumara Guru, Director – External Relations, Indian School of Business, (ISB), said, "Never before in India's history, has there been a better time to become an entrepreneur. We all just need inspiration which may come in any form and from anyone. Students must invest their time and efforts in acquiring knowledge and use it to make a difference. It would be great to see a section of the newer wave of entrepreneurs focus on solving some of India's pressing problems".
Recognising the importance of women entrepreneurship, Mr Guru quoted the example of a renowned personality – Ms Kalpana Saroj, who fought against all odds to achieve her dreams.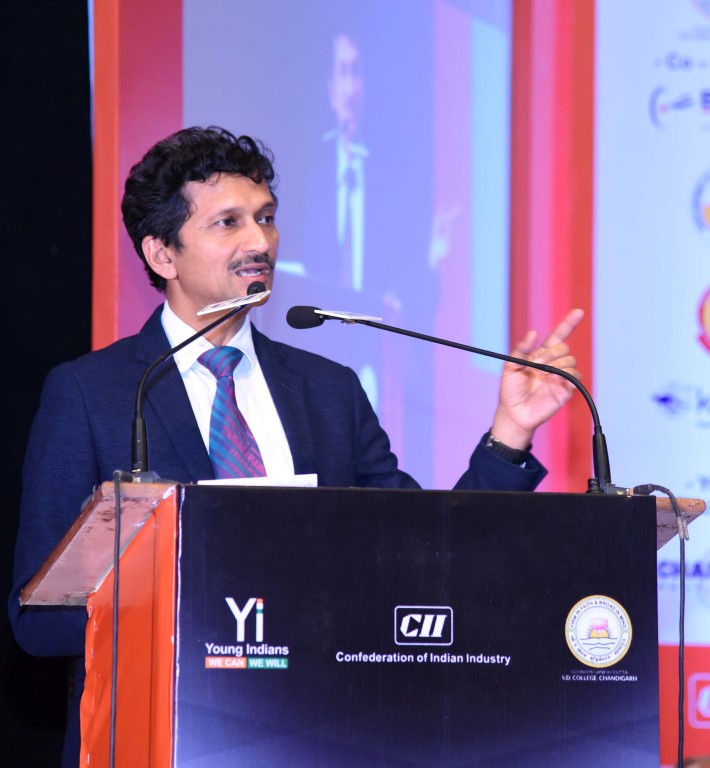 Mr Rajender Guleria, Chairman, Entrepreneurship and Innovation Summit & Director – Enviro Enterprises Ltd, said, "The Government of India has undertaken several initiatives and instituted policy measures to foster a culture of innovation and entrepreneurship in the country. Job creation is a foremost challenge facing India. With a significant and unique demographic advantage, India, however, has immense potential to innovate, raise entrepreneurs and create jobs for the benefit of the nation and the world. A few of India's efforts at promoting entrepreneurship and innovation are Start-up India initiative, Support to Training and Employment Programme for Women (STEP), Digital India, Stand-up India, among others. Entrepreneurship has gained greater significance at global level under changing economic scenario. Global economy in general and Indian economy in particular is poised for accelerated growth driven by entrepreneurship."
Mr Jaideep Ahuja, Regional Head – Young Indians (Yi) & Managing Director, Ahuja Residency Pvt Ltd, said, "Do not set up a business only to earn money but look for real problems to solve in the world and money will come ultimately. Many people fail because they give up at the first sign of difficulty. Almost every success story includes an element of endurance and determination. Failure is no longer a stigma but a badge of honour."
Mr Hirdesh Madan, Co-chair, Yi Himachal Pradesh & Director, Mind Tree Eduvation Pvt Ltd, delivered the welcome remarks on the occasion. "The entrepreneurs provide a magical touch to an organization, whether in public or private or joint sector, in achieving speed, flexibility, innovativeness, and a strong sense of self-determination. They bring a new vision to the forefront of economic growth," he shared.