Steelbird Baghaat Corporate League T-21 2022 –Season–4 starting from 26th November: After its victory in the helmet industry, Steelbird Helmet is now up beating the game of cricket. Steelbird is announcing its 4th edition of 'SBCL T-21 Cricket League'.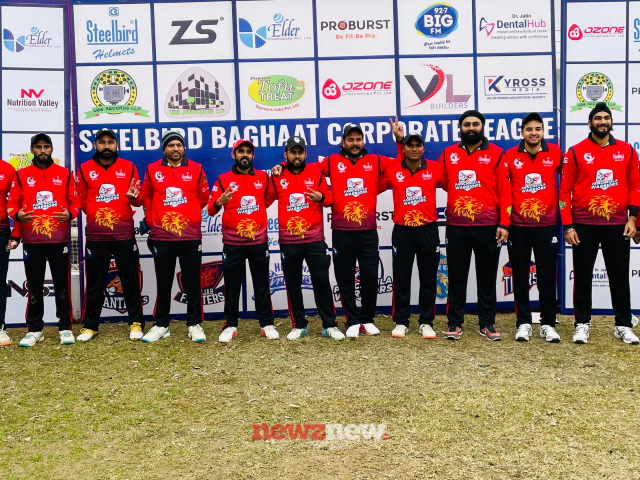 The Steelbird Baghaat Corporate League T-21 2022 is starting from 26th November and to be held at JR Institute of cricket Barwala, Panchkula, Haryana.
The league will be happening under Sports Association "Trayaksh Sports Association" with the participation of 7 teams i.e. Panchkula Warriors, Himachal Strikers, Haryana Panthers, Chandigarh Titans, Punjab Figthers, Ambala Sorbus & Zirakpur Lightning.
Commenting on the league announcement, Mr. Rajeev Kapur, Managing Director, Steelbird Group, said "The idea behind conducting this league is to give a platform to good players who don't get chance to exhibit their skills at higher level. Steelbird is taking this league on a next level in near future, plans to expand this on a zonal level and matches to be scheduled at delhi, Jaipur, chandigarh and Panchkula."
Team portfolio as follows:
Panchkula Warriors – Captain VarunGautam, Owner- Steelbird Helmet India, CEO-Team   Manager, Sunil Singh  
Himachal Strikers – Captain and Owner – Baldev Sharma, Baghaat Group
Haryana Panthers – Captain – Ashok Malik – Owners – Amit Malik &Vidur Seth
Chandigarh Titans – Captain Vishesh, Owner – Owner – RobbiSetia (Nutrition Valley Group) and Raman Nagpal (Care Health Life sciences- Pharmaceuticals Division of Park Pharmaceuticals Group)
Punjab Figthers – Captain Avinash Sharma, Owner – APS Group
AmbalaSorbus – Captain Pankaj Singh, Owner – Narender Chauhan &Pankaj Singh Sorbus Group
Zirakpur Lightning – Captain Mr. Abhishek, Owner – Ravi Kishor & Abhishek
The SBCL T-21 Cricket League has powered by Steelbird Helmets, title sponsored by Kacha Badam Microbrewery with  associate sponsors including Adley & Beta Drug Limited, Yes Bank, NSS Sports, KG Sports, Oakley, Cricketer Shop, Nutrition Valley.
The live streaming is sponsored by Adley & Beta Drug Limited. The winning prize is worth INR 31000 by steelbird & TSA and 15 Member Team Party at Kacha Badam Microbrewery @1500 per person package worth Rs 22500.
The Runners up is INR 11000 by Steelbird & TSA and 15 Member Team Party at KachaBadam Microbrewery @1000 per person package worth Rs 15000.
The Man of the match award is Rs 1000 coupon by KachaBadam, Batting Gloves By KG ( Only In Qualifier and Final ), 40% Off On MRP At NSS Cricket Shop On All KG Products, Gym Bag By Nutrition Valley.
The Fighter of opposition will be awarded INR 500 coupon by Kacha Badam, Biker Gloves By Steelbird. The Man of the series will be awarded as Oakley Sunglass , 1 Year KachaBadam Microbrewery Subscription Worth Rs 20000.
The best batsman and bowler will be tokened with Ignyte Super Bike Helmet, whereas, catch of the tournament will get be rewarded as Steelbird Cricket Helmet.