NewZNew (New Delhi) : Steelbird Hi-Tech India Ltd reckoned as one of the top class helmet manufacturer company across globe with various appreciation and achievements recently participated in CSR activity to motivate women safety on 8th March, 2016. On the occasion of International Womens day, Steelbird helmet India distributed a bulk of exclusively designed women helmets to women riders. The company has always been in a buzz of striving ahead to boost women safety and always indulging in activities associated with safety of men and women riders.
Shailendra Jain, Group Head-Sales & Marketing (Steelbird) Said: "It is an initiative taken by the company. As a leading manufacturer of ISI helmets, it's our social responsibility to create awareness amongst two-wheeler riders especially that of the female riders who are majorly neglected when it comes to safety. We want people to give first priority to their safety specially the young girls & boys thus we distributed helmets to women riders who ride without helmet or feels that it is not mandatory for them because they are women. One should always wear quality helmets bearing ISI mark, a standard setup by the ministry of Road transport & highways."
This initiative started from the Steelbird's Head Office and later on extended to other areas of Delhi comprising various lady riders. The helmets were given to the Lady Police of Ashoka Nagar Thana, Traffic Police for their Wife/daughter/sister. The helmets were then also despersed at India Gate focussing on the common ladies driving two wheelers unescorted by an ISI helmet or any safety gear.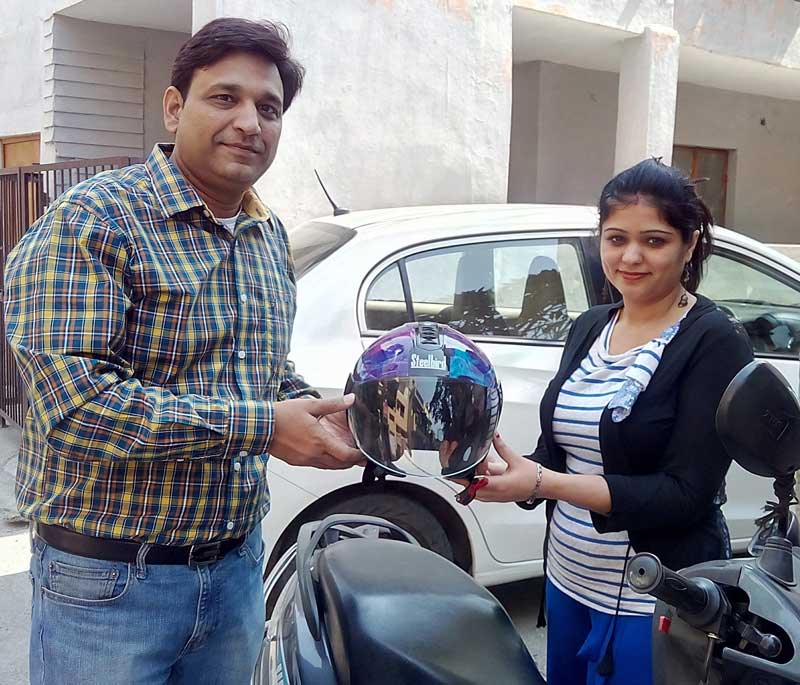 "As per the current scenerio the number of women riders is escalating quickly thus we are taking much interest towards our social responsibility of public Safety." added Mr. Jain.
Steelbird Helmets is a pioneer in the field of quality helmets which provides extra safety features surpassing the standards set up by the BIS for ISI Helmets.