NewZNew (Chandigarh) : Olaplex, recognized worldwide as the 'Insurance for Hair', hosted an experiential event at Strands salon in Chandigarh today. Developed in the U.S., Olaplex is loved by top hair dressers globally and also by celebrities like Jennifer Lopez, Cameron Diaz, Charlize Theron, Kim Kardashin and Gwyneth Paltrow.
The event saw models and other eminent guests, renowned actoress Oshin Brar and singing sensation Alfaaz, try out the Olaplex treatment. Every client could not stop raving about the results post the treatment. Each hair stylist at the reputed Strands salon swore by the virtues of the product. Strands Salon is one of the biggest salon chains in India with 68 salons across 18 states.
This avant-garde product marked its entry into the Indian market just this year and has already been vowed as the 'Holy Grail' for hair treatments in Mumbai and Delhi.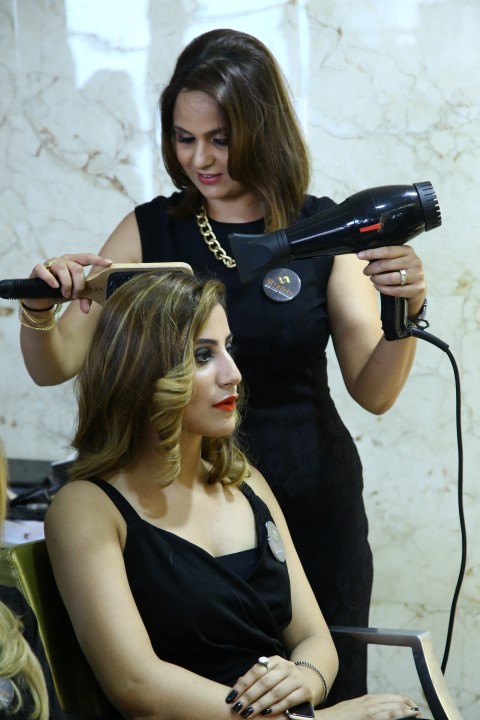 On the launch of Olaplex, Ankit Arora, CEO, Streamline Services said, "Olaplex is undeniably a remarkable hair product that works from within and repairs the damage. There truly has never been anything like this in the hair industry. We are seeing great response from Mumbai and Delhi and are working towards making it available in other metro cities too."
Adding further, Raman Ghai, Vice President, Strands Salon Pvt Ltd said, "We are very happy to integrate Olaplex at our salons. As our commitment of offering unique solutions to our customers, we aim to bring world's best brands in India. Olaplex, one such revolutionary brand, truly stands by the term 'Insurance for hair', because it fights against any damage that can be done to your hair during any hair treatment. The brand is also favoured by celebrities' world over and we are happy to bring it for the patrons in Chandigarh."
Olaplex is a bond multiplier: when your hair goes through chemical treatments of any kind, the sulfur bonds in the hair split and turn into sulfur hydrogen which eats away at the hair protein. In simpler terms, your hair gets extremely damaged, dry, and hay-like. However, if Olaplex formula is added to the treatment, it prevents splitting by linking broken bonds in your hair. Olaplex bonds and seals the hair.
It was invented by Dr. Eric Pressly, PHD and Dr. Craig Hawker, PHD, a nationally recognized and well-respected scientist who was focused on molecular engineering. Olaplex is free of silicone, sulfates, phthalates, DEA, aldehydes, and is never tested on animals. It's a great way to help sustain the structure of the hair and leaves hair feeling soft and manageable. Compatible with all hair types from virgin to extremely damaged hair.
Olaplex can use it in two ways:
1) As a pre-treatment called the stand alone treatment to restore hair's elasticity and strength before or after straightening/keratin treatments, thermal treatments like ironing, blow drying, curling etc. or even before a normal wash.
2) With perm, bleach/lightener, color, toner& gloss to give hair follicles increased protection against damage that may result from coloring or lightening treatments.
Olaplex is suitable for all hair types and comes in three-step treatment:
No 1. Bond multiplier – first step in the stand alone treatment.  And Mixed into the lightener or coloring mixture for color process. Helps to mitigate damage during the color, lightening and straightening process or previous damage because of thermal or mechanical services.
No 2 Bond Perfector– applied onto hair afterNo.1 in stand-alone treatment and after the colour has been rinsed out in coloring process. Leave the Bond Perfector on hair for at least 20 minutes, rinse out and follow with shampoo and conditioner. No 2 contains the same active ingredient as No. 1, and repairs any remaining bonds missed by No.1 and helps restore the strength and structure of hair.
No 3 Hair Perfector– an at home maintenance treatment, which will help sustain hair's colour as well as strength and integrity of the hair until the next salon treatment as it continues to link bonds within the hair. It can be used as a weekly pre-shampoo treatment.