Stylish Ceiling Ideas that will Make You Look Up More: When it is all about designing a space, architects and interior designers play a vital role. An eye-catching ceiling design gives an alluring charm to the space.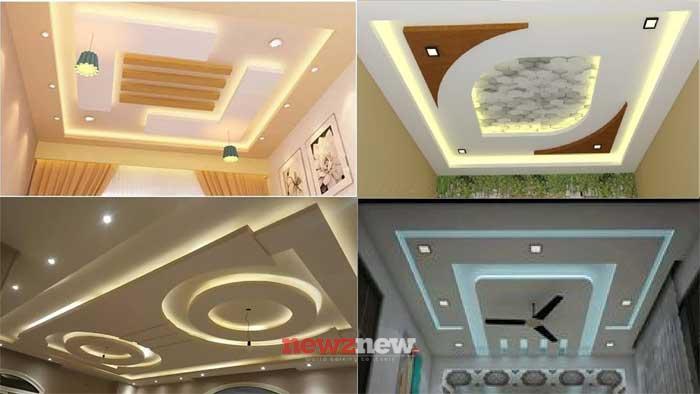 From engineered lumber to snazzy wallpapers, explore different elements that you can add to your ceiling to create a dramatic architectural feature. The first impression is the best impression. Home ceilings that look stylish make a great impact on the visitors.
To know more about it, you can consult us as we render some out of the box ideas when it comes to ceilings as we are also a house construction company
Here is the list of some of the best stylish ceiling ideas that will make you look up not just once, but again and again.
            Also known as sunken ceiling, a coffered ceiling adds dimension and texture to a space. In this form a grid-pattern is created in the ceiling using elements such as wood, medium density foam or fibre-board planks. The grids' panels and beams are covered with moulding, wood or metal depending on the occupants choice.
            This is one of the best innovations that one can look at when it comes to having stylish ceiling ideas. Forest product engineers have recently invented "glulam" beams which are created from many layers of flexible wood strips glued together to form robust laminated wood beams that can form curves and arches as well as straight runs. These beams have given form to architectural shapes that were difficult to create a few decades ago. Such ceilings not only make a style statement, but also make the ceiling look magnificent and majestic.
            Adding a wallpaper is a great and simple way to create an eye-catching ceiling. You can either cover the entire ceiling of a room with wallpaper or if you think that will be overwhelming you can look at adding strips of wallpaper. One can find wallpapers in different styles and designs that have flooded the market. You can pick and choose the one that suits your style and budget.
            Who said paints are dull and boring options when it comes to ceilings. A ceiling paint colour can make the room come alive no matter whatever the area of the room is. A ceiling paint colour contrasting to the colour of the walls adds character and interest to a space. A dark coloured ceiling, atop stark white walls makes a strong and graphic statement. The ceiling paints certainly will enhance the look of the rooms to a great extent.
            Adding mirrors to your ceiling is an unconventional way to provide light and visual interest  to your space. One of the added advantages of using mirrors on the ceiling is that they make the space look larger and brighter. Inturn, this makes the room more appealing and vibrant.
Conclusion
Hope the above article was useful with respect to the numerous stylish ceiling ideas that will make your guests look up more when they happen to visit your home. If you want to dazzle your home ceiling, then the options are unlimited.
You can pick and choose the styles that are listed above as per your preference and budget. We at Sqft.expert being a house construction company will provide you with all necessary guidance with regard to the ceiling ideas.
We leave no stone unturned when it comes to ceilings as we give the best suggestions. If you also want to know about the house construction cost in Bangalore, then we are the right people to direct you about the  house construction cost in Bangalore.