Sukhna Vaccination Centre achieves 20,000 vaccinations target: Health Department UT and Karan Gilhotra Foundation in association with United Sikhs and ASR Foundation today celebrated 20,000 COVID vaccinations at Sukhna Lake vaccination camp. Haryana Governor Bandaru Dattatreya, was the Chief Guest on the occasion.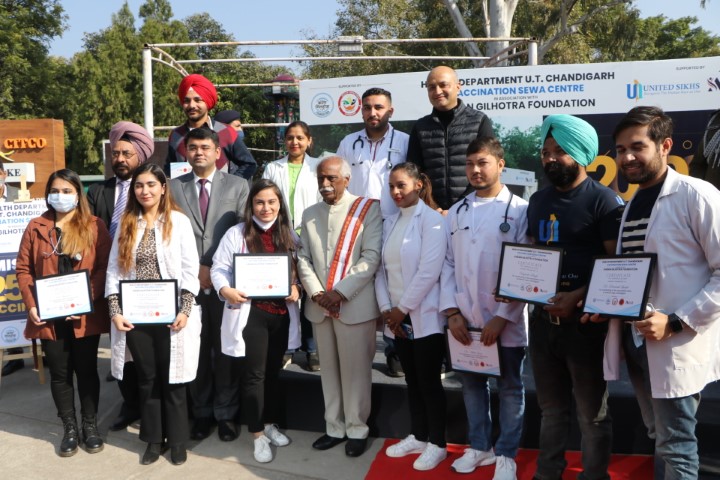 COVID warriors were felicitated on the occasion. A cake cutting ceremony also marked the occasion, where Mission 25,000 vaccinations was also launched.
Giving the information, Karan Gilhotra, founder of the Foundation said, 20,000 vaccinations were completed in four months at the Sukhna Lake vaccination centre and the target is now to achieve 25,000 beneficiaries next month. He thanked the Haryana Governor for sparing time for encouraging the volunteers. His Foundation is actively engaged in the service of the community.
Free vaccination is available at the vaccination centre from 1 to 7 p.m. which has been set-up by the health department in collaboration with Karan Gilhotra Foundation and supported by United Sikhs and ASR Foundation. The foundation has provided waterproof shelter canopies with seating arrangement for those who visit the centre to take the vaccine.
Haryana Governor Bandaru Dattatreya, while speaking on the occasion lauded the Karan Gilhotra Foundation for the initiatives like setting up COVID centre and then vaccination centre. He said he hoped more and more people of Chandigarh would come forward with such initiatives of social cause and also appealed to the residents to get themselves vaccinated. He added UT administration will always be at the forefront to support such projects which will help in handling the pandemic situation in an effective manner.
Deputy commissioner Vinay Pratap Singh was the Guest of Honour on the occasion.
Deputy commissioner Vinay Pratap Singh, while speaking on the occasion lauded the work done by Karan Gilhotra with the support of UT Administration and other NGOs. He appealed to the people of Chandigarh to come forward and get themselves vaccinated which is the only way to get protection from COVID. He appreciated that Chandigarh had got the distinction of being the first city to achieve 100 percent first vaccine dose target.
United Sikhs and Karan Gilhotra Foundation had in May this year dedicated a Mini COVID-19 Care Centre at the Sports Complex, Sector 43, Chandigarh. Gilhotra has also been working very closely with actor Sonu Sood in several initiatives.