NewZNew (Comic) : Read Surinder Singal Barnala Ke FILMY KUTAPPE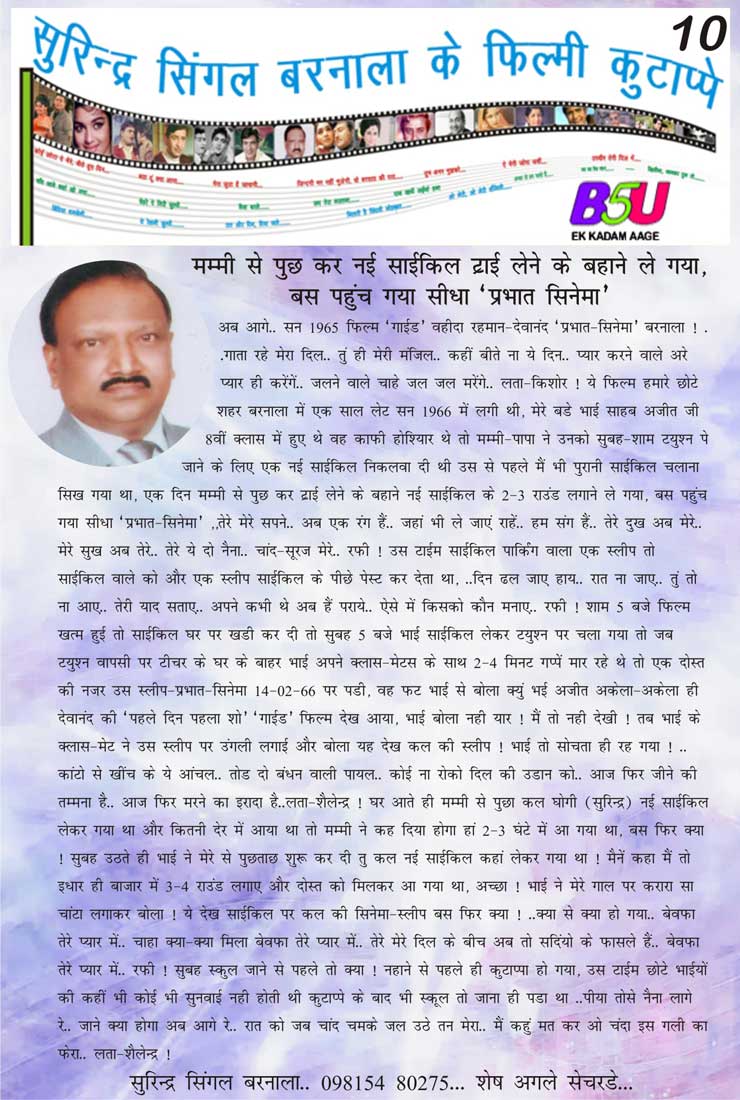 Filmy Kutappe – 8 in English
 Year 1965, Film Guide Wahida Rehman & Dev Anand Prabhat Cinema Barnal, .. Gaata Rahe Mera Dil… Tu Hi Meri Manzil.. Kahin Beete na Ye Raatein Kahin Beete Na Ye Din …Pyar Karne wale are pyar hi kareinge.. ..Jalne wale Chahe Jal Jal Mareinge.. LAta-Kishore. This film had been telacast one year late in 1966 in our city Barnala. My Older brother Ajit Singh was in 8th class then, He was very intelligent and my parents gave him a new cycle to go to tutions.
but before that I also knew how to drive on Old Cycle. One I took new cycle after asking my mother to take  tie as a lie to take 2-3 rounds on new cycle and reached directly to Prabhat Cinema. … Tere Mere Sapne Ab ek rang hain Jahan Bhi le jayein rahein Hum Sang Hain.. Tere Dukh Ab Mere Mere Sukh Abb Tere Tere ye DO Nain Chand Sooraj Mere.. Rafi. At That time one Parking Slip was pasted on Cycle and one was kept by Parking Guy.
..Din Dhal Jaye Haye Raat Na Jaye..Tu To Na Aaye Teri Yaad SatayeApne Kabhi the Ab Ye Hain Paraye. Aise mein Kisko Kaun Manaye….Rafi. AT 5 in the evening when Film Ended I placed Cycle at home and in the Morning brother took the cycle and go to school.
When returning back from tution 2-3 brother's friends talking with each other then they saw Prabhat Cinema's  14-02-66 Slip and immediately told my brother Ajit You had seen First day First show alone DevAnand's Guide.
Brother was also surprised after listening that. Kanton Se Kheench Ke ye Aanchal.. Tod ke Bandhan wali Payal.. Koi na roko Dil Ki Udaan Ko..Aaj Fir  Jeene Ki Tamanna Hai…Aaj Fir marne ka irada Hai…Lat Shailender.
After returning home he asked Mother that Goggy (Surender has taken my Cycle and after how much time he
returned back?
My Mother said that he returned after 2-3 hrs.After that he started investigating me that where were you gone taking
my cycle, I said I just had gone to market. He slaped my storongly and said why this slip had been posted on my  Cycle?? …Kya Se Kya ho geya Bewafa Tere Pyar Mein….Chaha Kya Kya Mil Geya Bewafa Tere Pyar Mein…Tere
Mere Dil ke beech Ab to Sadiyon Ke Faslein Hain…Bewafa Tere Pyar Mein…Rafi.
Before School going they started slapping at home without taking bath. At That time Younger kids have no
option to say anything after that punishment you should go to school.
…Peeya Tose Naina Laage Re…Jane Kya Hoga Abb Aage Re…Raat Ko Jab Chand Chamke Jal Utha Tan Mera…
Main Kahu Mat Kar O Chanda Iss Gali Ka Fear…..Lata Shailender….
To Be Continued on Next Saturday
Read Surinder Singal Barnala Ke FILMY KUTAPPE every Saturday exclusively on www.newznew.com
for More Filmy Kutappe Please like www.facebook.com/newznewonline