NewZNew (Comic) : Read Surinder Singal Barnala Ke FILMY KUTAPPE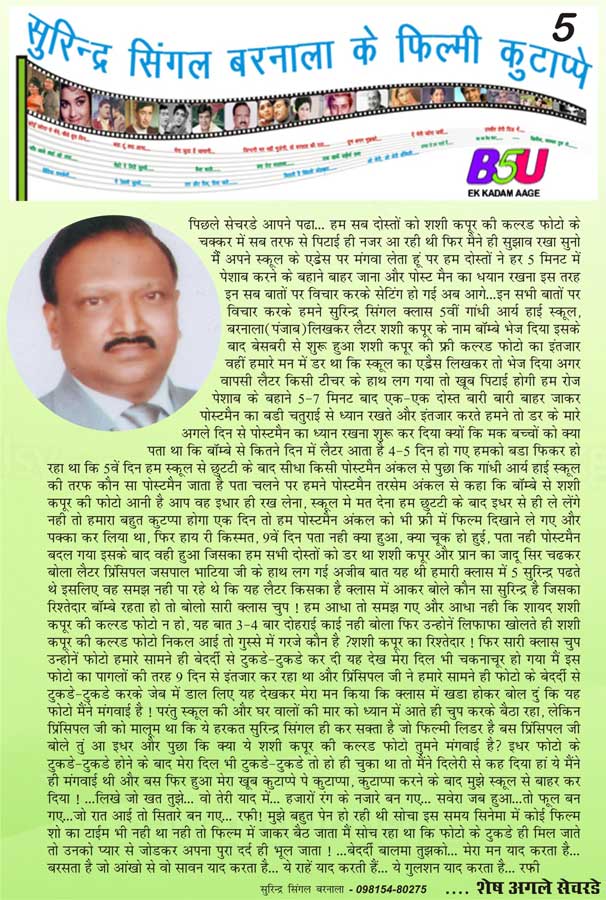 Filmy Kutappe – 5 in English
last week you have read ..we all friends wanted the coloured photo of Shashi Kapoor but when we tried to think about it then only the scoldings of our parents came into our mind. Then I suggested my friends that I would order the photo on our school address but we have to take care of the postman so one-by-one after every five minutesone of us would go out of the class telling the that I am going to the washroom .
Now after this we sent the letter to Shashi Kapoor in Bombayand the address we wrote on it was Surinder Singla class 5th Gandhi Aarya High School,Barnala (PUNJAB). Then we were afraid that we have written the address of the school but if any teacher recived the letter than we all will be caught. Everyday one by one we all friend went out by feeling the teacher that i am going to the washroom and we took care of the postman. Then after some days we
started taking care of the postman very seriously as I got to know from some of my friends that the letter from Bombay comes in 4-5 days. We got scared on the 5th day so after the dispersal from school we directly went to the postman uncle to ask that which postman goes near Gandhi Arya School?
Then we had a conversation with postamn Tarshem Uncle we asked him that a coloured photo of Shakti Kapor will come form Bombay, then don't send it to the address written on it just keep it with you we will come and take it from here only otherwise we will get a lot of scoldings. Then one day we took postman uncle to watch a movie in free. On 9th day we don't know what happened but our school Principal Jaspal Bhatia got the letter.
The letter was in the name of Surinder and the strange thing was that there were 5 Surinder in our class, that is why he was not able to understand. He came in our class and said, " Who is that Surinder whose relatives live in Bombay?" The class wa stotally silent. This statement was repeated in the class for three to four times, No one spoke, then the Principal open the packet and saw the coloured photo of Shashi Kapoor, he got angry and asked who is Shahsi Kapoor's relative. Our Principal knew that the filmy leader Surinder has only ordered it, …
Read Surinder Singal Barnala Ke FILMY KUTAPPE every Saturday exclusively on www.newznew.com
for More Filmy Kutappe Please like www.facebook.com/newznewonline