Syndicate Bank and SBI Life reinforce their bancassurance partnership: Syndicate Bank, one of the leading and trusted public sector banks of India, fortified its corporate agency arrangement with SBI Life Insurance, one of the trusted life insurance companies in India, by signing a pact for long term association.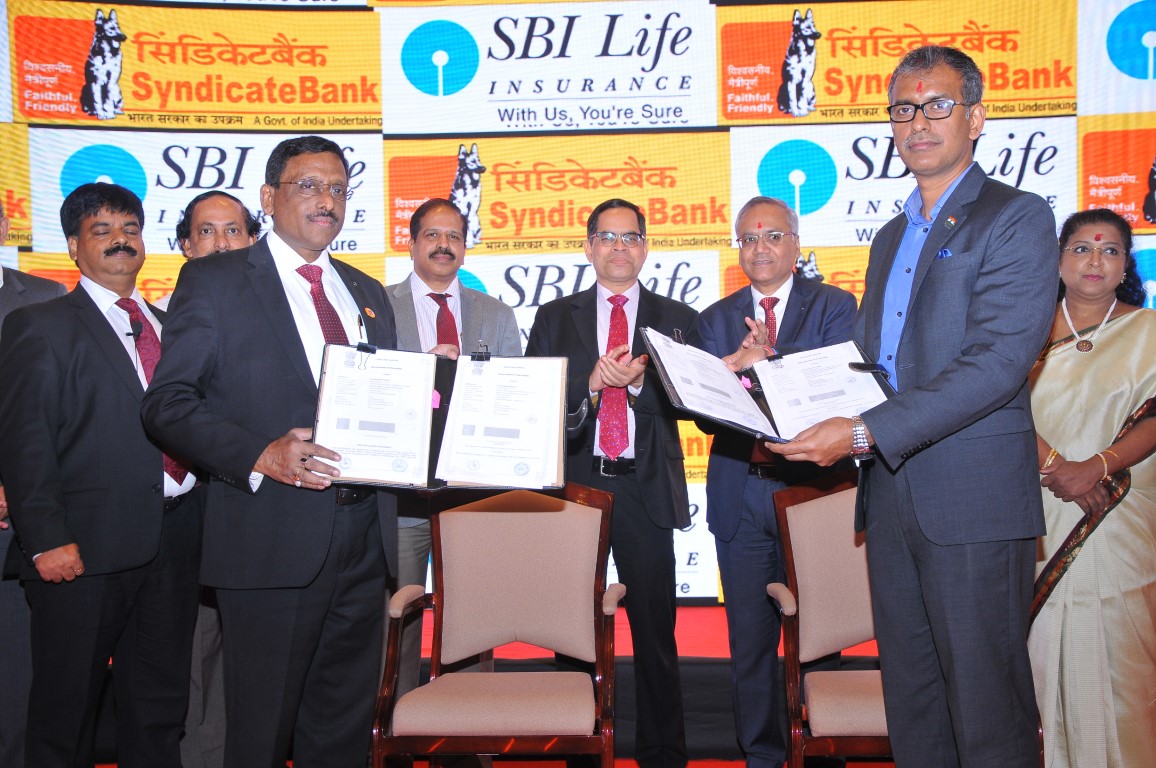 The development comes on the back of an overwhelming response from customers across Syndicate Bank branches, who have embraced SBI Life's insurance solution offerings. In January this year, both the entities signed a bancassurance pact to make insurance easily accessible to consumers across over 4000 branches of Syndicate Bank in India.
The arrangement was made through an agreement signed in the presence of Syndicate Bank's Managing Director and Chief Executive Officer, Mr. Mrutyunjay Mahapatra and SBI Life's MD and CEO, Mr. Sanjeev Nautiyal in the city today.
Syndicate Bank is one of the largest and most-efficient public sector banks in India. Apart from taking rapid strides in providing ultra-modern banking services to their customers, it is also one of the most customer friendly banks.
It was the only public sector bank listed in the top 10 Best Retail Banks in India survey conducted under the Kantar CX+ study on performance of Indian Banks, a respect it achieved due to the bank's aggressive performance in recent times, mainly advancement of technology along with new initiatives in retail banking.
Mr. Mrutyunjay Mahapatra, MD and CEO, Syndicate Bank said "We strongly believe that every human life is precious and it is their right to have adequate insurance cover. Our partnership with SBI Life is testament to this belief system. In addition, it is in-line with our constant endeavour to provide our customers with comprehensive financial planning and protection solutions under one roof. With our technology driven banking experience married with investment and protection solutions from SBI Life, our commitment towards customers gets delivered in toto. We are excited with this partnership with SBI Life Insurance and look forward to a fruitful and long-term association with them."  
Speaking on the continued association, Mr. Sanjeev Nautiyal, MD & CEO, SBI Life Insurance said, "We are humbled by the overwhelming response from Syndicate Bank's customers, who've placed their trust on SBI Life for their insurance needs. Our faith in the strategic approach of enhancing bancassurance association with credible financial institutions has been truly verified by the end consumer. We take the occasion to express our heartfelt gratitude to our partners who've taken the path to ensure life insurance availability for wider sections of the society. We will continue to strengthen our growing bancassurance channel to make insurance accessible for all."
With Syndicate Bank's extensive presence across the country, this extended association with SBI Life will ensure accessibility to comprehensive financial planning solutions for consumers across India. 
Know More About Syndicate Bank
Syndicate Bank is one of the most trusted public sector banks. It was established in 1925 in Udupi by three visionaries – Mr. T M A Pai, Upendra Pai and Vaman Kudva. It is headquartered in the university town of Manipal, India.
The bank offers gamut of banking services which includes consumer banking, corporate banking, finance & insurance, mortgages and credit cards. It is one of the first few banks to have achieved Centralised Banking Solution (CBS) for all its branches and is continuously updating its IT systems.
Currently bank has 4163 Brick and Mortar Branches including an overseas Branch in London. For more details, please visit www.syndicatebank.in