Talwandi Sabo Power wins 2 national award: Punjab's  largest thermal power plant , Talwandi Sabo Power Limited (TSPL) at Banawala in Mansa district has won two awards at the prestigious 20th edition of the National Awards for Excellence in Corporate Governance, conducted by The Institute of Company Secretaries of India.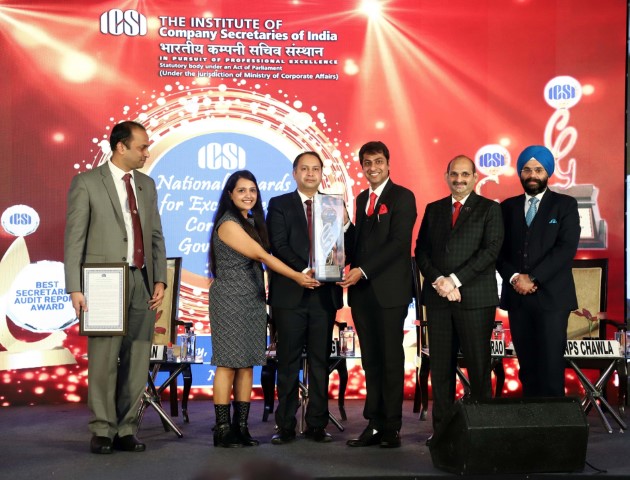 TSPL was adjudged as the 'Best Governed Company' in Unlisted Segment: Medium Category and Company Secretary Ms. Mansi Bhutani was conferred with the 'Governance Professional of the Year' award.
Vikas Sharma, CEO and WTD, TSPL said, "These awards stand testimony to our strongly ingrained value system and bolsters our resolve to make TSPL a gold standard in business excellence."
Instituted for inculcating and inducing a pervasive consciousness of the need for good governance in India Inc, the ICSI National Awards recognize impeccable performance by corporates and professionals in the arena of Corporate Governance.
Union Railway Minister Piyush Goyal  was chief guest for awards distribution and Justice AK Sikri former Judge of Supreme Court of India and International Judge, Singapore International Commercial Court, was the Chairman of the Jury for the awards.
Meanwhile Vedanta's Talwandi Sabo Power Limited (TSPL) is a supercritical 1980 MW world-class thermal power plant which supplies 100% of the electricity it generates to Punjab State Power Corporation Ltd. TSPL deploys globally benchmarked environment and safety practices making it Punjab's greenest thermal power plant, and among the foremost zero-harm, zero-waste, zero-discharge thermal power producers in the country. The plant has been instrumental in the socio-economic development of the region since inception.