Tanishq's launched First Flagship Store in Chandigarh: Tanishq, India's most trusted jewellery brand launches its newly designed store in Chandigarh.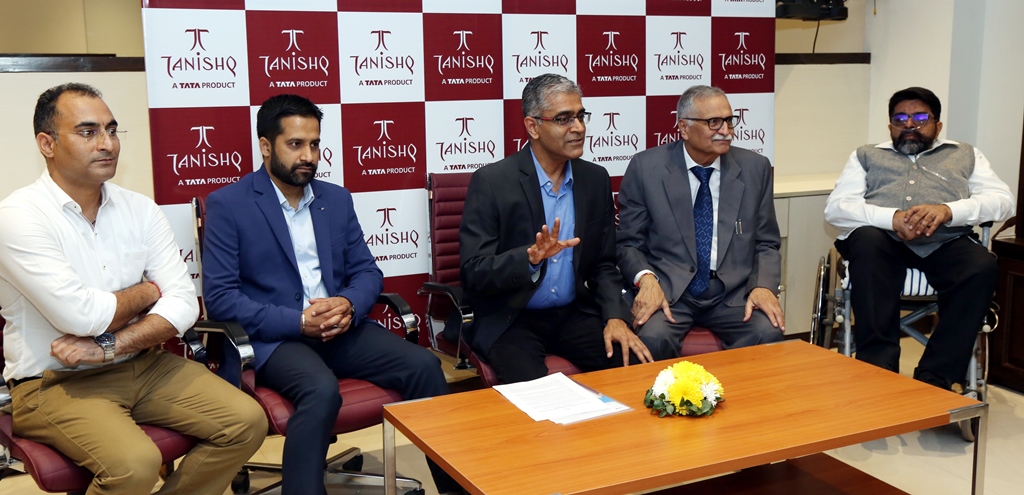 This is Tanishq's first flagship store in the region, and the brand completed its 22 years of journey in the region. The newly designed store was inaugurated by the new appointed CEO, Mr. Ajoy Chawla, CEO Jewellery Division at Titan Company Ltd, which would house variety of new jewellery designs from Tanishq including Virasat, Ahalya and Preen.
Spanning across 5000 sq. ft., initially at 3000 sq. ft., the newly designed store at SCO 194-195, Sector 17-C, near Ghazal restaurant, Chandigarh; houses more than 10,000 designs in gold, Solitaire, wedding and high value diamond jewellery available at the exclusive section of the store.
The store with its dedicated sections will also house the latest collections from the house of Tanishq including Virasat, Ahalya, Swayahm and Preen. As part of the store launch, Tanishq is offering a free gold coin on purchase of 10 grams gold jewellery* and Rs. 10,000 of diamond Jewellery from 8th to 10th November.
Sharing his thoughts on the launch of Tanishq store, Mr. Ajoy Chawla, CEO Jewellery Division at Titan Company Ltd. said, "Delighted to announce the Relaunch of a bigger, better and more exciting flagship Tanishq store at Sector -17 C, Chandigarh! This 22 year old store which has now become a Large format store, will reset benchmarks in customer service, provide a richer product assortment with exclusive designs, while continuing to push the limits in craftsmanship, superior quality and finish. This iconic store from Tanishq will become a landmark in Chandigarh and we recommit ourselves to providing a joyful shopping experience on every occasion, big or small."
Each Tanishq store houses the state–of–the–art Karatmeter which guarantees the most accurate way of measuring the purity of gold. Tanishq, which bears the authenticity of Titan and assurance of the TATA group, has always been and believes to be, at the forefront of offering the purest jewellery to India in the years to come.
Know More About Tanishq
Tanishq, India's most-loved jewellery brand from the TATA Group, has been synonymous with superior craftsmanship, exclusive designs and guaranteed product quality for over two decades. It has built for itself the envious reputation of being the only jewellery brand in the country that strives to understand the Indian woman and provide her with jewellery that meets her traditional and contemporary aspirations and desires.
Attesting to this commitment towards excellence, in 2017, Tanishq has been awarded the title of The Most Trusted Jewellery Brand in India by the Trust Research Advisory. To stress on their commitment to offer the purest jewellery, all Tanishq stores are equipped with the Karatmeter which enables customers to check the purity of their gold in the most efficient manner. 
Tanishq offers gold and gem-set jewellery (in 22 and 18 karat gold) in over 5000 traditional, western and fusion looks. The jewellery is manufactured in a fully integrated manufacturing plant with state-of-the-art equipment. The Tanishq retail chain currently spreads across 318 exclusive boutiques in 200 cities.