Tanishq's 'The Great Diamond Sale' days are back: Tanishq, India's most trusted jewellery brand, brings back its biggest shopping event: The Great Diamond Sale, during which you can find attractive discounts of up to 20%* on Tanishq's diamond jewellery.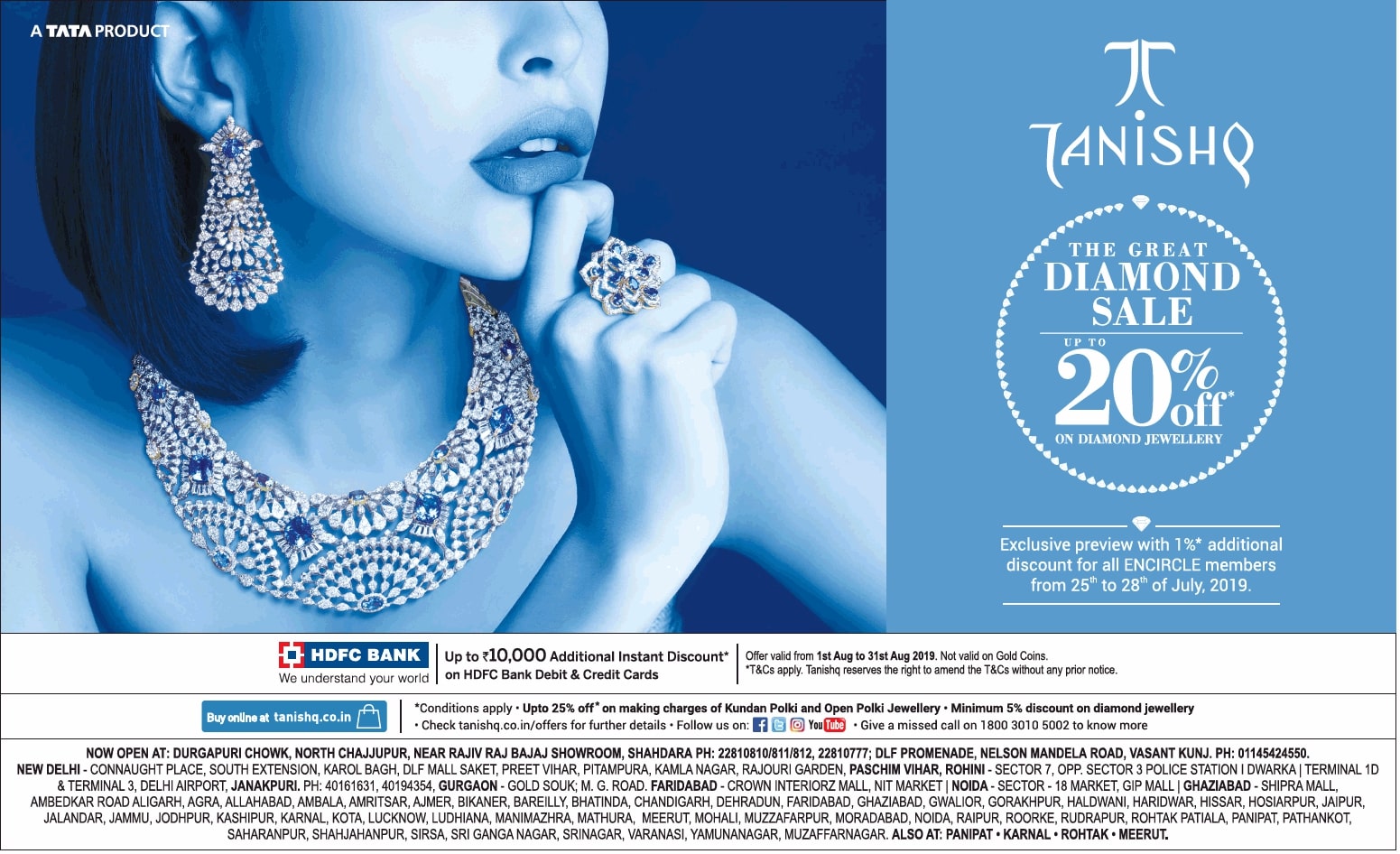 During the Great Diamond Sale, Tanishq offers it's largest-ever assortment of diamond jewellery at all its outlets. The sale has begun in the last week of July 2019, and is available for a limited time only. For a limited time, Tanishq also has up to 25% off on the making charges of Kundan Polki and open polki jewellery.
Customers will be spoilt for choice with jewellery pieces from the best Diamond collections this season from Tanishq. Tanishq's new exquisite collection- Ahalya where the brilliance of diamonds and the allure of colored gemstones will also be a part of the Diamond sale for the first time.
Other collections to be featured are Red Carpet collection with their charismatic diamonds, colourful diamond earrings and rings from the Preen collection, beautiful everyday diamond jewellery with the Swayahm collection, the latest, and the Rivaah Diamond Brides Collection which is the perfect addition to every bride's collection of jewellery. No matter what the occasion, or when you'll be celebrating it, now is the best time to get the most beautiful diamond jewellery at the most compelling prices.
Tanishq has diamond jewellery for all occasions– from work to weddings to daily use. Be sure to visit a store as early as possible because the offers are even more attractive during the first few days of the sale. The discount offer has come at the perfect time for the gifting season, which is just around the corner.
Speaking about the offer, Deepika Sabharwal Tewari, Associate Vice President, Marketing, Jewellery Division at Titan Company Limited, said, "Tanishq's diamond jewellery has an impeccable quality that sets it a class apart and seeing the increase in number of women who are not just into owning Diamonds but adorning them in the best way possible, we are more than happy to bring back the Great Diamond sale this year. Bringing our best diamond jewellery pieces at best prices under one roof is with an aim to make Tanishq's Diamonds be a part of every woman's jewellery. There's a diamond for everyone in the Great Diamond Sale, and we want Tanishq to be a part of everyone's special diamond moment – whether they are gifting it to someone special, or treating themselves to something special."
Tanishq has a set of guidelines and principles, known as the 'Solitaire Promises', which they abide by, while sourcing diamonds. After undergoing stringent quality checks, only about six in every ten diamonds make it to being a Tanishq product. Each of these diamonds has the ideal cut which ensures unmatched brilliance of equal grade and quality.
Bearing the hallmark of Titan and the assurance of the TATA group, Tanishq has always been at the fore-front of offering the purest jewellery. Tanishq believes in complete transparency in each of their transactions and hence in doing so they have garnered millions of loyal customers across the country continuing to stay the best jewellery brand in the country. Tanishq offers jewellery in both gold and gem-set (22 and 18 karat gold) with over 5000 traditional, western and fusion looks.