Tata Chemicals wins prestigious Porter Prize 2019: Tata Chemicals Ltd., a part of an Indian Multinational Conglomerate – The Tata Group was recently felicitated with one of the coveted corporate awards – The Porter Prize 2019 which aims to recognise the strategic acumen of Corporates in India.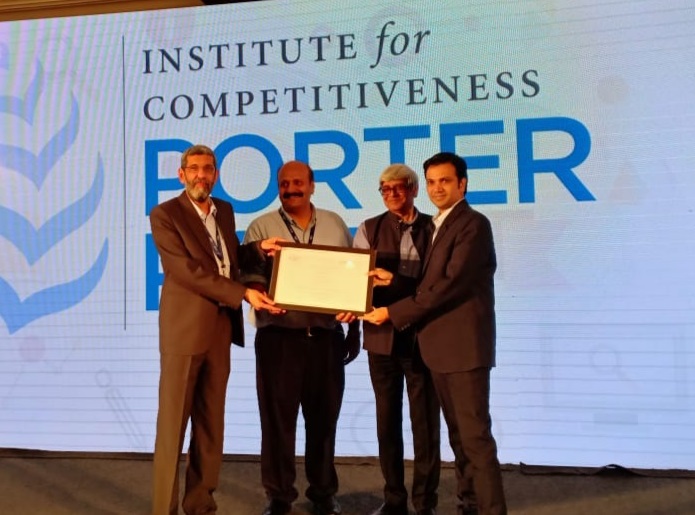 The Porter Prize 2019 was received by Mr. Zarir Langrana, Executive Director and President – Global Chemicals Business at Tata Chemicals and Dr. Richard Lobo, Head Strategy & Business Excellence at Tata Chemicals in the presence of Dr. Bibek Debroy, Chairman – Economic Advisory Council to the Prime Minister (EAC-PM) and Dr Amit Kapoor, President & CEO of India Council on Competitiveness, Honorary Chairman at Institute for Competitiveness, India and Editor-in-Chief of Thinkers,  at an event held in Delhi.
Commenting on the award, Mr. Zarir Langrana, Executive Director and President, Global Chemicals Business at Tata Chemicals said, "This award is a true recognition of the organisation's relentless effort to be ahead of the curve through our strategic thinking and innovation. Having achieved a leadership position in the space we operate in, the company continues to amplify its efforts in inventing sustainable product portfolios to achieve the next level of growth. This award is also an appreciation to all my colleagues at Tata Chemicals for their generous support for all these years to achieve our strategic goals.  As a science-led organisation, we continue to serve the society through science & innovation and be a leader in corporate sustainability, focusing on all three elements of 'people, planet and profits'."
The Institute for Competitiveness Strategy awards annually recognise and honour the best companies operating in India that via their strong strategy have created their own niche. The objective is to propel companies to compete on the basis of value creation, innovation and strategy. The prestigious awards have been based on four major pillars to identify and reward the most outstanding companies for their strategy. The pillars include: capitalizing on industry dynamics, segmenting strategically, leveraging unique activities and exploiting trade-offs.  
The Porter Prize is named after Mr. Michael E. Porter, an economist, researcher, author, advisor, speaker and teacher. Throughout his career at Harvard Business School, he has brought economic theory and strategy concepts to bear on many of the most challenging problems facing corporations, economies and societies, including market competition and company strategy, economic development, the environment and health care. For more information, visit http://www.porterprize.in