NewZNew (Chandigarh) : TATA Projects Limited, one of India's fastest growing infrastructure companies, has announced a strategic partnership with leading global construction company Brookfield Multiplex to deliver a range of commercial & retail, residential, healthcare and tourism & leisure projects across India.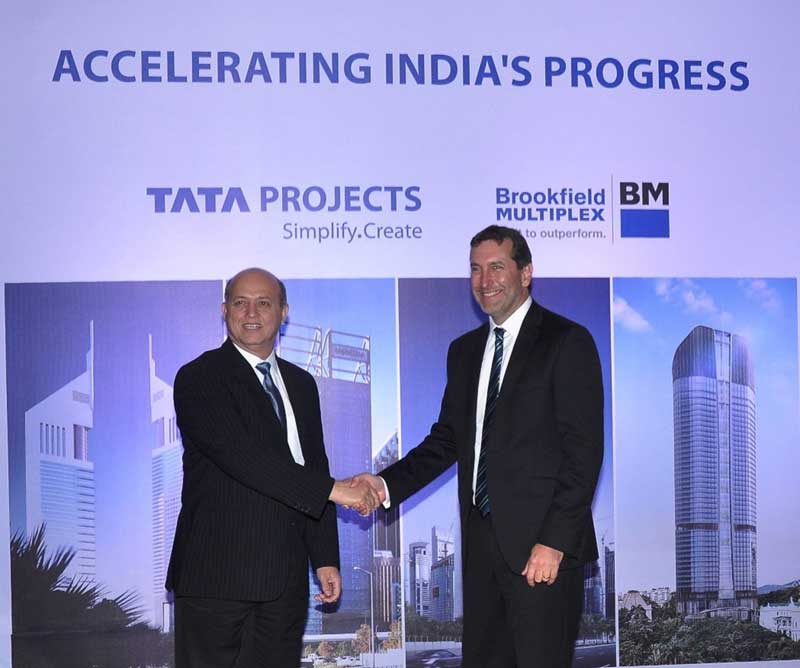 Brookfield Multiplex is an Australian headquartered company credited with changing the skyline of Sydney and has to its credit iconic buildings in Middle East and Europe. It has executed over 900 projects worth US$ 61billion. While Tata Projects is a leading player in Infrastructure construction, with a current order book of over INR 14,000 Crore. The company has secured fresh orders in 2014-15 worth about INR 8,000 crores. The company has entered  Urban Infrastructure market in 2014-15 and has secured business worth about INR 2,000 Crores in the  first year of commencement .
Tata Projects and Brookfield Multiplex are committed to  introduce global construction expertise to the Indian market, based on Brookfield's significant experience gained in delivering complex and high-rise buildings across Australasia, the Middle East, Europe and Canada. Tata Projects shall execute the projects in India leveraging its expertise, organizational strength and is commitment to `On-time delivery'. The partnership promises state of the art construction technology, world class design capability, safe and high speed construction delivery to complete projects on or before time.
On the occasion – Mr. Vinayak Deshpande, Managing Director – TATA Projects Limited, said, "We are delighted to work with Brookfield Multiplex to execute large `Urban Building' projects, using world class construction practices and efficient work systems. Our existing construction domain shall see a quantum shift especially in the way we construct `high rise' buildings in faster time span."
"Brookfield Multiplex is excited to form a strategic partnership with Tata Projects, the two companies share many synergies for a positive long term association.  We are committed to introducing world-class sustainable working practices to the Indian building construction market," said Glenn Raphael, Brookfield Multiplex Managing Director, India.
Within a short period, the partnership already has several substantial projects underway together including a healthcare project in Kolkata, five commercial office SEZ's under a construction management arrangement in NOIDA , Gurgaon and Kolkata plus a five tower residential project in Bangalore.