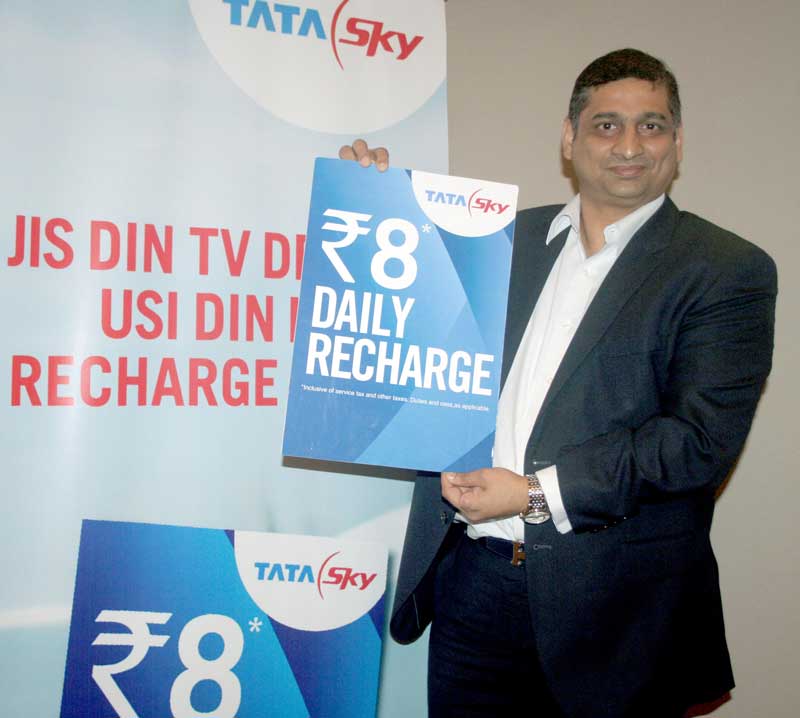 NewZNew (Chandigarh) : In yet another first, Tata Sky, the leading DTH service providerintroduces the first ever'Daily Recharge,' voucher empoweringsubscribersto payonly for the days they watched TV.This pioneering concept allows a minimum recharge value starting at Rs.8/-, making it the smallest denomination of recharge voucher in the television viewing sector globally.
This innovationby Tata Skyputs the subscriberin control of his/her TV viewing expenses. There are a substantial number of subscriberswho pay a monthly charge, but for some reason or another are unable to view TV on a daily basis. Tata Sky's Daily recharge now enables them to now choose when to pay for their TV viewing. For a large part of the population, they can economize and re-charge their set top box on days when electricity is available, or when they are back from vacation. Similarly, they can decide on days when not to recharge for example during exam days or when travelling away from home.
[blockquote author="Commenting on the revolutionary concept, Malay Dikshit, Chief Communications Officer,Tata Sky, said" pull="pullright"]"We are confident that the introduction ofTata Sky's 'Daily Recharge' will gain tractionacross the nation. The 'Daily Recharge' option available at Rs. 8, 10, 20, 50 and 100 enables us to put power in the consumer's hands to choose their level of convenience. It also elevates the DTH sector by redefining the pace of digitization and reach to markets nationwide."[/blockquote]
With the understanding thatthere is a demand in smaller towns and villages for bite sized consumption (much like shampoo sachets and small sized mobile recharges), the 'Daily Recharge' card enables Tata Sky to make inroads intothese untapped markets. Moreover, with digitization phase III still a year away, this plan shouldhelp accelerate acceptance of DTH sector in India.
How it works:
Tata sky SubscriberèDecide to watch TV => Purchase the Daily Recharge card from a nearby store => Scratch and SMSthe number given from a registered mobile number => Enjoy television viewing for the day.