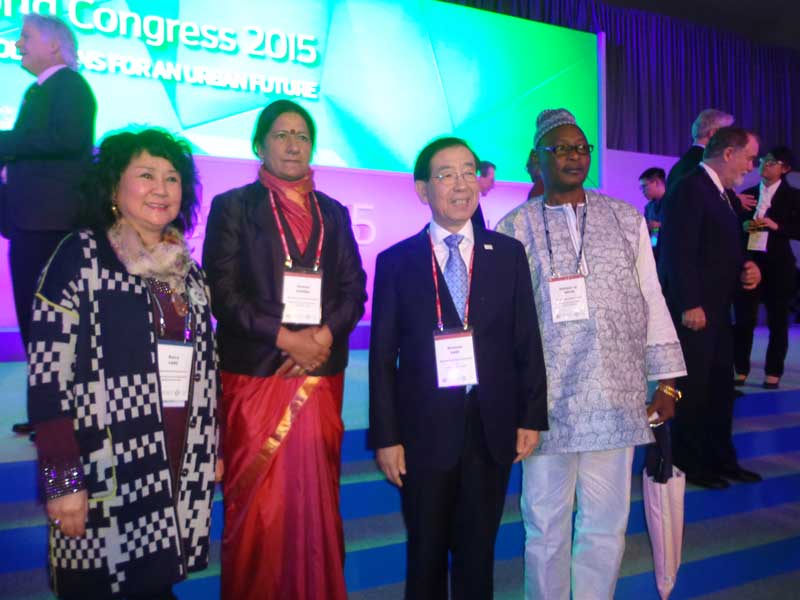 NewZNew (Chandigarh) : Mayor of Chandigarh, Smt. Poonam Sharma taken part in the UNEP -WCCD meeting on Indicators for Sustainable Cities and UNEP-IIED meeting on Towards Resilient and Resource Efficient Cities held during ICLEI World Conference 2015 at Seoul, South Korea from 7th April – 10th April, 2015.
While sharing information about the conference, the Mayor said that the United Nation Environment Programme (UNEP) Regional Office for Asia and Pacific has invited her to the conference organized by ICLEI, Seoul Metropolitan Government, Republic of Korea.
During the conference, the Mayor discussed the importance public issues including Data usage for evidence based policy making, Evidence based decision making to achieve multiple sustainable outcomes in cities, Adoption of Sustainable Development Goals (SDGs), Promotion of Reduce, Reuse and Recycle approach by the ULBs, Development of Green House Gas Inventories, Citizen Perspectives on Sustainability issues, Revitalization of communities through civil society participation, Taking Education for Sustainable Development to primary school children too., Cooperation model between research institutes and local governments, Linking research to practice at ULB level, Measuring Performance and progress, ISO sustainability standard for cities and Taking expertise from International Resource Panel of UNEP.
She further said that following proposals would be got approved from House meetings of Municipal Corporation including Capacity Building of ULBs on Data Generation, Interpretation and utilization of Data in planning and gauzing outcome in partnership with International Council for Local Environmental Initiatives (ICLEI)- Local Government for Sustainability (ICLEI) after due approval from the esteemed house; Technical assistance of World Council on City Data (WCCD) by taking membership for the Municipal Corporation. WCCD offered initial membership free of cost; Training of city leaders and decision makers through customized capacity building programmes and pushing innovation through collaborative research projects.
She also briefed about the benefits of the programme including International exchange of knowledge practices, models and innovations; Global Thinking and Act locally ; Pooling resources on capacity building of ULBs and Technology transfer and exchange etc.
Network of ULBs and partnership with research institutions and inter governmental organization working on development issues of global poverty, basic services, health, water & sanitation, education, livelihood etc.
The Mayor also interacted with Won Soon Park Mayor of Seoul Metropolitan Government, Republic of Korea, David Cadman ICLEI President, Arab Hoballah, Chief, Sustainable Cities, Lifestyles, and Industry Branch,UNEP, Mr. Gino Van Begin ICLEI Secretary General and head of World Council on City Data (WCCD). She also took part in a special session on Women Leaders transforming cities with the women mayors of the world.