Today, Tata Tea Jaago Re presented Shri Prakash Javadekar, Ministry of Human Resource Development, Government of India, petitions with close to 1.8 million signatures collected from across India that hope to instil positive change in the areas of women's safety and lack of sports culture in the country.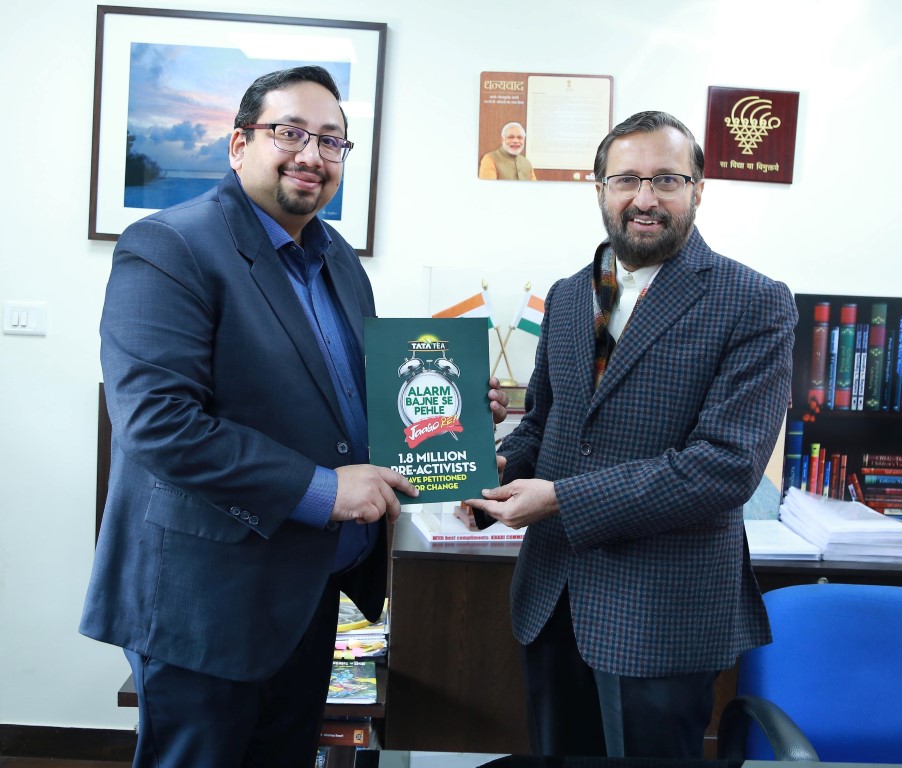 Jaago Re 2.0 launched earlier this year with the theme 'Alarm Bajne se Pehle Jaago Re', urged people to 'pre-act' on issues to avert a future crisis. Jaago Re's two petitions which aim to make gender sensitisation compulsory in a school curriculum, and make sports a compulsory subject in schools garnered support from nearly 1.8 million people across the nation in just a few months.
Jaago Re 2.0 has gone beyond and transformed into a people's movement. The fact that both the petitions together crossed the goal of 1 million signatures in less than three months is a testament of people's belief in our endeavour. I would like to take this opportunity to thank Hon'ble Minister, Shri Prakash Javadekar for accepting the petitions, and also the millions of people who believed in the campaign and pledged to pre-act in their personal life. We hope that with the help of the Government and the overwhelming response of the people, we will be able create a better and safer society for our children.
Nationally, the petition to include gender sensitisation programs in schools found support from 55% men and 45% women
Jaago Re 2.0 hopes that its petitions to the Government will be the first step towards building public and stakeholder opinion, consensus and consequently drive relevant policy action towards an actionable roadmap to make this vision a reality.