Teen ties up with NGO to empower underprivileged students: Don't forget to visit a special event – a 'Thrift Sale' of pre-loved items called The 'Blossom Bazaar' on 19th August '23, Saturday at The British School, Sector 44B, Chandigarh from 4 pm to 8 pm.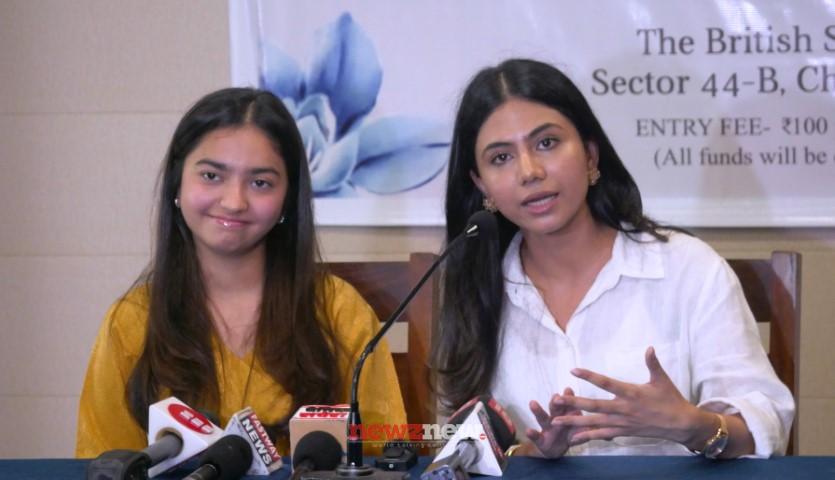 The event  an initiative of Gauri Chopra, Founder of NGO The Sarvodaya Foundation, who is also a lawyer by profession and Bhavya Sethi, a Class XII student of Bhavan Vidyalaya aims at raising funds for needy children so that a positive impact is made within the community. The details of the 'Thrift Sale' were shared by Bhavya Sethi and Gauri Chopra at a media interaction at Chandigarh Press Club.
Bhavya said, "I wanted to reach out to the underprivileged children among us and help those students who due to lack of financial resources are not able to complete studies. Proceeds of 'Thrift Sale' will be spent on their tuition, books etc. We have already identified 70 needy students."  Bhavya Sethi, is a student of Humanities and the brain behind 'The Blossom Bazaar'.
She said that pre-loved items like shoes, clothes, books, stationery, accessories all in good condition shall be available for sale. Bhavya added that she gets inner satisfaction from doing her bit for society, "I am also planning initiatives for senior citizens living in old age homes," she said.
It is worth mentioning here that Bhavya Sethi at a very young age has also conducted a sanitary napkins distribution drive for underprivileged women in collaboration with the NGO Sarvodaya Foundation in the village areas of New Chandigarh in 2022. She has also been a part of a project to train women of villages in the art of sweet box making. This was done in association with HDFC Bank and Sarvodaya Foundation.
Gauri Chopra said that  some startups will also put up their stalls to showcase their products  for sale so that maximum fundraising takes place for the needy children.  "Through my NGO, I aim to continue serving individuals and communities, addressing their unique challenges, and fostering sustainable progress," added Gauri.
Gauri further said , "Our 'Thrift Sale' is not just any ordinary sale. It's a sale with a heart! Every purchase made during the event will directly contribute to a very special social cause. By supporting our initiative, you'll be contributing to the betterment of underprivileged individuals and families in our community."
In reply to a question, Gauri said: "The sale will feature an array of high-quality pre-loved items, including clothing, accessories, books, household goods, and much more. You'll have the opportunity to find unique treasures while also making a difference. Not only will you get to shop guilt-free, but you'll also have the chance to connect with like-minded individuals who share a passion for social responsibility and community empowerment."
 "We believe in the power of community, and with support of members of society, we can make this event truly successful and impactful. Feel free to invite your friends and family along – the more, the merrier! Shopping for a cause has never been more enjoyable," summed up Bhavya.