That One Mistake -A Novelette by Manan Verma launched : Some children are born with the spark and Manan is the perfect example .This sixteen year old adheres so many capabilities that he leaves the people wondering.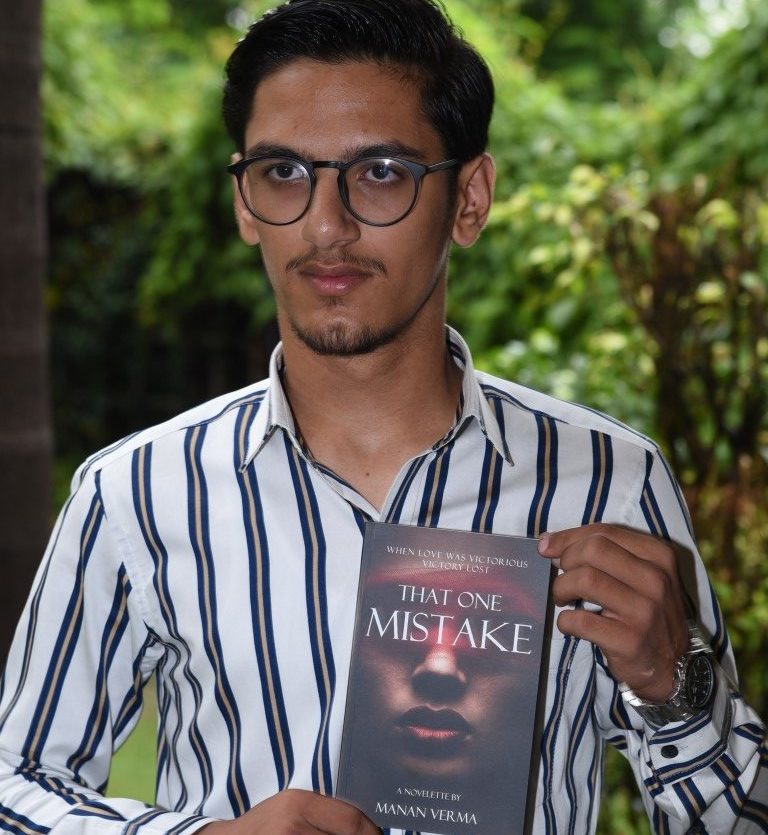 Said that, he is an author, motivational speaker and has given a platform to  the creative people who can join in from all over the world.
Adding another feather in the cap,  he has launched his first novel 'That One Mistake '. Keeping his audience in mind and own experiences he has wrote a rom book.
Noted Theatre Personality & Writer Dr Kailash Ahluwalia was Chief Guest at Launch Ceremony
Divya Khanna HOD English ,Genesis ,Ranjan Sethi The British School Chandigarh were Guest of Honour . 
Launch Event was preceded by Motivational Session by Manan Verma with  students of The British School .
"You are just 15. What can you even do. " Yelled a man,  subjugating my view,  rather my dream,  when I tried to present one.  And now,  one year later,  I,  Manan Verma,  a sixteen year old stand thankful to that man for igniting up the chase in me- the chase of dreams,  passing through reality.  
Beginning my journey, I firstly realised that innumerable artists, poets and writers died on the back pages of their notebooks. And same was the fate faced by their lives , for unfortunately today, hanging on a rope is considered to be easier than hanging on to life.
Ripped by this fact, I began taking motivational seminars, visiting different schools and institutes and interacting with students there, understanding their psychologies and trying to make a few changes for good. And simultaneously, was developed The Pocket Diaries. A world wide platform I designed specially for the budding artists, writers, poets and photographers to showcase their talents forth the world, absolutely free of cost. Now, over 10,000 views and more than 20 countries strong our team with members spread across in India, Canada, United States, Philippines and more, spread the same moto: No talent Unturned.
I, irrespective of being a non medical student, always used to believe that literature was the root of every modern day subject, while poetry and philosophy being the ultimatum. And, following my passion to study literature, write articles and publish poetries, I ended up writing 'That One Mistake – A Novelette by Manan Verma'.
Which is not just a love story, but a saga filled with an undertone of philosophies.
'That One Mistake' is a blend of romance, mystery, and sarcasm with a hinted texture of humour, served along tragedy. Justifying its title, 'That One Mistake' indeed is the revelation, as to what was that one mistake Enigma made, what happened on that 'Ride to Nirvana' which changed not only the course but rather the very path three opulent friends were treading upon. It as well brings out the cordial fundamentalism in them by amalgamating agape, eros, envy, indignation, and submission as these three tours'The City of Love', 'The second Rome' and indeed 'The heaven on Earth'.